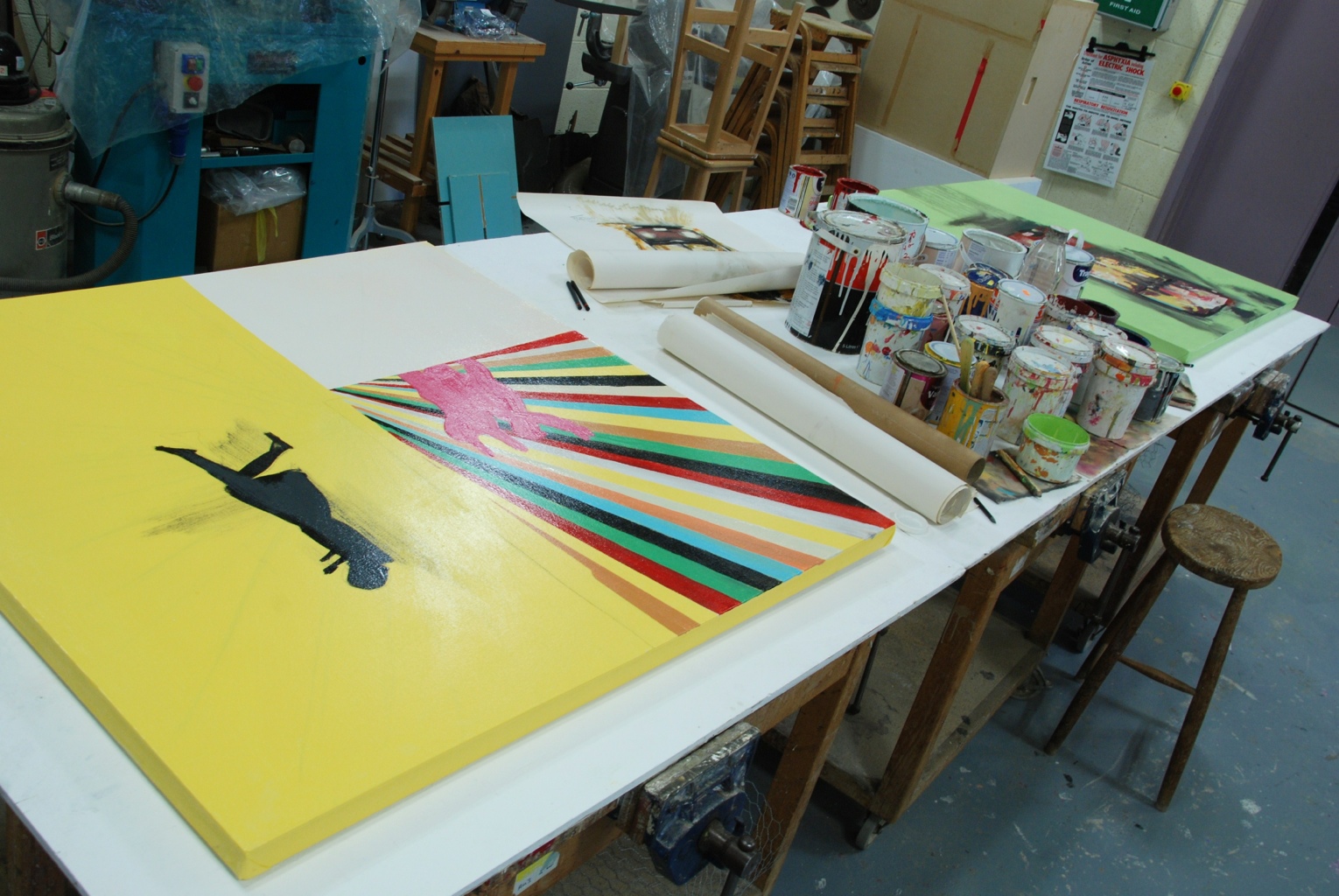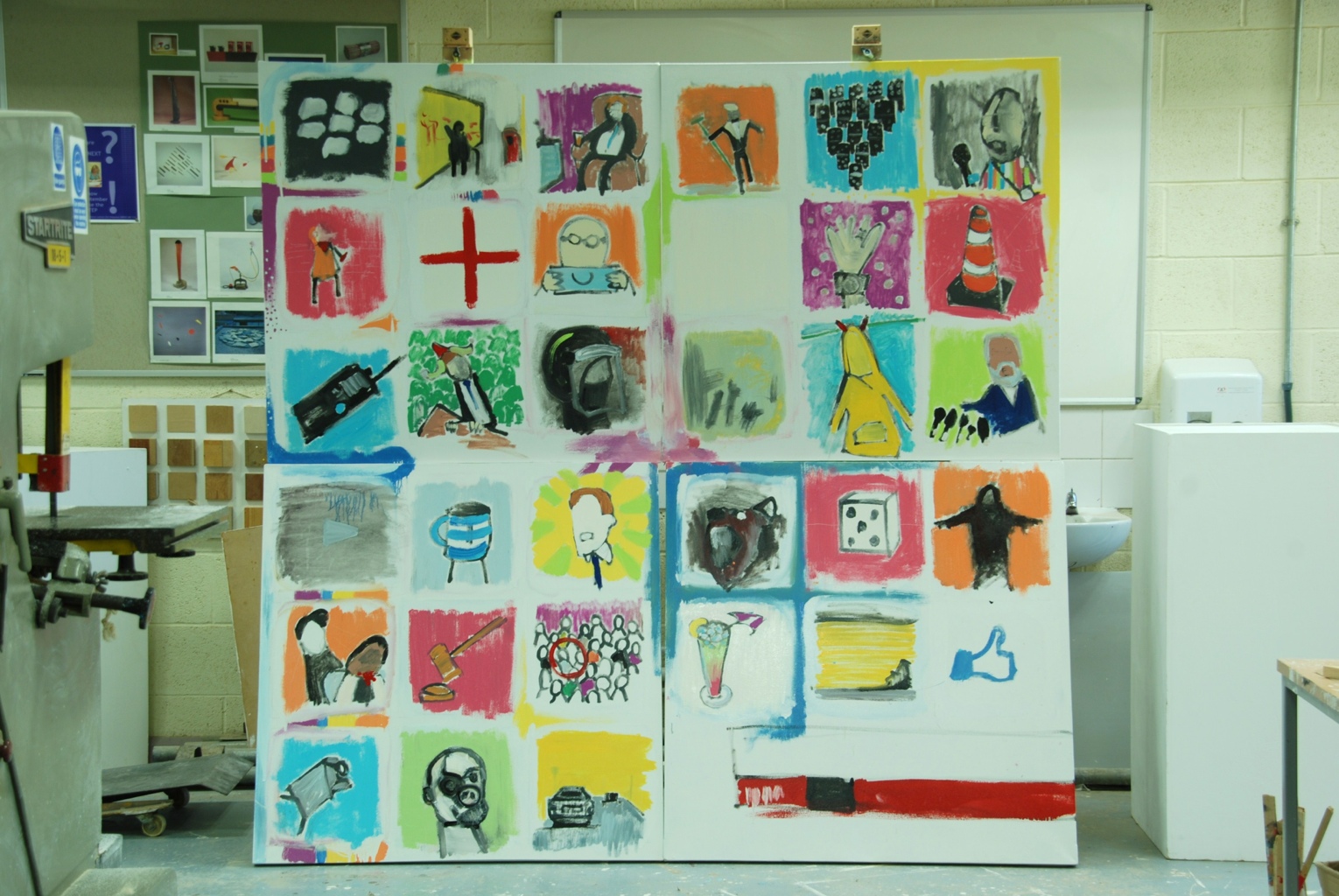 1. If you weren't an artist, what else would you be?
When I was 16 I had the choice to do a mechanics course or an art and design course. I chose the art course because I thought it would be easier having no idea at the time where it might lead me. So If I wasn't an artist I probably would have been a mechanic. Like my father and my father's father.
2. Can you tell us more about your work and what are the main ideas you would like to express?
I've been developing my own graphical language and painting technique for some time. Now I feel confident in a style of painting I am concentrating on the subjects in which I want to express. Changing my environment helps to keep my ideas fresh and avoid repetition.
Currently I am working on a series of paintings about last year's England riots. The subject is visually deep and highly challenging due to the vastness of opinions about what went on. It is also a subject that tackles personal issues of mine concerning painting in England. At heart, the work I make must work well as a painting. My palette is bright and my mark making can be unpredictable.
3. How do you start the process of making work?
An idea can come from anywhere from a very serious subject or something playful. I'm still unclear to what it is that makes me want to paint it. With an idea I then assess what I will achieve from painting it. Do I want/need to travel in order to complete the works? How will I research for it? Do I want to create a body of works or just one? Who is it that will be interested if I was to paint a particular subject? How beneficial to me will it be if I painted it? If after all these questions I still want to go ahead, I will then look to see what artists are doing now to understand where my work fits in. Then I decide the size the canvasses need to be and its green for go.
4. Do you consider the viewer, when making your work?
I think it is vital to consider the viewer when making work. I want my work to be seen and my ideas questioned. I think if it isn't then art is just a hobby. I want art to be much more than just a hobby.
5. Name 3 artists that have inspired your work.
I think I was 17 when I first went to Tate Modern. It was the first time I had visited a gallery in London and the first works to really make me step back and think were Mark Rothko's Seagram murals. With the grey walls and moody lighting it really made me think about what a painting could do. Also in the same visit Olafur Eliasson's 'The Weather Project' was in the turbine hall.
One of my favourite paintings is 'Surprise' by Henri Rousseau. I think I want to be the tiger in it.
6. Name 3 of your least favourite artists.
I think every artist has their value whether I like their work or not. It's a negative question really.
6. What defines something as a work of art?
Art is a response. Good or bad, there is a reason why it was made. The answer is very subjective but personally I think good art should be talked about and bring up a debate or commentary without the artists presence or explanation.
8. In times of austerity, do you think art has a moral obligation to respond topically?
I think art will always respond topically whatever the times. It dissects and manipulates everything. This is the power of art. It is first for everything and everything else has to catch up whether it is a new topic or new media. It's not so much an obligation as naturality. This is what is happening; this is what art reacts/thinks to it.
9. Anytime, anyplace – which artist's body would you most like to inhabit?
I'd like to be William Blake for an hour. See what it's like to be the ultimate romantic, and then come back to reality before I start feeling lonely.
10. What is your favourite 'ism'?
I think my answer to that would change every week. It depends what is happening with my work at the time. There are a lot of isms.
11. What was the most intelligent thing that someone said or wrote about your work?

I was exhibiting at the Museum of Modern Art in Yerevan, Armenia and an art critic and friend I drunk many a vodka with came up to me and in his limited English said "you are only painting for yourself." I took this to mean that even though everyone couldn't understand why I was painting national symbols in such a strange way, he realized that I took the images as my own and with them interpreted my experiences through them. I suppose he could have been calling me selfish but I think I knew him well enough to know he was being complimentary.
12. And the dumbest?
Too many to pick out one.
13. Which artists would you most like to rip off, sorry, I mean appropriate as a critique of originality and authorship?
Henri Rousseau
14. Do you care what your art costs? State your reasons!
It is the biggest step to sell your art works as an artist. I have done countless jobs to fund my next series of works or exhibition but, however many exhibitions you have, unless you sell you are always questioning whether what you are doing has any value. I'm not interested about making massive amounts of money but I do want a return for the huge amount of effort I put into my work. More importantly I want to earn enough from my work in order to fund the next project. I care about what my art costs because I want it to continue funding my practice as an artist.
15. If MoMA, The Tate and the Pompidou wanted to acquire one of your works each, which would you want them to have?
I've been saying for a while that the best painting I have done was the last one I finished so I would want them to have the newest work.
I would let Tate have first choice.
16. What's next for you?
I have to concentrate finishing my current series of work. The reaction to it will decide what I will do next. There are lots of possibilities from plan A up to Z. We just have to wait and see.
See more work from Reece at Jester Jaques Gallery
Categories
Tags