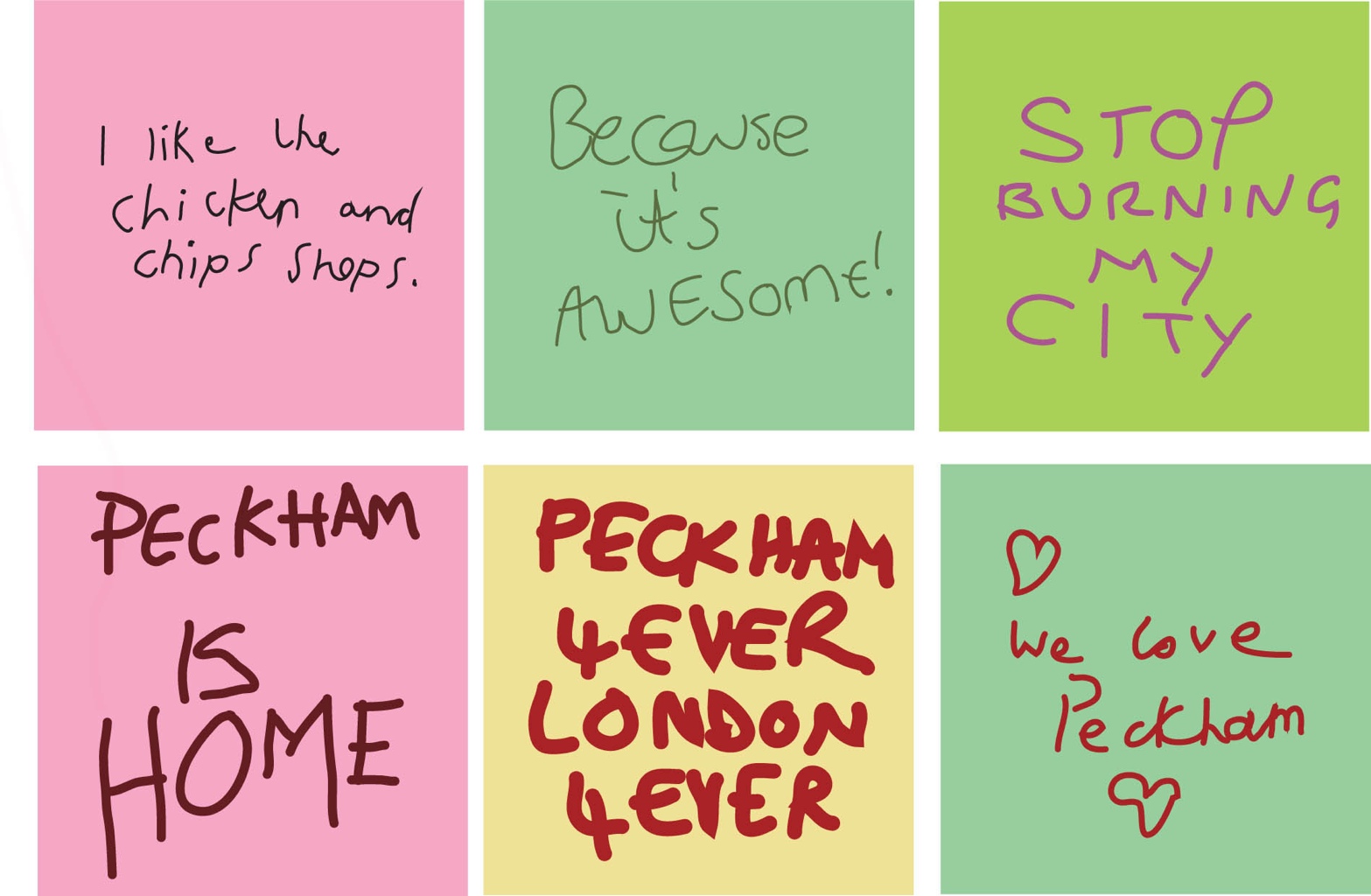 Peckham Space is pleased to announce the launch of a new permanent, public artwork on Peckham Square: Peckham Peace Wall by Garudio Studiage will celebrate the wall of post-it notes of love and respect for the area which grew on Rye Lane following the disorder of last year, and will be launched on 8th August 2012 to mark this one year anniversary.
Commissioned by Peckham Space with funding from Southwark Council's Greener Cleaner Safer fund, the Peckham Peace Wall will comprise 4000 original post-it messages including those from London Mayor Boris Johnson and Leader of Southwark Council Peter John alongside those from residents. Each of these will be digitally hand-traced by artists Garudio Studiage working with young people from Peckham.
Up close, community members will be able to read the notes and re-find their own contribution within the piece which will span the 3m x 9m western wall of Peckham Square, SE15. These will also be interspersed with blank 'notes' onto which new comments can be made.
Started by four members of Peckham Shed Theatre Company on a board covering the broken window outside Poundland, the original Peckham Peace Wall attracted the involvement of thousands of local people whose comments grew to eventually fill seven hoardings.
When the time came to replace the windows and remove the original Peckham Peace Wall, members of the public were anxious not to lose this unique record of the public's thoughts and emotional response to what had happened within their town centre. The permanent public artwork was developed in response to a public consultation led by young people from The Challenge which over 100 members of the public in Peckham what they would like to see happen to the original Peckham Peace Wall and for their thoughts about how best it should be preserved.
Launch 8th August 5pm-7pm
Peace Festival 19th August 12 noon-6pm
Critical Friends Talk 26th August 2pm-4pm
Camberwell College of Arts 89 Peckham High Street London SE15 5RS
www.peckhamspace.com
Categories
Tags