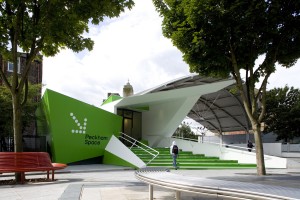 Peckham Space is dedicated to commissioning location-specific artworks made in partnership with community groups. Yvette Greslé talks to Emily Druiff (Director of Peckham Space) and Sarah McLean (Marketing & Gallery Co-ordinator) about their extraordinary work and program of exhibitions.
Peckham Space have worked with a number of artists including Sonia Boyce, Barby Asante and David Blandy. Exhibitions are collaborative projects (and events) conceived of through an intensive process of research and dialogue (between invited artists, organisations and local community groups and schools).  These exhibitions are at the cutting edge of what it means to make art that is meaningful, critical and in touch (not only with local histories and archives) but also with the technologies, and the social and cultural life of London in the 21st century. One of the most distinctive aspects of the exhibitions is the emphasis on young people, the questions that concern them, and their survival in urban environments that are at times hostile, while being culturally rich. Programs that are educational in nature open up career options in the arts encouraging young people (and publics at large) to think constructively about the possibilities (rather than the limitations) of working in creative professions in difficult times.
The current exhibition is TRIBE by Sarah Cole with Amunet, Anukis, Ismat, Jayne-Louise, Lindsay, Louise, Kirsty, Molly, Nadia, Petula and Ruby. The show runs through to 23 July 2013: www.peckhamspace.com.
The opening of Jessica Voorsanger's Peckham Heroes.
How did Peckham Space begin?
Emily: It's been a long journey. Finally, a partnership between Camberwell College and Southwark Council secured funds to build Peckham Space; and encourage progression for local residents to go on into creative higher education. It's about a way of engaging people locally in creative activity that might then lead on into education.
It's about encouraging future artists or art world practitioners?
Sarah: We're interested in reaching people who might not even know that they could be the artists or practitioners of the future. They don't even know that yet, and they may not have access to creative activities.
But young people would have access to art through school?
Emily: Yes, everyone has art in their curriculum. But (for example) one of our project partners is Harris Academy Peckham and we engage with their Year 10 students (just at the point at which they're about to do their GCSE's). If they then wanted to go on and do a Foundation Course at Camberwell College of Arts they would have something extraordinary to include in their portfolio as a result of working with us. They might have designed a Manga poster as part of a project we did with David Blandy. That would look really good in their portfolio. It's not that there's not art in the curriculum. Obviously there is art in the curriculum but actually it's not really encouraged.
Sarah: It's also about opening up a dialogue between artists and young people in particular. It's about getting them to see that art isn't necessarily just a school subject. It could be something that you do in life, and long term. It is possible to do that, and there are people who are doing it.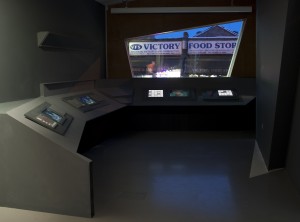 Mobile Suit Academy. David Blandy.
How do you engage the challenges of being in the artworld  Economically it's very challenging. There's also a lot of social pressure – how are you going to earn a living out of art? The current political context and funding issues don't make it any easier.
Emily: I think art school encourages you to be enterprising. I don't think it shows you how to be enterprising but it certainly encourages you to be enterprising. It's not about teaching you to write a business plan and get a lot of funding together but it develops the kind of mind that thinks 'outside the box'. It enables you to innovate and make your own opportunities. I think there's a big perception problem (which is still largely with us) that art school is elitist.
How did you set about entering the complex space of perception and assumption?
Emily: It's something that you have to be continually aware of. There are just so many different perceptions, and we literally deal with these on an individual basis. For us, front of house is really important. We encourage conversation with anyone that comes to the gallery. That's something that has really helped people's opinions of what the gallery can be. Maybe sometimes it doesn't seem like a gallery. We call it Peckham Space as opposed to Peckham Gallery. We commission particular kinds of art, there's disabled access. The marketing strategy includes the local press, not just the arts press.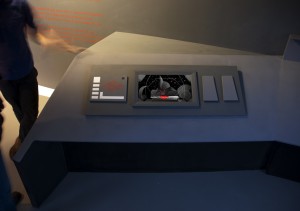 Mobile Suit Academy. David Blandy.
Tell me about the projects you do with schools. The last time I visited the exhibition with David Blandy was underway.
Sarah: The school we worked with for the project with David was Harris Academy. We commission different artists for every project, and work with different organisations. Harris Academy is the nearest secondary school to us and Camberwell College. David Blandy was our fourth commission with them. The theme for David's project was 'Mobile Suits' which is a term from Japanese anime. They're these robotic suits almost like exoskeletons or suits of armour. They're in the Gundam series, and were specifically invented for children because they're small enough to climb inside, and then have adventures. David took that concept and used it as the basis for an educational lesson plan with Year 10 Students at the Academy, during the autumn term, 2012.  He worked with the school art teacher, with a specific outcome in mind to produce and design a character that the students invented themselves. The character responded to Peckham as an area but also to the students' own personal likes, dislikes, hopes, dreams, and influences from popular culture. All the things that come out of David's work too. He wanted them to think about the idea of creating a character of yourself (which he does). The students also worked with Inko – a Manga illustrator and David's long-term collaborator. All the students came out of the process with a character that they had developed and an artwork for their portfolio.
David created works in collaboration with Inko and the students which then formed the exhibition 'Mobile Suit Academy' (the exhibition ran earlier this year). He made an installation based on an interview he did with two of the students. He took their experiences as they told them to him, translated them into Japanese (so that they were a step removed from their real experiences) and then incorporated them into an animation simulating a spaceship transmission.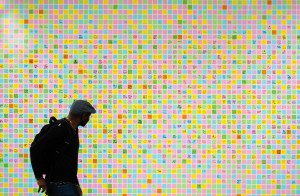 Peckham Peace Wall. Garudio Studio.
Art brings things to the surface things that are difficult. Art is not necessarily a comfortable place to be. Are there any challenges particular to these projects?
Emily: Challenges come up in a different way with each project. The time where I felt the most responsible was with the Peckham Peace Wall: a permanent public artwork on Peckham Square. It was made in response to the riots of 2011. A local theatre group utilised a shop window and invited passers-by to post their messages of love and respect for Peckham on the window on post-it notes. This is something that they then physically had – this big wall of post-it notes which started disintegrating. We were approached and asked us if there was anything we could do to help save these messages. We put in a funding application working with a Garudio Studio (a Peckham-based design group) to write up and design the 4000 messages that had been transcribed digitally. Some spaces had been left blank for new messages. However, we had to go through a process of censorship with those messages because some were actually promoting names of gangs and people who had committed criminal activities (we didn't want them passing by the wall and feeling a sense of glory about seeing their name up on this public artwork). We worked with a group of young people from the Southwark Youth Council to identify the gang messages and communicate to us what they wanted to take out. It was quite an education for us. The young people from the Youth Council wanted to get rid of some of the messages that I thought were quite positive (like ones that were critical of the government).  There's this assumption that young people hate the government or that young people hate being surveyed. But actually a lot of the time when we've worked with young people they actually like having CCTV cameras around. They actually like that there's someone watching them and making them feel safe. There was also an interesting conservative view on politics which we hadn't expected.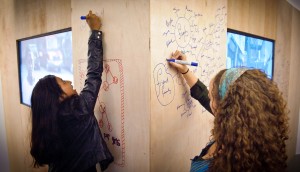 Network. Sonia Boyce.
Peckham Space is very interesting in what appears to be an emphasis on youth? It seems very youth-orientated? The choice of artists is very interesting in terms of youth cultures too.
Sarah: About two out of three projects a year are youth-orientated or involve young people in a commission. We do try with every exhibition to have something that appeals to young people. Even if they've not worked directly with the artists in the process we get loads of kids coming in after school.
Emily: There was also the Digital Reverse Mentoring project with Leaders of Tomorrow (who we've worked with three times). I received some funding from the RSA to get young people placed in cultural organisations across South London. The idea was that these young people would collaborate with cultural organisations on how to reach their peers (the young people's peers) through social media. During an opening we had two young women tweeting live from our twitter account. We gave them total access to it. They also went around taking pictures and uploading them.
TRIBE. Sarah Cole with Amunet, Anukis, Ismat, Jayne-Louise, Lindsay, Louise, Kirsty, Molly, Nadia, Petula and Ruby.
Sarah: The exhibition (up at the moment) TRIBE is a collaboration between artist Sarah Cole and a group of teenage girls. It's about inviting people in a really intimate way into an otherwise closed space. Sarah wanted to give people access to all the ideas and subjects that come up in the intimate conversations of young women without necessarily revealing everything obviously. Quite a lot of it takes a bit of an oblique look at some of the things that came up in the discussions led by Sarah, while still giving you a sense of some of the things that were spoken about. We are incredibly youth orientated in terms of exhibitions like this one. The show incorporates things that are important to teenage girls.  We've got Onesies hanging up in the gallery. I didn't realise that Onesies are a total youth phenomenon.  In her first session with the young women,  Sarah asked questions like: Where do you feel safe? What is your idea of home? They  would talk about being at home safe in their Onesies but it also became about so much more: about general issues of safety. One of them said you can't terrorise someone in a Onesie. So instantly the Onesie becomes like the Mobile Suit:  more than just a fashion accessory or something cosy to just lounge around in.
TRIBE. Sarah Cole with Amunet, Anukis, Ismat, Jayne-Louise, Lindsay, Louise, Kirsty, Molly, Nadia, Petula and Ruby.
Art should be about being able to say things you can't normally say.
Sarah: What's really interesting about TRIBE is that it doesn't take a side. It's about what it's like to be inside a tribe but there's also a darker undercurrent. As a viewer you're getting to see what it's like to be in this group of girls but you're not in their group.  You're constantly aware as you're looking at the footage that features them, or as you're listening to some of the music that's part of the show, that actually you don't know what the code word is to get in. They've opened the door and shown you but they haven't given you the key. That kind of tension is quite nice.
Emily: One of the main videos is this piece shot in Sarah's garden of a sparrow hawk attacking a live pigeon. In the video the sparrow hawk kills the pigeon. While a tribe can be about a sense of belonging there is also this vicious sense where if you don't belong you're going to get eaten alive. There are also the references to Turf wars that I feel I've only just got. I think that being a young person in contemporary London (or any big city) comes with a sense of territory (of belonging or not belonging). In this exhibition it's tackled with a sense of playfulness. But these are quite serious issues, and the artists we work with have a great sensitivity to these. And I think a respect for the people they're working with. Allowing these issues to be raised without judgement. I think it's a skill to have that kind of sensitivity and understanding. It's not about making the young people something to look at. It's not about being voyeuristic or about tokenism.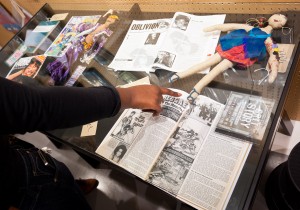 Barby Asante. The South London Black Music Archive.
I'm very interested in the way you work with music and sound.
Sarah: We quite like having music and sound here in all the exhibitions if we can. We worked on a project with artist Barby Asante and the South London Black Music Archive in 2012.  Barby worked with one of the youth groups we work with regularly called Leaders of Tomorrow (LOT). Vallin Miller who runs the group thought it would be great to use the project to get teenagers to talk to older generations. Barby collaborated to get the young people to speak to their parents or grandparents about a song that they might have remembered, or that they felt had been passed down to them from a younger generation. This was then turned into a sound work which was then available on a vinyl record called Legacy Tunes. The vinyl became the founding item in the exhibition which was the archive. The gallery became a different kind of open space. It didn't just invite people in. It invited people to bring contributions that then went on display: all kinds of memorabilia from concert tickets to posters and records and also stories and books. There were all kinds of incredibly personal things that people had made or collected in the past in response to music. We also had a map which people could contribute to. It includes some locations on it that are club nights, venues, record shops, even  genres of music that are specifically associated with a particular place. Tate Modern (Regeneration & Community Partnerships) supported this project: the vinyl includes a record sleeve by Åbäke (a graphic design collective).
Barby Asante. The South London Black Music Archive.
What's so striking about Peckham Space is that its so much part of its locality. It's really engaged in the stuff of everyday life.
Sarah: One of the fundamental reasons for commissioning artists to work with groups who are based in Peckham is so that they then make artwork relevant to people who live here. Artwork that is made in collaboration with people who live here. So when you say it's about things that happen in everyday life it is intended to be about that and to focus on that.  At the same time we do engage wider issues and concerns. Last autumn the artist Nikolaj Larsen made a film: not a traditional film. He made more than 40 short films that were played at random so that every time you came into the gallery you might get them in a different sequence or context. It featured real people, people just met and was based along a local bus route (the 343). Nikolaj went out and met people so it was very specifically about the people who live here and travel on this bus route in North Peckham. But as you watch the films it becomes clear that actually its about more than Peckham. You don't have to be from Peckham to come here and recognise something that's truthful about being human and living in a city.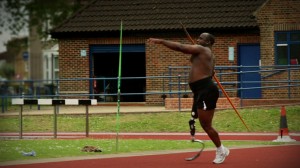 343 Perspectives. Nikolaj Bendix Skyum Larsen.
TRIBE closes 23 July 2013  www.peckhamspace.com
All images courtesy of Peckham Space.
Categories
Tags