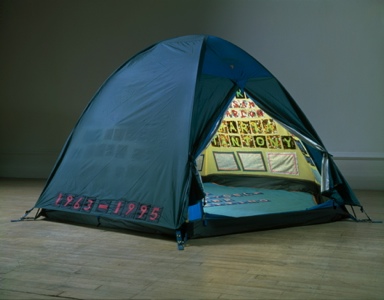 Tracey Emin, born 1963 Everyone I Have Ever Slept With 1963-1995 1995
Glasgow-based consultancy ISO has created the Gallery of Lost Art, a website launched by Channel 4 and Tate that draws together lost artworks.
The site displays art works that have been lost, stolen or destroyed and reveals the stories behind them. Among the artists whose work is on show are Marcel Duchamp, Joan Miró, Rachel Whiteread , Tracey Emin and Willem de Kooning, whose drawing was erased by Robert Rauschenberg in 1953 to create Erased de Kooning.
The virtual exhibition will be in place for only a year, after which it too will be 'lost'. It features Archival images, films, interviews, blogs and essays, revealing the evidence relating to the loss of works by over 40 artists across the 20th century. The site also aims to provide a platform for interaction, and discussion around the subject of lost art.
While some works are lost by accident, such as Tracey Emin's embroidered tent – famously destroyed in the 2004 fire at the Momart storage warehouse; some are 'lost' very deliberately. There's the aforementioned Erased de Kooning, of course, and also some destroyed Goya work – defaced by Jake and Dinos Chapman, who buy early nineteenth-century Goya etchings and then draw over them.
Jake Chapman says, 'We decided to draw on Goya. The point of Goya making the work was about wide dissemination … but what we're doing is rarifying the work by drawing on it, so we can deplete the numbers that are available.'
Jennifer Mundy, curator of The Gallery of Lost Art, says, 'Museums normally tell stories through the objects they have in their collections. But this exhibition focuses on significant works that cannot be seen. It explores the potential of the digital realm to bring these lost artworks back to life – not as virtual replicas but through the stories surrounding them.' Via: designweek
Categories
Tags