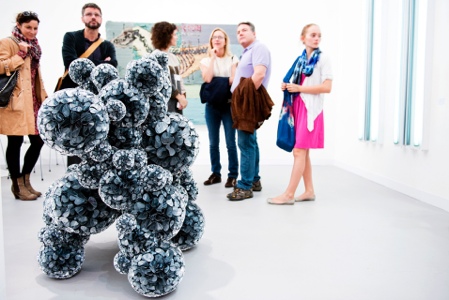 Frieze Film is a programme of artist films screened to coincide with Frieze London. Curated by Sarah McCrory, this year's commissions include five new films that will be shown in a specially constructed cinema. The artists commissioned to make new work for Frieze Film are: Bertrand Dezoteux, Patricia Esquivias, Jimmy Merris, John Smith and Wu Tsang & Nana Oforiatta-Ayim. The artists commissioned this year present a range of film-based practice that loosely deals with ideas including those of history and memory, be it personal or collective.
The way narrative is conveyed and constructed around individuals, buildings or objects and place is a theme that runs through the programme via imagined journeys, fictitious events and romantic relationships. This year Frieze Film will also present an expanded programme of film co- curated by Frieze Foundation and LUX, a UK agency focusing on artists working in moving image. A series of programmes of selected by guest curators will explore ideas surrounding the theme of 'travesty'. Commenting on Frieze Film this year,
Sarah McCrory said '
the five newly commissioned artists have varied practices and backgrounds, and are both emerging and established artists. There are some notional connections between the humour in John Smith and Jimmy Merris' work, and an investigation into place takes two wildly different directions in the work of Patricia Esquivias and Bertrand Dezoteux. Wu Tsang is presenting a new film in collaboration with writer and historian Nana Oforiatta-Ayim – a first time collaboration uniting their interests in otherness and the marginal. I'm extremely happy to be working with LUX again, to produce the programme accompanying the new commissions
.'
Frieze Film is presented as part of Frieze London's unique curated programme. Frieze Film, together with Frieze Projects and Frieze Talks, is commissioned and produced by Frieze Foundation.
Bertrand Dezoteux Bertrand Dezoteux's film The History of France in 3D is a CGI animation project that presents a non-chronological history of France. The narrative structure of the film follows a journey on the French rail network in a train peopled with significant characters from French history, among them Roland Barthes, Jules Michelet and Juliette Foucault, the chief conductor of the train. Christopher Columbus and Saint Francis of Assisi will also get on board in Le Mans. Rather than being specifically about France, Dezoteux's film suggests that France exists both as a tangible territory and as a virtual entity. The History of France in 3D offers the spectator a journey in a synthetic world that is 'made of France', just as a table is 'made of wood '. Bertrand Dezoteux (b.1982) is a French artist based in Bayonne. Recent solo shows and projects include 'Txerri', le Carré, Bayonne (2012); 'Le Corso', Palais de Tokyo, Paris (2010) and 'Roubaix 3000', Espace Croisé, Roubaix (2007). Group shows include: 'Low Mountains', Dar Bellarj Foundation, Marrakech (2012); 'Dynasty', Palais de Tokyo et Musée d'Art Moderne de la Ville de Paris, Paris (2010) and 'Reset', Fondation d'Entreprise Ricard, Paris (2010). Forthcoming shows will be at FRAC Aquitaine, Bordeaux (2012) and Sala Rekalde, Bilbao (2012).
Patricia Esquivias Patricia Esquivias will present a video that revolves around a specific apartment block in Madrid that dates from the late 1950s and has decorative tiles on its façade and balconies, featuring a different pattern for each apartment. In this new work, Esquivias will try to read the building like a book; to sit in privacy and work out what happened in this specific building. She imagines situations which she hopes actually took place, weaving them into the images of the building – but usually the reality that she finds does not match her fantasies. Patricia Esquivias (b.1979) is a Venezuelan artist based in Madrid. Recent solo exhibitions and projects include Hammer Projects, Hammer Museum, Los Angeles (2011); 'Todo lo que no es ración, es agio', Museo Nacional Centro de Arte Reina Sofía, Madrid and 'Reads like the Paper, 2005-2009', Midway Center for Contemporary Art, Minneapolis (both 2009). Group exhibitions include: 'Stories in Between', Stiftelsen 314, Bergen; 'LifeStories', Museum of Contemporary Art, Detroit, (both 2011); 'Les Faux Amis', Galerie Nationale du Jeu de Paume, Paris (2010); and 'Younger than Jesus', New Museum, New York (2009).
Jimmy Merris Jimmy Merris will make a new video work by using a bamboo stick with a camera sellotaped to its end – an improvised steadicam. The work will be shot in and around his studio in south London and will be the first time the artist has filmed outside the studio for an extended period – but will still encompass his typical ad-hoc production methods; 'the camera will then move back inside, perhaps through an open window, to record a series of domestic interiors, a new set of portraits, and joyful encounters with friends, neighbours, animals, and familiar objects which are just kicking around the yard here in South London'. Jimmy Merris (b.1983) is a British artist based in London. Recent solo exhibitions include 'Deep Joy on Home Soil', Studio Voltaire, London (2012), 'Economics 101' (with Terry Dennett), SPACE, London and 'Finding Your Feet In The Times Of The Worried Man' Seventeen Gallery, London (both 2011).
John Smith John Smith's film, Three Things (working title) begins with three objects shown to him by his father shortly before he died. Two of these were well- used objects that had become so steeped in history that their original forms and functions were almost completely obscured. A third object seemed to be instantly recognisable, but it turned out to be something else entirely. Taking these ambiguous artefacts as its starting point, Three Things will create a dialogue between abstraction and literal meaning, exploring the contradictions of memory and history to hint at the perceived character of a dead father and his relationship with his son. John Smith (b.1952) is a British artist based in London. Recent solo shows and projects include 'Horizon', Turner Contemporary, Margate (2012); 'Bildstörung', Kestnergesellschaft, Hanover (2012); 'Worst Case Scenario', Weserburg Museum of Modern Art, Bremen (2012) and 'unusual Red cardigan, PEER, London (2011). Group shows include: 'Image Counter Image', Haus der Kunst, Munich (2012); 'Locus Solus: Impressions of Raymond Roussel', Museo Reina Sofia, Madrid (2011) and Serralves Museum, Porto (2012); 'Descriptive Acts', San Francisco Museum of Modern Art (2012) and 'Has the Film Already Started', Tate Britain, London (2011). Forthcoming shows include Ferens Art Gallery, Hull (2012) and Espai, Barcelona (2012).
Wu Tsang & Nana Oforiatta-Ayim Wu Tsang & Nana Oforiatta-Ayim will present a short film that explores narratives of inclusion and otherness in a world in which relativity has liberated our sense of difference, de-centered the margins, and where, paradoxically, inequality and racism are more prevalent than ever. The film is set in a hybrid landscape made up of St Louis, Senegal and Los Angeles, USA and inspired by films including Douglas Sirk's 'All That Heaven Allows' and Rainer Fassbinder's 'Ali: Angst Essen Seele Auf'. The main characters include a Senegalese royal and a British working-class interloper. Their love, illicit in the eyes of the world, at first triumphs, then falters, the pressures of the outside world internalised, leaving us to question whether the equaliser of love and connection can win out against the constructions of difference and self. A Frieze Film & UKS Co-Production. Wu Tsang (b.1982) is an American artist based in Los Angeles. Recent group exhibitions include 'The Whitney Biennial 2012', Whitney Museum of American Art, New York; 'The Ungovernables: The 2012 New Museum Triennial', New Museum, New York (both 2012) and 'Performa 11', New York (2011). His recent feature film, Wildness, world premiered at MoMA's 'Documentary Fortnight', Museum of Modern Art, New York (2012). Tsang is a 2012 Louis Comfort Tiffany Fellow and has received support from the Good Works Foundation, Frameline, the Wexner Center for the Arts, the IFP Documentary Lab, Art Matters, and the Andy Warhol Foundation for the Visual Arts. Nana Oforiatta-Ayim is a writer, filmmaker and cultural historian, currently based in Senegal. Her work has been presented in 'The Ungovernables: The 2012 New Museum Triennial' New Museum, New York (2012); the Neue Gesellschaft für Bildende Kunst, Berlin; Vela Gallery, London; The Museum of African Diaspora, San Francisco, and will be shown at the Kunstmuseene Bergen, Norway later this year.
Categories
Tags