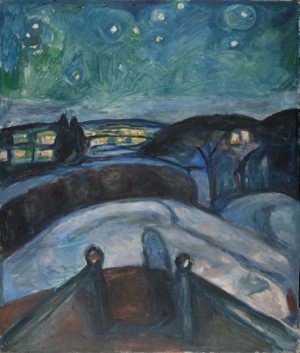 Edvard Munch Starry Night 1922-1924 Munch Museum © Munch Museum/Munch-EllingsendGroup/DACS 2012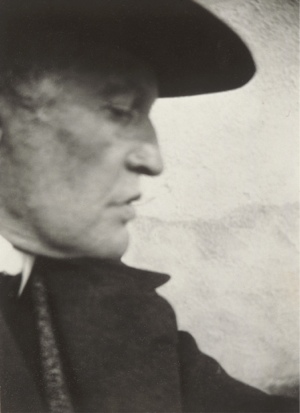 Edvard Munch Self-Portrait with Hat (Right Profile) at Ekely 1931 © Munch Museum
28th June – 14th October 2012 www.tate.org.uk
Edvard Munch: The Modern Eye is a major exhibition which reassesses the work of this Norwegian painter. It proposes a ground-breaking dialogue between the artist's paintings and drawings made in the first half of the 20th century and his often overlooked interest in the rise of modern media, including photography, film and the re-birth of stage production.
Few other modern artists are better known and yet less understood than Munch (1863-1944). He is often presented primarily as a 19th century painter, a Symbolist or a pre-Expressionist, but this exhibition aims to show how he engaged emphatically with 20th century concerns that were thoroughly representative of the modernity of the age. Organised in close cooperation with the Centre Pompidou in Paris and the Munch Museum in Oslo, it features over sixty carefully-selected paintings and fifty photographs, alongside his lesser-known filmic work. These reveal Munch's interest in current affairs and how his paintings were inspired by scenes observed in the street or incidents reported in the media. Far from confining himself to the studio, he frequently worked outdoors to capture everyday life.
The show also examines how Munch often repeated a single motif over a long period of time in order to re-work it. It gathers together different versions of his most celebrated works, such as The Sick Child from 1907 and 1925 and The Girls on the Bridge from 1902 and 1907, and others from collections including the Gothenberg Konstmuseum and the Nasjonalmuseet, Oslo. Like other painters such as Bonnard and Vuillard, Munch adopted photography in the early years of the 20th century and his photographic activities were largely focused on self-portraiture, which he obsessively restaged and reworked. Self-portraits also lay at the heart of Munch's painted oeuvre. In the 1930s he developed an eye disease and made poignant works which charted the effects of his degenerating sight. His last work, on display here, was one such self-portrait.
Munch's use of prominent foregrounds and strong diagonals reference the advancing technological developments in cinema and photography. Creating the illusion of actors moving towards the spectator, as if looming out from a cinema screen, this pictorial device can be seen in many of Munch's most innovative works such as On the Operating Table 1902-03 and The Yellow Log 1912 from the Munch Museum. Munch was also keenly aware of the visual effects brought on by the introduction of electric lighting on theatre stages and used this to create ethereal drama in, for example, his 1907 Green Room series. The duality of presence and erasure is further explored in key works such as The Sun 1910-13 and Starry Night 1922-24, where matter takes on an ephemeral or ghostlike appearance.
The exhibition was organised by the Centre Pompidou, Musée national d'art moderne, Paris, in cooperation with the Munch Museum, Oslo and in association with Tate Modern, London. It was curated by Angela Lampe and Clément Chéroux at the Centre Pompidou and by Nicholas Cullinan at Tate Modern assisted by Shoair Mavlian. A fully illustrated catalogue is available from Tate Publishing.
Categories
Tags