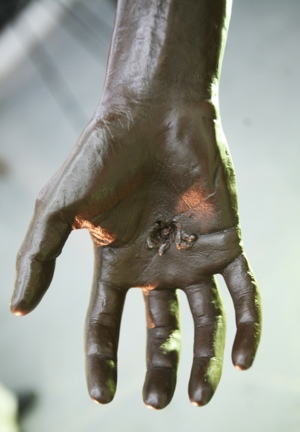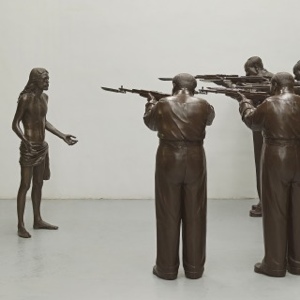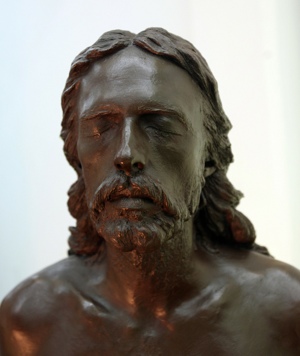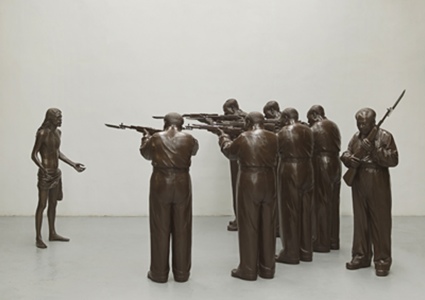 22nd July – 31st August 2012
Featuring the Gao Brother's seminal work 'The Execution of Christ', the exhibition takes up themes of death, detritus and decay and ultimately, points to their fundamental role in regeneration.
The exhibition is centered around the Gao Brother's seminal work, 'The Execution of Christ.' A grandiose, life size, bronze sculpture, the piece is an appropriation of Manet's 'The Execution of Emperor Maximilian'. In true political pop fashion, the firing squad are re-made as eight life size Chairman Maos, and the figure of the emperor is replaced with a portrayal of Jesus. It references firstly the oppression of organised religion, in particular Christianity under Mao's regime and during the Cultural Revolution, but also the Gao's own experience of losing their father when he was arrested and executed during this period.
Of all the themes this work references, the exhibition focuses specifically on the moment of liminality this sculpture exists in. At it's most dramatic, a space between life and death, but also between presence and absence, the secular and the religious. As Jesus stares down the barrels of eight rifles, death is present as a kind of threshold in which there is this potential for transition, rather than a final or end point. Each work featured takes up ideas of death, detritus and decay and their fundamental role in regeneration.
Hailing from Beijing, the Chinese Gao brothers have collaborated since the 1980's, creating works across all genres, from performance to installation, sculpture and photography and writing. Zhen Gao, born in 1956, and his younger brother Qing Gao, born 1962, have exhibited widely and their work is held in various permanent collections such as the Saatchi Gallery, London; and the Kemper Museum of Contemporary Art, Kansas City,Montana.
Collected and featured in some of the world's most prestigious art institutions, the Gao brothers have exhibited in China National Museum, Centre Georges Pompidou in Paris, Princeton University Art Museum and the San Francisco Museum of Modern Art. They are currently represented by Gallery Paris-Beijing.
Often highly politicised, their artistic practice has pushed to collapse the cultural boundaries determining the Eastern and Western divide in sculptures such as 'The Execution of Christ' in which Jesus faces a firing squad of seven life-size bronze casts of Mao Zedong. Other examples include another large work: 'Miss Mao' where we are presented with a hybridised version of Minnie Mouse and Pinocchio. References to the old regime are rife in their practice, most explicitly in works such as: 'If time reversed, Memory 1989'- a memorial in honour of the victims of the Tiananmen Square protests.
In some of their most recognisable works, the Gao brothers actively use their own bodies to expose a powerful psychological statement that extends beyond the personal. In their series of photographs: 'Sense of Space', the Gao brothers along with other anonymous models crouch naked, contorting to fit into closet-like spaces referencing the Chinese parable of the 'social straight-jacket'. Powerful and poignant, these kind of works reveal an attempt to spark up an open dialogue that is refreshingly honest and direct.
Solo shows include: 'Gao Brothers: Grandeur and Catharsis', Walsh Gallery, Chicago, Illinois, 2011; 'Portrait: Gao Brothers' Painting Exhibition', China Art Archives & Warehouse, Beijing, 2010; 'Sense of Space', Galerie Art Mûr, Montreal, Canada, 2008; 'Some Space for Humanity: Gao Brothers Photography Exhibition', Iaf Gallery, Shanghai, 2008; and 'The Gao Brothers', Vallois Gallery, Paris, France, 2008.
Group Shows include: 'RESHAPING HISTORY: China Art from 2000 to 2009', National Conference Center, Beijing, China, 2010; 'State of the dao: Chinese contemporary art', Lehman College Art Gallery, New York, USA, 2010; 'HOTBED: Shandong Contemporary Art', Sunshine International Museum, Beijing, china, 2010.
Categories
Tags