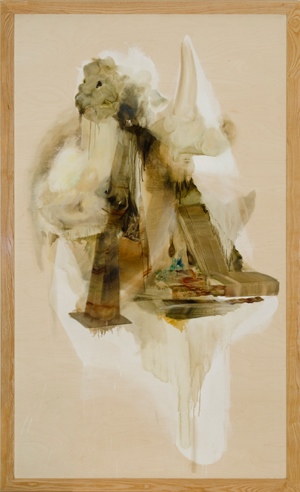 Vicky Wright Energies of a Disciple Betrayed I 2012 Oil on panel 230 x 140 cm/ 91 x 55 inches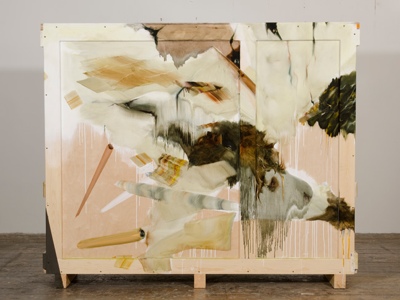 Vicky Wright Out of a Centre Which is Neither Dead Nor Alive 2012 (front view) Oil on wooden crate 160 x 191 x 43 cm/ 63 x 75 x 17 inches
1st June – 6th July 2012
Josh Lilley is pleased to announce the opening on Thursday 31st May of the second solo exhibition at the gallery by London based painter Vicky Wright.
www.joshlilleygallery.com
Wright's new work develops her fascination with painting structures, supports, and how a work of art is contained or framed within existing historical dialogues. Evolving from some of the previous subjects of her Guardian series, such as patronage and industry – where her loose portrait busts painted on the backs of panels revealed hidden political agendas within the history of industry and art – her latest paintings focus more specifically on the corruption and filtration of information in today's society.
The Garments of the Dominators take inspiration from an anonymous paranoiac conspiracy-theory text, provoked by the recent London riots. Found by Wright posted on a bus stop, the mystery author spoke of secret organisations that were controlling the citizens of the world, holding them in bondage 'like a snake slowly constricting its prey'. The text betrayed a combination of paranoia and mysticism, which seemed to rewrite acts of desperation as a cosmic event. Wright sees her new works as a sincere but satirical examination into such apocalyptic writings, focusing too on the protagonists behind such renditions.
The riots themselves had unfolded only days before underneath the artist's studio window, and as they developed Wright felt compelled to witness the scenes of chaos for herself. Hegel wrote about the motion of recognising, in which two self-consciousness's are constituted by the recognition of the other. In its extreme this takes the form of a 'struggle to the death' – wherein one ends up mastering the other. As Wright watched the mediated accounts of the day's events, she saw a similar battle of ideology raging long after the streets had fallen silent.
Her giant crate painting – Out of a Centre Which is Neither Dead Nor Alive – which sits alone in the upstairs gallery, is a self-portrait as a lion, channelling the consciousness of the author of the text and alluding to ways in which messages are propagated and disseminated in society. Like a PSYOP, this corrupted information is used to pacify and control its receivers – a form of contamination, that as an object can be seen as a vessel for exporting ideology. Previously a container for artworks, here the crate is reclaimed by Wright – displaying intricate and distorted painting on the outside. She inverts the function of the container, where instead of it being discarded it becomes the venerated object – an aggressive denial of the structure's intended use.
Her application of paint suggests messages literally oozing out of their containers. Questioning and teasing the viewer with illusions of space and trompe-l'oeil deceptions, Wright's large-scale panel paintings that adorn the walls of the downstairs spaces sit in a compromised slippage between landscape and form, portrait and expression. Retaining a feeling of post-event, they can be seen as expressions of the paranoia, suspicion, and subjective accounts that are becoming part of our collective unconscious.
Vicky Wright – Born Bolton, UK. Lives and works in London
Wright graduated with a Masters in Fine Art at Goldsmiths College, London in 2008. Previous solo exhibitions include The Informants, Josh Lilley Gallery, London, 2010 and COMMA 14, Bloomberg SPACE, London, 2009. Recent group exhibitions include Paintings, Max Wigram Gallery, London, 2012, Hallogallo, Sir John Cass Gallery, London, 2012, Among Flesh, Alison Jacques Gallery, London, 2011, John Moores Painting Prize, Liverpool, 2008 and Jerwood Painting Prize, London, 2007.
About Mark Westall