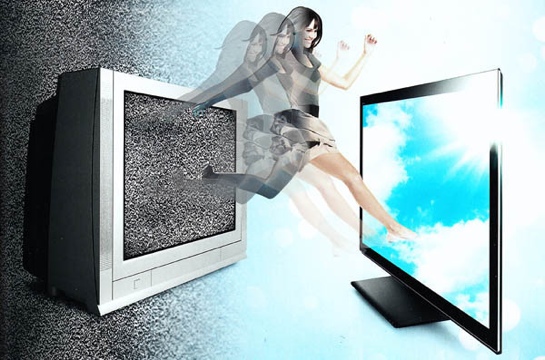 Simon Denny, Those who don't change will be switched off, 2012. Digital collage from transmission switchover advertising
Remote Control surveys the enormous impact that television has had upon contemporary culture through a range of artistic engagement with the medium and offers a look at how the next generation are responding to digital convergence. The exhibition maps the continued influence and diverse potential of TV as a social tool and new art form.
Artists include: ANT FARM, Kevin Atherton, Tauba Auerbach, Auto Italia, Joan Baderman, Judith Barry, Dara Birnbaum & Dan Graham, Lyn Blumenthal & Carole Ann Klonarides, Peter d'Agostino, Simon Denny, Jessica Diamond, Matias Faldbakken, Harun Farocki & Andrei Ujica, David Hall, Richard Hamilton, Lynn Hershman Leeson, KRIWET, Mark Leckey, Hilary Lloyd, Stuart Marshall, Marcel Odenbach, Friederike Pezold, Adrian Piper, Michelangelo Pistoletto, Radical Software, Martha Rosler, Gerry Schum, Richard Serra, Taryn Simon, Hito Steyerl, TVTV, Julia Wachtel and Antek Walczak.
As the analogue form of television becomes obsolete, Remote Control will simultaneously unveil a ruin whilst gesturing towards the future with a live programme entitled Television Delivers People. Participants include Auto Italia, Bob Stanley, Experimental TV Center, Stephen Sutcliffe, Jonny Woo and Lucky PDF.
Categories
Tags