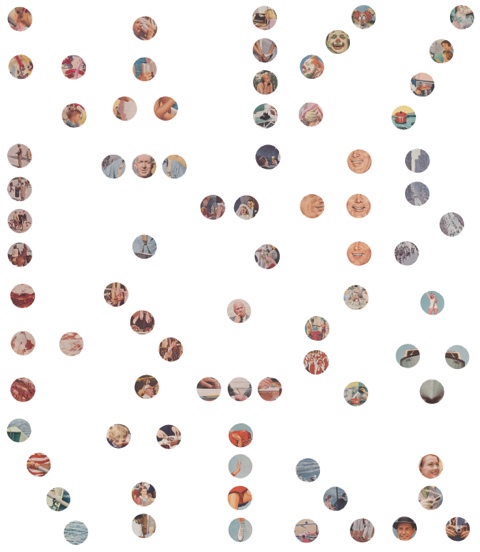 The Big Mid-Century Icosaptych20 7″ x 5″ collages on paper dimensions variable (current configuration: 28″x25″) 2012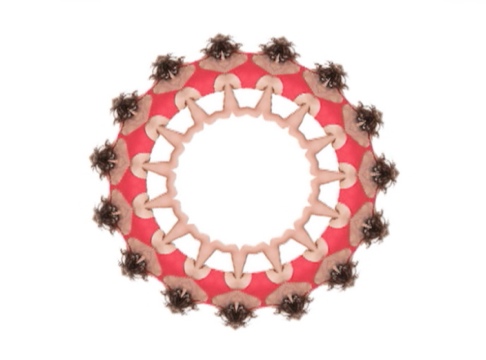 Pajamandala single channel video, 0:31, infinite loop 2012 Edition of 3
Exhibition Dates: 1st April 2012 to 29th April 2012 Online performance: 14th April 2012
Casualties of More, a new online gallery, is thrilled to announce its inaugural exhibition of new work by up and coming "Social Media Art" star Man Bartlett, curated by Man Bartlett.
The show, "Order Us Some Golf Shoes," takes its title from a line by Johnny Depp's character in Terry Gilliam's adaptation of Hunter S. Thompson's Fear and Loathing in Las Vegas. The quote, "Order us some golf shoes, otherwise we'll never get out of this place alive," has a particular resonance for the artist as he navigates and investigates his way through the contemporary art worlds of The Internet, New York City, and beyond through a lens of process and passion.
The work being presented by Bartlett shows the breadth of his artistic hybridization of mediums and will include a new "signature" online performance, a new video, a new sound work, a new collage "icosaptych" and a new-ish drawing.
The video, pajamandala, was inspired by a sour encounter the artist had on a website for pajamas. The concurrent sound installation, Come Apart, subverts The Beatles' song "Come Together" into a 30-minute drone-fest that is deeply concerned with the artist's lifelong relationship to the Fab Four. Bartlett will also be showing the first known icosaptych, a twenty- part collage mélange that blurs the line between analog creation and post-digital re- representation. Lastly, in the back room, Bartlett will be showing a process-oriented "pointpiece" drawing he completed in late 2011, which took over a year to complete.
More about the gallery:
Casualties of More is an online gallery founded in 2012 by Man Bartlett.
The gallery's name comes from a bad pun on the Brian DePalma film, Casualties of War (which the founder has never seen). Casualties of More seeks to highlight the work of cultural producers who create artistic interventions that act as juxtapositions between post-modernist notions of process and post-digital methods of activating online space.
More about Man Bartlett:
Man Bartlett (b. 1981) is an interdisciplinary artist who lives and works in Brooklyn.
His work often blurs the line between process and life, and creation, and what it means to be living in this digital and/or post-digital age. Operating primarily within the hybrid medium of "Social Media Art," Bartlett investigates notions of identity and simulacra using both online and IRL audiences, often within a durational, performative framework. His practice is, additionally, deeply concerned with labor intensive drawings that are often pigeon-holed and mislabeled as "obsessive." Bartlett also has an active body of collages that source images of Americana and advertising from a mid-20th century lifestyle magazine to create a faux-nostalgia worldview as a means of re-representing our oversaturated and overstimulated contemporary culture of desire and consumption.
Bartlett's work has been featured in ARTnews, C Magazine (cover), LA Weekly, Art in America online, Art Fag City, Hyperallergic, Huffington Post Arts, The L Magazine, ARTINFO, The Daily News, and The Stranger, among others.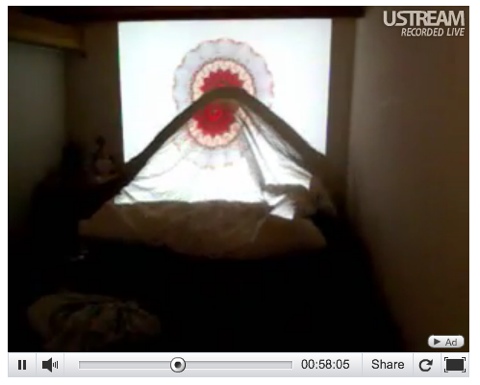 Sorry I missed my opening Screenshot from the opening
Categories
Tags