The Art F City auction is live on Paddle8! That means you've got through Monday, February 17th at NOON sharp to bid on all live items before the heading to Postmasters Gallery for the live auction with CK Swett. You have throughMonday, February 17th at TEN PM to bid on silent lots.
Guys, this auction is a well of access to some of New York's best artists and artworks. Our artist list speaks for itself:
Jeremy Bailey, Man Bartlett, Jay Batlle, Nayland Blake, Petra Cortright, Christian Chaize, Saul Chernick, Matthew Craven, Sara Cwynar, Jennifer Dalton, Ursula Endlicher, Carla Gannis, Christine Gedeon, Irena Jurek, Deborah Kass, Lisa Kirk, Matthew Leifheit, Lisa Levy, Jose Lerma, Lauren Luloff, Jason McLean, Lorna Mills, Marilyn Minter, Ruben Natal-San Miguel, John Powers, William Powhida, Marsha Owett, Tom Sanford, Trey Speegle, Mike and Doug Starn, Russell Tyler, Michelle Vaughan, Aaron Williams
A few highlights: we've got two (1, 2) sexy crotch shots from Marilyn Minter's bush series that are a total steal.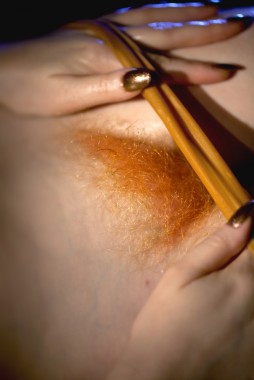 We've got a Petra Cortright digital painting on a flag picturing a nude, flowers, a brand new print from David Levinthal'sSpace Series, and a beautiful shot of a man's chest by Ruben Natal San Miguel.  We've got a lot of great art.
And for those who like the classic AFC experiences, we've got a few doozies for you. How about an exclusive private preview of the Whitney Biennial from biennial curator Michelle Grabner? Yup, that's up for grabs. Care to play poker with art world vigilante and virtuoso draftsman William Powhida, world famous finance blogger Felix Salmon and artist, educator, and instigator Nayland Blake? You totally can. Want to watch a #24hour Twitter performance about you, courtesy of Twitter maverick Man Bartlett? This piece can literally have your name on it.
So, let the bidding begin! And if you haven't bought your tickets for our Roast and Auction Monday, February 17th, do that now. You'll need to prepare for a night of crowning the worst and auctioning off the best because your life just won't be the same again.
Go to ART F CITY to know more!
Also, check out the brilliant contribution by the one and only Man Bartlett: HERE
Categories
Tags