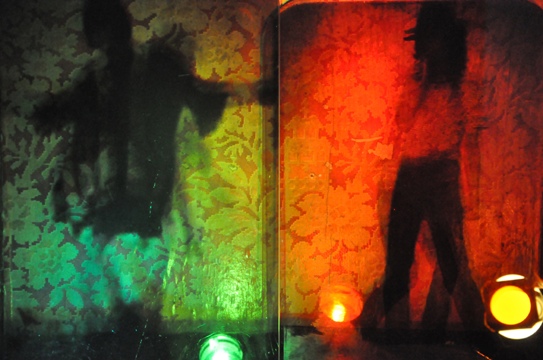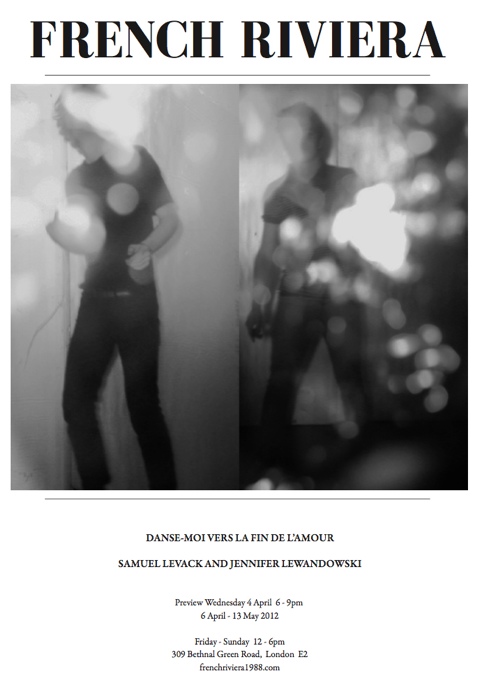 6th April – 13th May 2012
French Riviera 309 Bethnal Green Road London E2 6AH
French Riviera is to present the first solo exhibition at the gallery of artists Samuel Levack and Jennifer Lewandowski. Danse-moi vers la fin de l'amour is the culmination of a two year project by the artists, exploring the freedoms that result from the hedonistic ritual of dance. A particular concern was to observe the aesthetic phenomenon of a dancer isolated from the crowd.
The project was launched with a series of private performances of people dancing, which were filmed by the artists and processed via a combination of material and digital techniques. These films are now presented as part of an immersive installation in which visitors will encounter a sculptural assemblage of stage lights, mirrors and found materials, digital video, photographs and music by Das Hund, the experimental band formed by Levack and Lewandowski in 2010.
The videos in Danse-moi vers la fin de l'amour are studies rendered through the disciplines of dance and moving image. The artists used coloured gels and lights in front of the camera to interfere in the filming process. The films were then edited into sequences of fragmentary clips to produce a dynamic psychedelic effect.
The exhibition will be the sixth show at French Riviera, a gallery founded by Levack and Lewandowski in 2011, as a platform for exhibiting artists currently without representation.
A gallery text by Ellen Mara De Wachter, Curator of the Zabludowicz Collection, will accompany the exhibition.
Samuel Levack and Jennifer Lewandowski have been working together since 1999. Their multi-disciplinary practice encompasses moving image,installation, performance, experimental music and photography. Their work has been shown in Berlin, Paris, Brussels and London. Since 2007, they have curated and created a number of sculptural interventions at Port Eliot Festival in Cornwall as well as presenting their One Minute Disco (2007–2011), danced on the hour, every hour, at the festival. Last autumn, they were shortlisted for the Converse/Dazed 2011 Emerging Artist Award with The Whitechapel Gallery. This May, their work will be shown at 319 Scholes in New York as part of the exhibition E-Vapor-8, curated by Francesca Gavin. This summer, they will collaborate with Hannah Perry, for a new exhibition at Rod Barton Gallery in London.
levacklewandowski.com
French Riviera is a gallery in Bethnal Green, London, presented by artists Samuel Levack and Jennifer Lewandowski as an extension of their long-standing collaboration. Occupying the artists' former studio in a shop on Bethnal Green Road, the gallery offers a platform to artists who are currently without representation. Artists shown at the gallery include Lucy Woodhouse, Jon Nash, Hannah Perry, Leslie Kulesh and Beatriz Olabarrieta.
To coincide with the opening of Danse-moi vers la fin de l'amour on Weds 4th April, French Riviera will launch Please wait while we contact your bank, a series of sound art commissions for the gallery answerphone, with a new work by Nicholas Pankhurst.
Categories
Tags