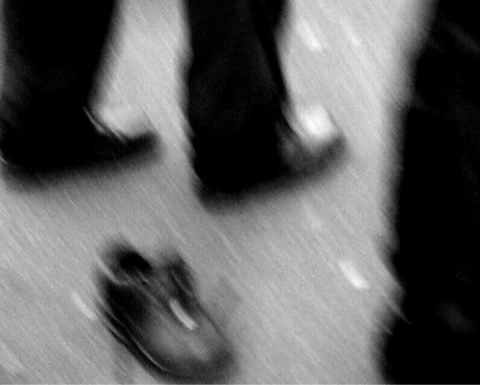 Still. Lis Rhodes. In the Kettle. 2012. 17 mins. DV.
£12 / £10 Concessions / £8 ICA Members / £5 ICA Student Members
Taking cues from the exhibition Lis Rhodes: Dissonance and Disturbances and the artist's use of appropriated imagery of the West Bank, Dr. Juliet Steyn will moderate a panel discussion that explores the concept of image politics, from its theoretical inception to its status in contemporary society. What happens to our understanding of an image as it is reproduced, redistributed and re-contextualized? Can art ever be truly non-referential, existing outside of existing social and political structures? How do the media and the processes of distributing images mediate our reactions to them? Dr. Steyn will be joined by Iain Boal, a social historian, and Astra Taylor, editor of the recent book Occupy! Scenes from Occupied America, in an attempt to unravel some of the intricacies of the multi-layered image, both in relation to Rhodes' work and more broadly.
Dr. Juliet Steyn is Senior Tutor for Research in the Centre for Cultural Policy & Management at City University London. She has published widely on art and cultural criticism, focusing on the politics of memory and identity, and the language of display in museums and galleries.
Iain Boal is a social historian of science, technics and the commons, with a particular interest in the image world. He is associated with Retort, a Bay Area group of writers, artisans and artists. He is co-author of Retort's Afflicted Powers: Capital and Spectacle in a New Age of War (Verso, 2005), and co-editor of West of Eden: Communes and Utopia in Northern California.
Astra Taylor is a writer and documentarian born in Winnipeg, Manitoba and raised in Athens, Georgia. She co-directed The Miracle Tree a short documentary about infant malnutrition in Senegal, and associate produced Persons of Interest, about the round up and detention of Muslims and Arabs in the aftermath of September 11th. Her first film, Zizek! screened at festivals, in theaters, and on television around the world and was broadcast on the Sundance Channel. Her latest work Examined Life, is a series of excursions with contemporary thinkers.
Categories
Tags