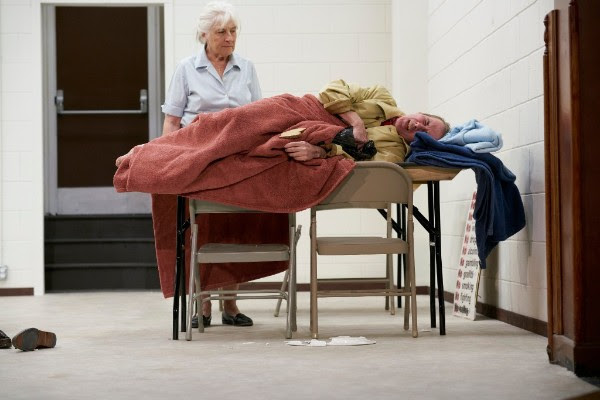 Richard Maxwell/New York City Players, Good Samaritans, 2017. Performance view at Abrons Arts Center, New York
The Institute of Contemporary Arts is to present the world premiere of QUEENS ROW, a new play by celebrated New York director, playwright and actor Richard Maxwell. QUEENS ROW is commissioned and produced by the ICA, and marks the first time a play by the director has been produced and premiered in the UK.
Maxwell's plays reveal authenticity, integrity and problems in his characters and the unspoken gap between people and their words. His work often revolves around a small group of people within a contained architecture and the poetic directness of their interactions, loaded with existential questions. Maxwell describes his approach as 'staged writing, dialogue between mostly static figures, favouring an American archetype, often accompanied by irony.' Relationships between his characters and their words are considered, yet indeterminate, exposing their humanity. In QUEENS ROW, a man's absence affords three women – mother, lover and daughter – the opportunity to re-evaluate their perspectives on belief, security and class.
Maxwell founded New York City Players in 1999, and his influential body of work encompasses over twenty plays written for stage, presented in galleries and realised as films. His protagonists include characters such as Rosemary, an intake counsellor in a rehab centre in Good Samaritans (2004) or Cosmo, a boxer's manager in The Evening (2015) who are representations of complex cultural archetypes such as the hero and the anti-hero, surrounded by narratives that veer between social realism and the historical and metafictional. Creating juxtapositions of reality, he regularly works with non-professional actors and occasionally employs rudimentary robots as performers. Additionally, Maxwell's use of lo-fi music and song informs the work with rhythms and introspections of lyrical structure that echo throughout.
QUEENS ROW exemplifies the ICA's renewed commitment to supporting new work in theatre, performance, dance and music. As part of this renewal, Maxwell has also initiated a series of physical changes to the ICA Theatre.
QUEENS ROW
Written and directed by Richard Maxwell
Set and Lights: Sascha van Riel
Costumes: Kaye Voyce
Assistant Director: Soraya Nabipour
Stage Management: Jack Finerty
Richard Maxwell is a playwright, director and the artistic director of New York City Players (NYCP). He has received the Doris Duke Performing Artist Award, a Guggenheim Fellowship, a Foundation for Contemporary Arts Grant and contributed to the 2012 Whitney Biennial. In 2018, his play Paradiso premiered at Greene Naftali Gallery and will be presented at Nanterre-Amandiers, Paris; FAB festival, Bordeaux; and Théâtre Garonne, Toulouse this fall. In 2018, Maxwell will participate in the Chinati Foundation's Artist in Residence programme in Marfa, Texas, where his video-play Ads will be staged. Maxwell's first monograph of his plays, The Theater Years, was published by Greene Naftali and Westreich Wagner (2017). Other publications include Theater for Beginners (2015) and Plays, 1999–2000 (2004), published by TCG. Richard Maxwell is represented by Greene Naftali Gallery, New York.
Sascha van Riel met Richard Maxwell while working on Toneelgroep Amsterdam's production of Good Samaritans. She designed the set and lights for Richard's plays The Frame, Das Maedchen, Ode to the Man Who Kneels, Neutral Hero, Open Rehearsal for the Whitney Biennial, Isolde, The Evening and Paradiso. She works as a freelance set designer for Dutch and Belgian companies.
Kaye Voyce has worked on costume design for Richard Maxwell and NYCP on Henry IV Part One, The End of Reality, The Frame, Neutral Hero, Isolde (with Romy Springsguth), Open Rehearsal for the Whitney Biennial, The Evening and Paradiso. Other recent work includes Hamlet, directed by Sam Gold, Annie Baker's The Antipodes, directed by Lila Neugebauer, Measure for Measure with Elevator Repair Service and Trisha Brown's final two dances.
Categories
Tags