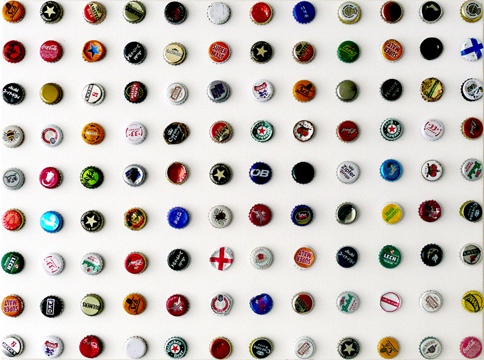 Cheap Version for DH, metal on canvas – CSL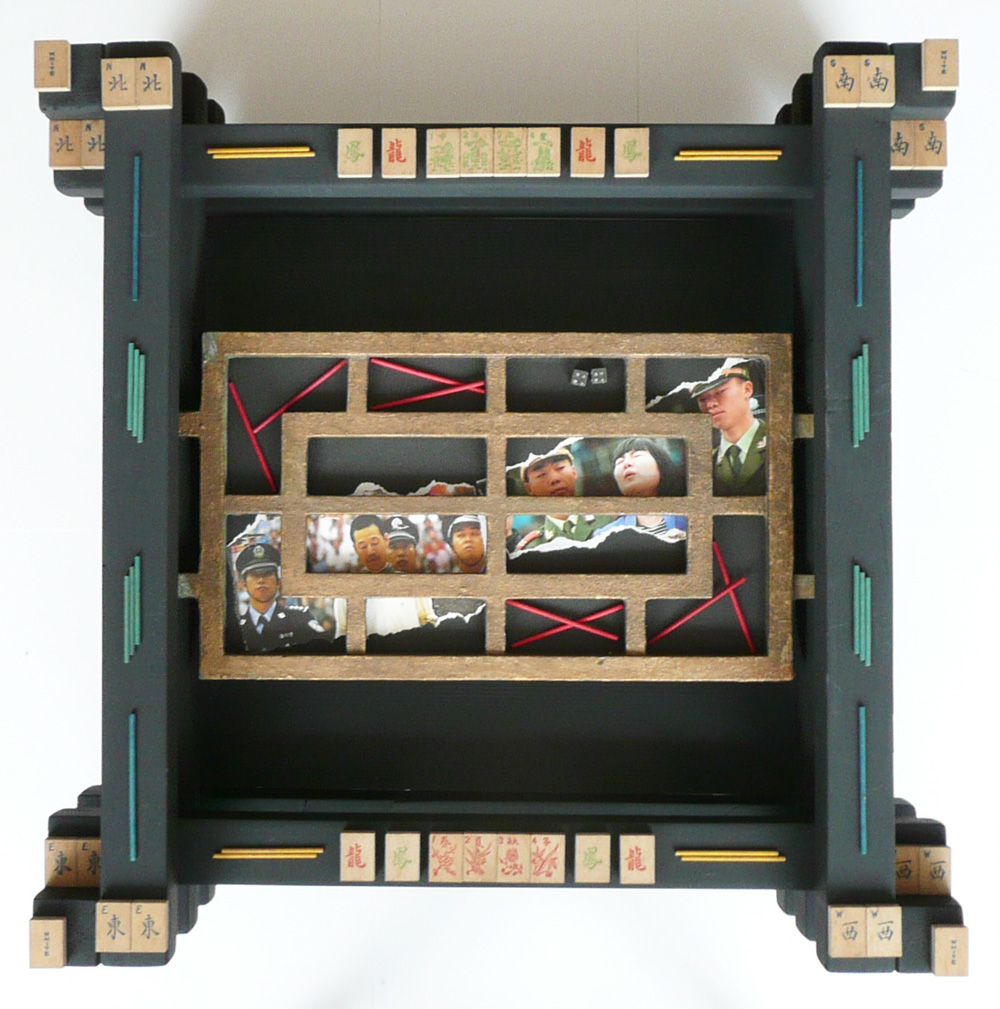 This Game Not Those – Catherine Shakespeare Lane

Local Whispers – ExperimenterEnCouleur and RuanQianrui
24th February – 11th March 2012 Shoreditch Town Hall
Private View 23rd February 2012
Full Rabbit is a group exhibition featuring the works of UK and Chinese artists, examining the notion of fortune. The exhibition will open in London from 24th February 2012 in the vast basement vaults of Shoreditch Town Hall.
Full Rabbit will showcase a multi-disciplinary collection of solo and collaborative work previously unseen in Britain, from twelve UK based and eight Chinese artists.
The artists featuring in the show include Catherine Shakespeare Lane, the British artist who showed a triptych featuring Francis Bacon's dead body at James Birch's A22 Gallery. CSL will exhibit unseen work including, Piss Artist for D.H, an installation of champagne bottle caps originally made for Damien Hirst, representing the celebration of 300 occasions, like drinks with Francis Bacon and other notorious Colony Room characters.
On Top of Edouardo fuses two rabbits from Chinese and British culture featuring a plaster cast given to CSL by Eduardo Paolozzi and This Game Not Those is a piece about the victimisation of Chinese protesters in the lead up to the Beijing Olympics.
Much-talked about British painter Chris Moon ("A new art superstar", Harper's Bazaar), whose successful debut solo exhibition took place in London in 2011, will unveil his Love Heart series, eight installations using nostalgic Love Heart confectionary at various stages of disintegration to tell the story of past relationships, from First Love, to One Night Stand and Fantasy Girl.
Collaborative works between UK and Chinese artists include Local Whispers, shown at the V&A (January 2011), but further developed in Beijing to become a reference for the current interpretive situation. This involves Sui Jianguo, Experimenter En Couleur, YanJun, Jun Yuan, Ruan Qianrui, Christian Krupa and Ding Xin. Sound installation Rabbit Sequence by Experimenter En Couleur and Ruan Qianrui, sees 20 people ranging from 3-80 years old, asked to talk about their fortune and presents them as traditional Chinese clay ornaments.
Full Rabbit completes a collaborative project exploring perceptions of fortune by artists in both the UK and China. The Beijing show was exhibited at Platform China Institute of Contemporary Arts under the title Half Rabbit in June 2011, halfway into the Chinese Year of the Rabbit. Some of the Chinese artists in the forthcoming London show have never exhibited work outside their country.
Full Rabbit artists are: Maria Castro, Experimenter En Couleur, Paul Davis, Leslie Deere, Felicity Ford, Gogo J, Sui Jianguo, Yan Jun, Christian Krupa, Catherine Shakespeare Lane, Alex McLean, Chris Moon, Tim Norris, Ruan Qianrui, EunJoo Shin, Seaming To, Neil Webb, Ron Wright, Ding Xin and Jun Yuan.
Curator Alexis Bamforth of Audio Architecture Arts comments, "The reaction to the Half Rabbit exhibition in Beijing in 2011 was extremely positive, even though many of the Chinese artists were nervous about their works being in such a public show. We look forward to unveiling the London group show. We're particularly proud of the collaborative work produced by British and Chinese artists and the struggles we overcame to make it happen. Full Rabbit celebrates the concept of fortune and the cultural exchange of work between UK and Chinese artists, and we are extremely excited to showcase some of the most interesting emerging talent in China, on an international stage."
Categories
Tags