Aside from over 80 artists to buy direct from at The Other Art Fair this weekend, there are other events which will be taking place as the newest fair on the London scene takes over the spectacular Bargehouse. The fair runs from Friday – Sunday, and FAD readers can get free entry here
Joffe and Pye's 99p Shop Sponsored by CASS Art:
Always looking to create an impact, well known artists Jasper Joffe and Harry Pye will be encouraging anyone to become an art collector with their very own 99p shop. They will be creating hundreds of pieces exclusively for The Other Art Fair ranging from small paintings to hand made objects. All of which will be sold for under a pound!
The Robin Collective's Cafe du Pique-Nique:
The Robin Collective will be bringing a little ray of sunshine to the Fair with their Secret Garden Cafe du Pique-Nique.
Banner Repeater Bookstore:
Hackney art collective Banner Repeater are setting up a bookstore at the Other Art Fair. Selling specially created art books it is a prime time to unleash your inner art geek!
Tom's Shoes – One for One Competition:
Espadrilled friends of The Other Art Fair are asking you to create your own personal piece of original shoe art. Doodle to your hearts desire on a paper origami Tom's shoe and immediately be entered for a competition. The talented doodlers winning design will given life by Tom's and turned up on their doorstep in time for Spring.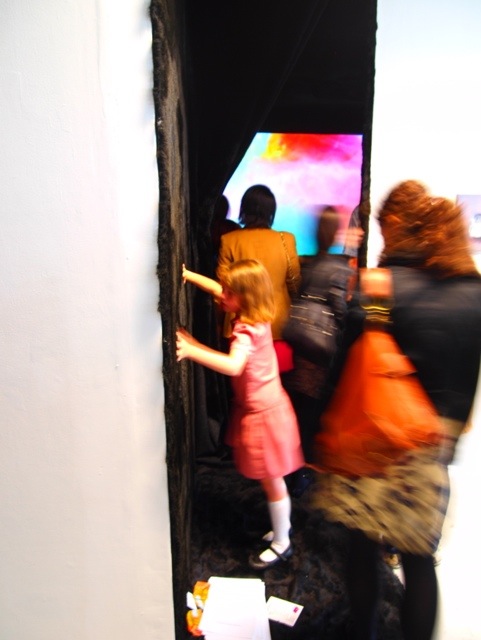 Hey Picasso Junior Get In The Interactive Kid Corner:
Given weekends packed full of the things you should do, need to do and want to do but getting all that done with the kids around can be tough. So, The brilliant minds at the Other Art Fair will have a supervised kids entertainment area where you can safely leave the kids behind sticking fingers in playdough and generally unleashing their inner Picasso allowing you to peruse the Fair in peace.
Under 200
Yes, you are seeing right that does mean that certain works will be sold for under 200 pounds. Who says you can't be an art collector/buyer/lover this is a unique opportunity to buy work from some of the most exciting new talents – You never know what will happen over the next few years!
Curated Walks
Interested in learning more or simply looking for a guided walk around the Fair? STOP in the name of Art Love and look no further as scheduled art tours will be taking place daily (Midday, 2pm and 4pm). Covering topics including 'Buying your First Piece', and 'Investing in Art' as well as what ever our lovely lecturers fancy nattering about.
Categories
Tags