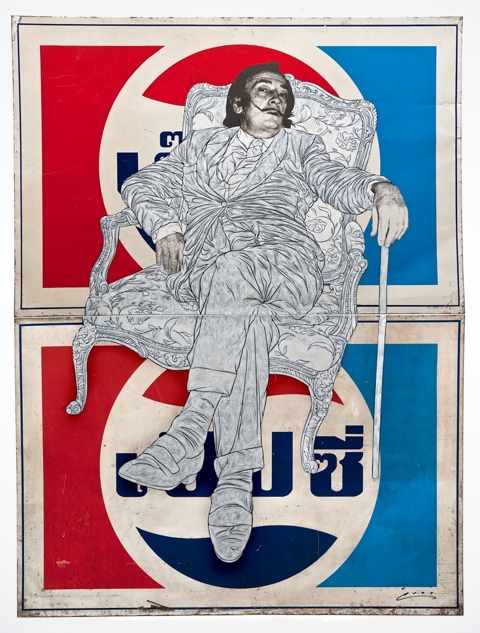 18th November 2011 – 7thJanuary 2012
Pakpoom Silaphan opens his second solo exhibition at Scream this November, featuring new work on iconic artists including Francis Bacon, Peter Blake, Salvador Dali, Jean-Michel Basquiat, Keith Haring, Frida Kahlo, Gilbert and George, Jackson Pollock, Rembrandt van Rijn, Mark Rothko and Andy Warhol. Pakpoom's first solo show at Scream last autumn was described by Emma Love in The Independent as "a sign of the times".
Silaphan is a mixed media artist, and in previous work has used collage and illustration with marker pen and emulsion to adorn advertising signs from his native Thailand, selling products like Coca-cola, Pepsi and Fanta, with high-profile artistic, historical and political individuals such as Che Guevera, John Lennon and The Queen. With his second exhibition at Scream, he continues to use vintage signs as a canvas, this time adorning them with images of artists who have inspired him.
He presents us with whimsical interpretations of iconic artists at work and play; Kahlo sitting regally on a chair; Dali jumping athletically across a triptych created by vintage Thai calendars; Bacon casually checking the time on his wrist watch; Pollock dripping paint; Duchamp fixing the viewer with a cold gaze; Picasso drawing freestyle across a vintage sign; and multiple Warhol figures crouching on a studio floor creating screen prints.
These works are not just aesthetically attractive, but intellectually engaging and reflect the artist's experience of inhabiting two very different cultures, which are linked through iconic figures from popular culture and international logos. On revisiting Thailand after ten years of studying art in London and rediscovering the signs he collected from rural streets in his youth, he decided to incorporate them into his artistic practice. To him the antique signs demonstrated the power of advertising and corporate branding in countries outside the Western World, something he has depicted with his Warhol-esque elevation of everyday brands to high art. He makes a clear connection between products and icons, and the way they are presented.
It is not only advertising boards that have been used as canvasses; found objects are a signature of his work. Other examples include the 'Last Supper' series in which he used thirteen warning lamps found on building sites, and adorned each with a figure from Leonardo da Vinci's famous depiction, or his ironing board sculptures, inscribed with the first three pages of the book of Genesis in the Bible.
A fully illustrated catalogue with text by Jean Wainwright will be published to accompany the exhibition.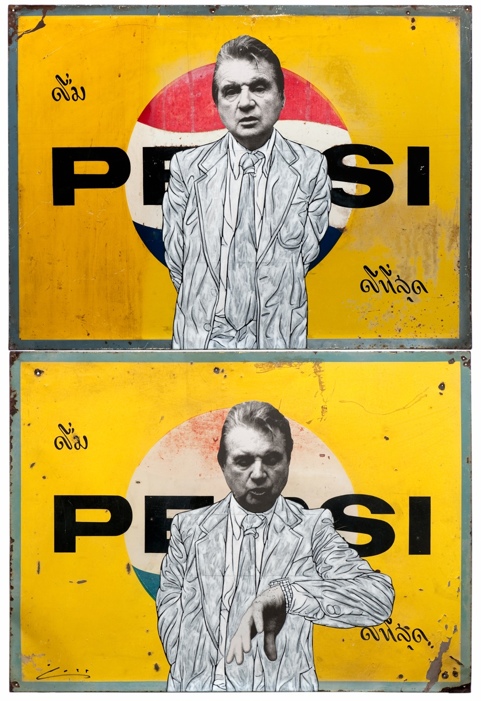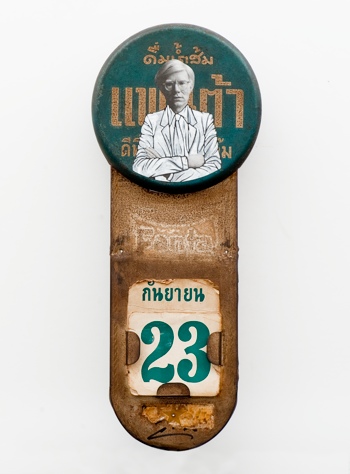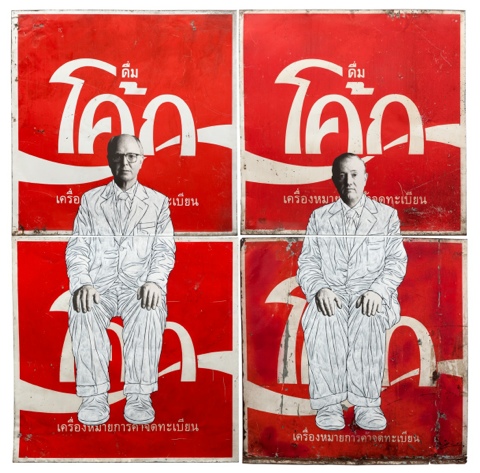 Categories
Tags