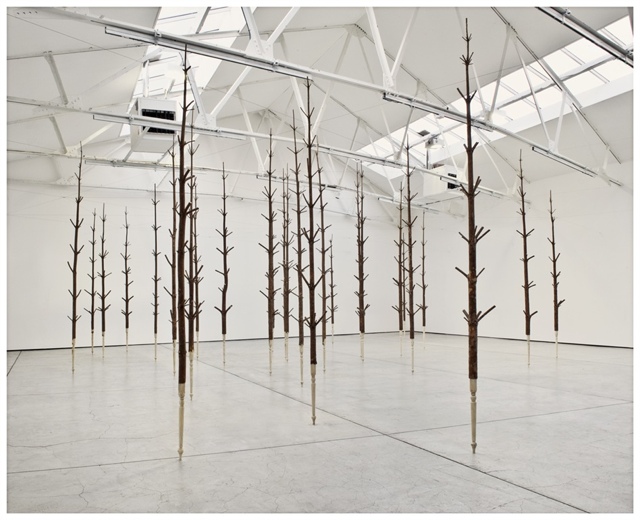 Alastair Mackie's new and largest installation to date, created in response to the AVA's converted gallery space twenty seven pine trees stand incongruously in mid-transformation creating a pseudo-forest within the stark white space of the gallery.
Each tree is caught in a transitory state of metamorphosis, half carved between what it was and what it will become, the stripped tree tops balancing upon identikit table legs. The juxtaposition of the raw natural elements of the tree with the carefully carved table legs demonstrates Mackie's continuing interest in the interconnectivity of the traditionally opposed ideas of 'wild' and 'civilised.' Thetrees act as a metaphor of mankind's evolution from atavistic primates to our contemporary consumer driven society. As Coline Milliard notes in the catalogues opening essay, the placement of the trees within the gallery further mimics society's own incorporation of the tamed wild into the city space. It is through this reconciliation of both formal and conceptual elements that Mackie successfully forces the spectator to question their own understanding of what it means to be civilised.
Yet, Mackie's work is suspended between alternate worlds, neither fully natural nor completely man-made. His work questions an evolutionary state of being where nature becomes incorporated into culture and vice versa. Past works such as Untitled (+/-) display a wooden loom and a pile of mouse skulls recovered from regurgitated owl pellets from which the artist removed the indigestible mouse hair to weave a unique section of mouse hair cloth. Conversely Shapeshifter sees the artist reconstituting 200,000 matchsticks back into a branch of a tree.
The ambiguity of 'Copse' follows the path setout by Mackie's early works, its undefined status and meaning being its greatest strength. This non-definition that defines 'Copse', seen within both the formal and conceptual make-up of the work, reflects an art historical lineage of reinterpretation and transformation. From Rodin's 'non-finito' technique to the shop bought 'Tree' series of the Arte Povera artist Giuseppe Penone. Mackie appears to parody these art historical references within
'Copse' in his refusal to fully embrace either concept leaving his trees neither a foil to his virtuosity or wholly defined in their intent.
Categories
Tags