Somerset House is currently hosting Making It Up As We Go Along, an exhibition celebrating 20 years of Dazed & Confused Magazine.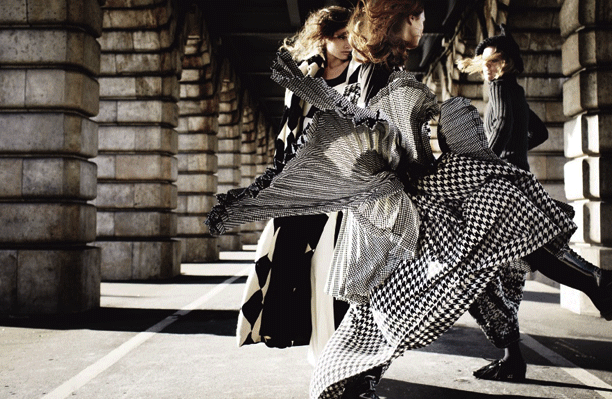 Yohji Yamamoto Feature, photography by Serge Leblon, February 2011
The exhibition coincides with the release a book of the same name that documents 20 years of the agenda-setting powerhouse of contemporary style, design, and popular culture. As other print publications flourished and folded, Dazed & Confused's continuing popularity is something to be marvelled at, and this book and exhibition chart the rise and rise, and perhaps goes some way to demonstrate why it has never succumb to the almighty digital Juggernaut that is the internet.
Launched in London in 1991 by Jefferson Hack and renowned photographer Rankin, Dazed & Confused has always been synonymous with an irreverent, genre bending output, and has long held a crown of notoriety as a creative platform for new artists, musicians, designers, and filmmakers. The magazine was perhaps the most successful proponent of the new wave of publications and outlets which flourished in Britain in the early 90s, all of which eclectically drew together figures from across creative disciplines and eras to generate new content that blazed its own trail in British and international creative industries. Whatever you think of Dazed, it's been an undeniably unstoppable and ever present force on the British and international creative and cultural scene, and a zeitgeist documenter, if not a zeitgeist maker.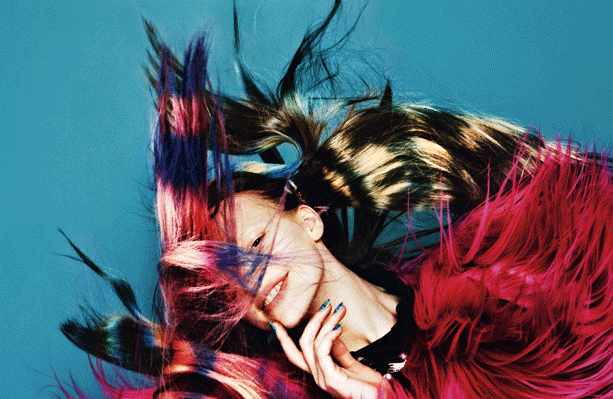 Tie Die Hair, photography by Mark Pillai, December 2009
The exhibition has been curated by Jefferson Hack and Emma Reeves, and immortalises the magazine's most infamous visual stories, featuring legendary photoshoots, iconic covers, controversial editorial content and artwork from the photographers, designers, and artists the magazine has collaborated with in its 20 years in the game. The content will be displayed across Somerset House's Terrace and Courtyard rooms and features work from world-renowned names. Work featured includes ground-breaking photography by Rankin, Nick Knight, David Sims and Terry Richardson, specially commissioned projects by artists Jake & Dinos Chapman, Damien Hirst and Sam Taylor-Wood, cutting edge fashion pages by stylists Katie Grand, Katy England, Alister Mackie and Nicola Formichetti, and specially selected designs by fashion giants Alexander McQueen, Vivienne Westwood and Gareth Pugh.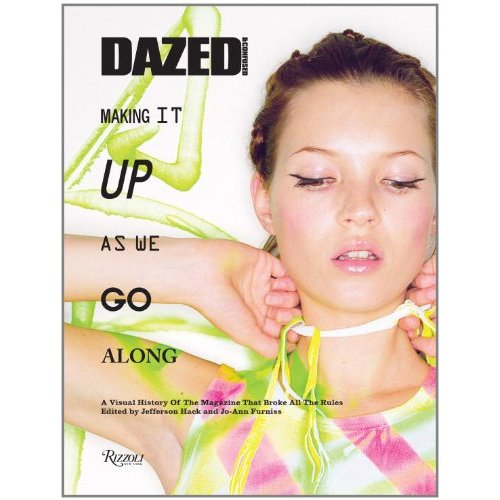 Dazed & Confused: Making It Up As We Go Along Edited by Jefferson Hack and Jo-Ann Furniss / Foreword by Ingrid Sischy Hardcover with jacket /220 x 300mm / 336 pages / 450 colour photographs £35.00 Rizzoli New York
The book, published by Rizzoli New York, features work from some of these industry leaders, and has been edited by the King of all things Dazed, founder Jefferson Hack, and is co-edited by Jo-Ann Furniss. Collating the ephemera and content which has shaped the magazines irreverent documenting of all the brightest shining stars drawn from across the creative and cultural universe for the past 20 years. Within the pages of the books you'll find everyone from David Bowie to Björk, Harmony Korine to David Lynch, Kate Moss to Stockhausen, and Rankin to Thom Yorke, this is a record of the evolution of contemporary pop culture.
Daringly illustrated, the book aims to immortalize the magazine's most enduring features, from legendary photo shoots and iconic covers to controversial interviews. All this content is supplemented with outtakes, ephemera from the editors' offices, original artwork, and contributions from the photographers, designers, and artists behind it all.
Making it All Up As We Go Along at Somerset House | The book of the show | 20 Years of Dazed & Confused
Categories
Tags