This Saturday join Fox&Squirrel for a wander around the artistic hive of East London. The walk takes in an area which came to prominence as an art centre in the 1990's with YBA locals stealing headlines, and a host of galleries opening up from Hoxton to Shoreditch, Hackney to Whitechapel. The walk celebrated the incredible diversity to the ecosystem of east London's art scene, hosting major commercial spaces like White Cube, artist run spaces and studios, and not-for profit galleries like Parasol Unit and Raven Row. This tour will take advantage of the wealth of creativity fostered in the area taking a route through Shoreditch, down into Spitalfields and finally to Whitechapel for the jewel in East London's crown, the Whitechapel Gallery.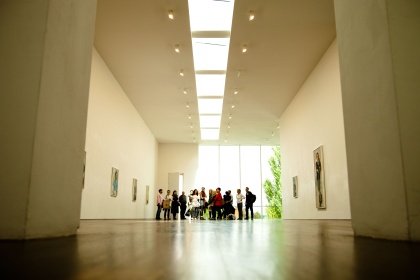 PayneShurvell is showing a group show of prints by renowned practitioners of the medium such as Sir Peter Blake in 'Your Garden is Looking a Mess, Can You Please Tidy it Up'. The space aims to bridge the gap between an artist-run space and a commercial gallery, showcasing emerging UK and international artists and featuring work from all media.
Raven Row is run by Alex Sainsbury, part of the supermarket dynasty who are major philanthropists in the arts. Raven Row's programme is intended to appeal both to a specialist audience and a broader, curious public and is led by a desire to test art's purpose outside the market place. This elegant space is currently showing the work of Mathias Poledna and Florian Pumhösl whose films and paintings respond to the galleries distinct Hugenot architecture.
The Whitechapel Gallery was founded in 1901 to 'bring great art to the people of the East End of London'. They are currently displaying the paintings of Wilhelm Sasnal which chronicle the complex experience of life today. Mixing art historical references with images taken from the internet, their subject matter knows no limits. In a visual culture flooded by photographic images, Sasnal's work attests to the continuous spellbinding power of painting. This exhibition surveys his work of the past ten years.
Meet Art Guide Natasha Hoare at the LightBar at 2.50, with the walk leaving promptly at 3pm. Tickets are £15, get them here
http://www.foxandsquirrel.com/
Categories
Tags