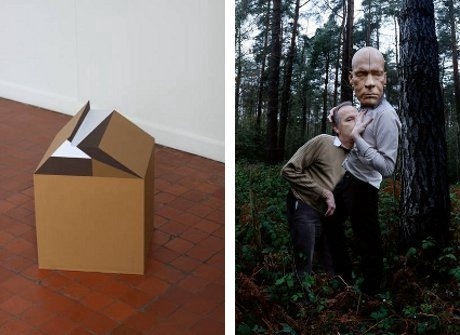 New Sensations and The Future Can Wait Will be presenting the largest-ever exhibition of emerging art to take place during London's Frieze Week.
This year both ventures celebrate their fifth anniversaries marking a major milestone in their aim to provide a counterpoint to Frieze Art Fair, with its emphasis on established artists, and a platform for new artistic talent.
Featuring over 50 artists working in painting, sculpture, installation, video and photography,the exhibition will take place across 22,000 sq ft at B1, Victoria House in London's Bloomsbury Square.
New Sensations, sponsored this year by specialist insurer Hiscox, and The Future Can Wait, presented in association with the Mark Clannachan Collection, were each initiated in 2007. New Sensations was launched by the Saatchi Gallery and Channel 4 to find and support the most imaginative and talented young artists in the UK and to present their work to an international audience during Frieze Week. Similarly, The Future Can Wait was conceived by Zavier Ellis and Simon Rumley as an ambitious, curated exhibition of young artists offering an alternative experience to the traditional gallery and art fair systems.
www.saatchigallery.com/ns www.thefuturecanwait.com
New Sensations Artists:
David Birkin,Gabriella Boyd,Jonny Briggs,Ernesto Canovas,Ronin Cho,Marianna Chojnacka, Emma Critchley,Krystina Naylor,Kira Freije,Clare Gallagher,Tom Howse,Jeremy Hutchison, Joonho Kwon,Charles Ogilvie,Catherine Parsonage,Emily Platzer,Yelena Popova,Tal Regev,
Keke Vilabelda,Julia Vogl.
The Future Can Wait Artists:
Dale Adcock,Emma Bennett,Kiera Bennett,Oliver Clegg,Inez de Coo, Hugo Dalton,Adam Dix,Rose Gibbs,Andy Harper,Luke Jackson,Sam Jackson,Monica Ursina Jäger,James Jessop,Chris Jones,Benjamin Kustow,Francesca Lowe,Alastair Mackie,Lee Maelzer, Wendy Mayer,Hugh Mendes,Kieran Moore,Alex Gene Morrison,Suzanne Moxhay,Atsuko Nakamura,Nika Neelova,Gavin Nolan,Tom Ormond,Wieland Payer,Claire Pestaille,Danny Rolph, Dominic Shepherd,John Stark,Erik Tidemann,Oleg Tolstoy,Gavin Tremlett.
Categories
Tags