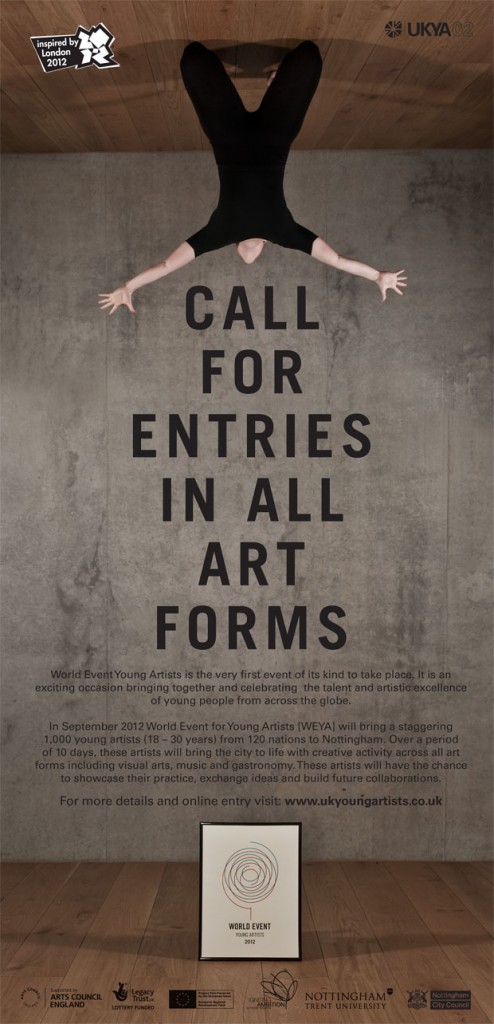 In September 2012, the first World Event Young Artists (WEYA) launches in Nottingham. A finale to the Cultural Olympiad, WEYA – the first event of its kind – will bring together 1,000 young artists from 120 nations for a ten-day cultural festival across the city. WEYA now seeks applications from UK-based artists of every discipline who have exciting new work to share and who are open to the possibilities of intercultural dialogue that the festival will afford.
Applications are invited across all art forms – from music, dance, theatre and spoken word to film, visual art and fashion – and from artists aged between 18 and 30. Successful applicants will go on to represent the UK in the festival, and will join artists from countries ranging from Italy, Kenya and Mexico to Canada, India and China. WEYA takes place from 7th to 16th September 2012 and will be held across Nottingham's world class arts venues and in alternative spaces all over the city.
World Event Young Artists is hosted by UK Young Artists. As well as giving artists a high-profile international platform to show their work, WEYA will provide them with opportunities to see work from all over the world, collaborate with other like-minded individuals, network and take part in talks and debates. Successful artists will be chosen by an expert selection panel comprising curators and programmers from a range of UK arts venues.
The closing date for entries is 1st October 2011, with selected artists informed of their success in February 2012. Call for entries for other countries will be announced in different waves throughout the summer.
For more information visit www.ukyoungartists.co.uk
About World Event Young Artists
World Event Young Artists 2012 is the first event of its kind. In September 2012 it will showcase some of the best creative talent from across the globe, bringing 1,000 artists aged 18 to 30 together in one city – Nottingham – for a festival programme that will stretch across artforms, from live music to dance performances, theatrical installations to spoken word, film to visual arts exhibitions and gastronomic events.
It will be a finale to the 2012 Cultural Olympiad and builds on the success of the Biennale of Young Artists from Europe and the Mediterranean (BJCEM).
World Event Young Artists, hosted by UK Young Artists, will celebrate the creativity of young artists in a line-up of internationally regarded cultural venues and alternative spaces across the city for ten days (7th – 16th September 2012).
UK Young Artists
UK Young Artists is an exciting, new organisation working nationally and internationally to showcase young, creative practitioners between the ages of 18 – 30 whose work spans across all art forms; from visual arts to music, performance to literature. UK Young Artists pride themselves on providing networking opportunities and artistic development through intercultural dialogue and exhibitions showcasing outstanding art.
About Mark Westall