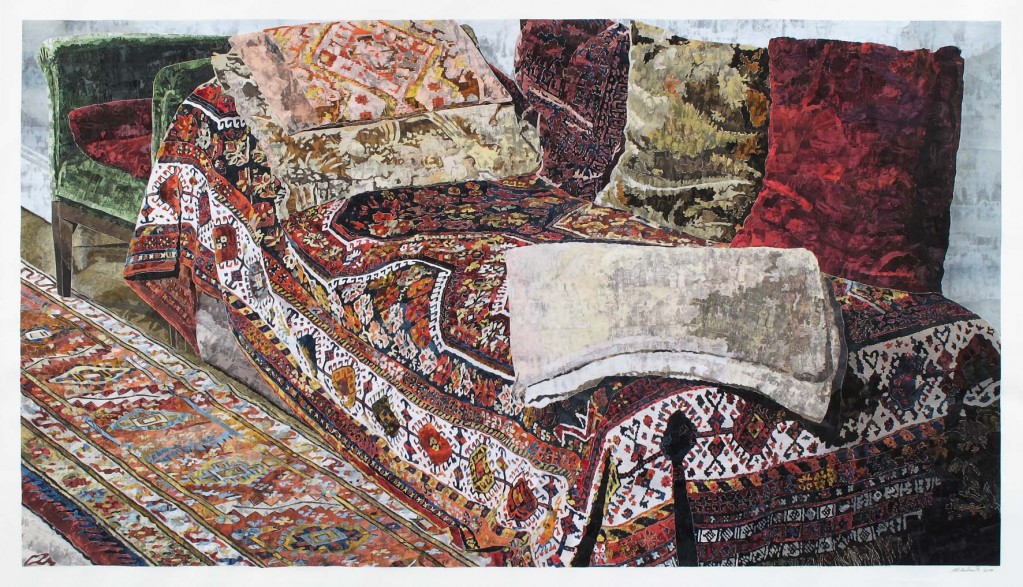 8th June – 26th June 2011
Freud Museum London presents Probeliegen, its first ever collaboration with Germany's most renowned artist, Marcel Odenbach, from 8 June until 26 June 2011.
Marcel Odenbach's latest exhibition, featuring a selection of studies and Turning Circles, a film installation as well as new work including a large paper collage entitled Probeliegen, explores European history with references to its dark past and experiments with the myriad symbols and tales associated with Sigmund Freud's famous psychoanalytic couch. Odenbach's collage will hang in Freud's last home in North West London alongside its subject, Freud's original couch, one of The Freud Museum's most iconic pieces in the permanent collection. The Freud Museum London is honoured to exhibit Odenbach's Probeliegen which forms part of an exciting programme of exhibitions and events celebrating 25 years of the Museum.
Since the mid-1970s, Odenbach has produced an extensive body of tapes, performances, drawings and installations, and has gained international recognition as one of the world's most important artists working in video. His works engage in a provocative discourse on the construction of the "self" in relation to historical and cultural representation.
At first sight, visitors viewing Probeliegen from a distance will see an enormous collage, pieced together using an anthology of archive material, depicting a life sized image of Freud's couch. Odenbach invites the viewer to inspect his incredibly detailed paper creation more intimately and uncover the history radiating from the collection of historical images which form the piece. The archive imagery, methodically sourced by Odenbach, includes elements of 19th and 20th century German and Jewish history as well as the personal and more private history of the Freud family.
Undoubtedly the most famous piece of furniture in the Museum's collection,
Freud's psychoanalytic couch, on which all of Freud's patients reclined in his consultation room, is covered with a richly coloured Iranian rug and adorned with chenille cushions. Freud's couch is not only symbolic for the studies of psychoanalysis but also represents an entire science.
For Odenbach, an entire era is reflected in the couch's decorative patterns, from which he draws upon the oriental shapes in order to address the more sinister side of European history, in particular, the fate of the Jews. His collage, Probeliegen, mirrors the art, the sexuality and the colonial past of European society during the 19th and 20th centuries, the perceptions of which are still being strongly challenged in our present day.
Odenbach's process of creating one of his collages begins by working from a huge archive of historical images, where he meticulously scours for sources from mostly newspaper and magazine clippings as well as pages from history books. He selects appropriate images to accompany his chosen theme, copies them onto watercolour paper and dyes them with carefully selected colours. With immense detail he then cuts out and pastes small collage elements onto an outlined paper support, ultimately forming the entirety of the image.
Using excerpts from films, newsreels and archives, he explores the ways images of the past shape our perception of the present.
As an artist, Odenbach attributes the almost neurotic nature of collage-making to being therapeutic and questions whether it is an alternative to treatment. Whilst reclining on Freud's couch, patient's dreams, their subconscious and all things hidden are excavated and brought to the surface, becoming apparent on the exterior. Through these analytical processes, Freud's couch becomes a self-portrait.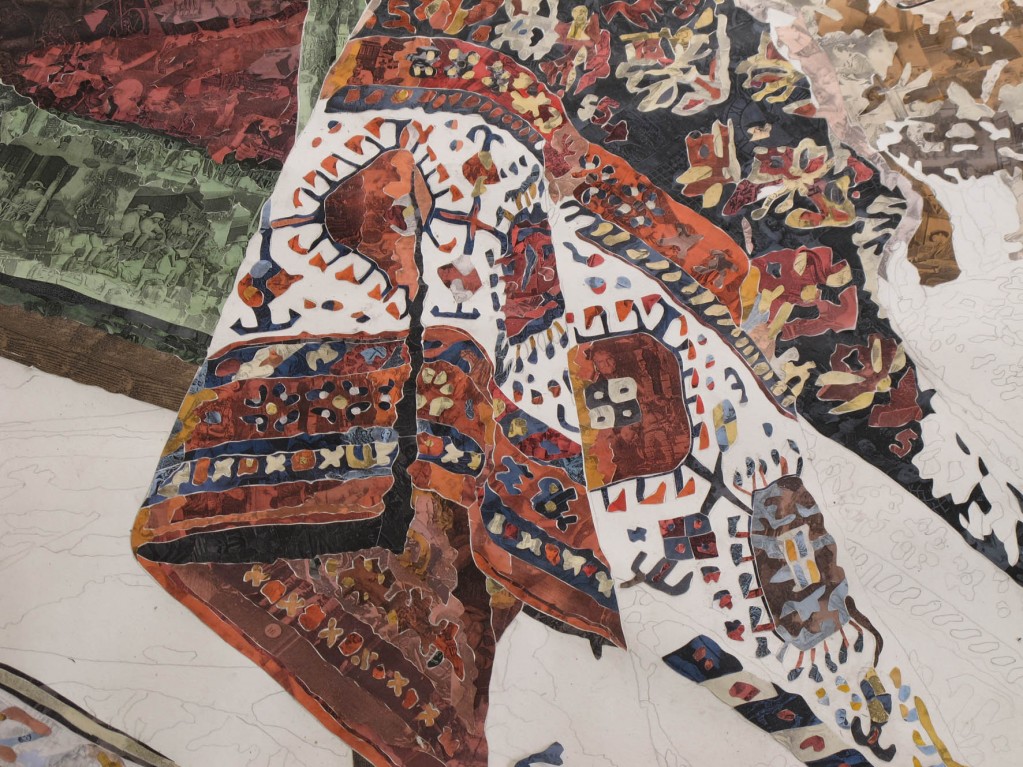 Categories
Tags