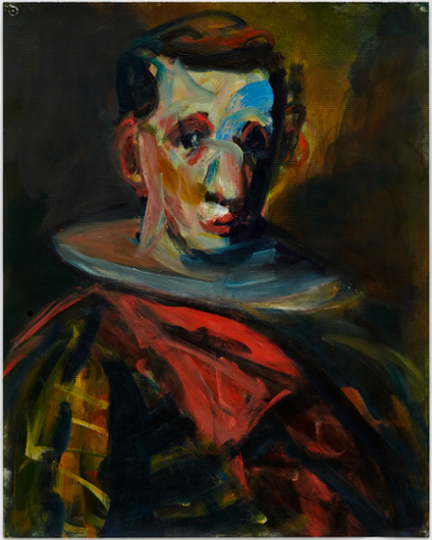 In his first solo exhibition with Poppy Sebire, Paul Housley demonstrates his subservience to the process and materiality of painting. A Maid for Paint presents a series of portraits and still lifes which frequently blur genres, more concerned as they are with the physicality of the medium than the fixity of the subject. Primarily oils on canvas, the works are at once mottled and vibrant, totemic and irreverent.
In Housley's paintings one encounters a motley cast of characters. Sometimes these characters are inanimate objects, such as china figurines. Treated with dignity and pathos, these trivial subjects steer away from kitsch. Meanwhile the artist's human portraits are ambiguous: their faces frequently smeared and obscured, they take on the opacity of objects. A recurring character is the artist himself, though often in the guise of another artist. Housley's self-portraits as Picasso or Velasquez are self-referential without being ironic, humorous yet with a sense of humility. No cynical pastiche, they enact a form of time-travel on the part of the artist, a quantum leap towards the evasive self.
Whether object-portraits or portrait-objects, the paintings avoid narrative and its inherent trappings of nostalgia. Deliberately keeping his subjects blank, or 'dumb', Housley privileges the physical intelligence of the paint. He claims, 'I want my painting to aspire to the condition of music'. Using a loose hand and a variegated palette, the artist achieves an affective resonance. The scale of the paintings facilitates an intimate encounter, without being precious. In A Maid for Paint, several smaller canvasses create jewel-like points of reflection. The titles become an integral aspect of the work, invoking art historical references, pop cultural fragments and misheard quotations to forge lyrical connections.
Housley's studio practice remains his real subject. His process involves a sequence of working over, producing layer after layer of paint on canvas, simultaneously creating and destroying as he goes. Through this vigorous, potentially cannibalistic erasure, the painter flirts with collapse before arriving at the finished artwork. What remains is a suspension of activity. The moment in flux hovers in the painting. This moment may appear aggressive, melancholy, funny or all three.
Categories
Tags