Image: Wim Wenders Street Corner Butte, Montana
15 April -17 May 2011
Bringing together almost 40 images, taken from 1983 to 2011, this show is Wim Wenders' highly anticipated second exhibition at Haunch of Venison since 2003. Entitled Places, strange and quiet, it will feature many photographs not yet exhibited in this country including several recent works.
For Places, strange and quiet Wenders has assembled a fascinating series of large-scale photographs taken in countries around the world from Salvador, Brazil; Palermo, Italy; Onomichi, Japan to Berlin, Germany; Brisbane, Australia, Armenia and the United States. From his iconic images of exteriors and buildings to his panoramic depictions of towns and landscapes, the exhibition will present the full range of Wenders' work, exploring how he
created and honed remarkable images that continue to resonate powerfully.
In his own words,
''When you travel a lot, and when you love to just wander around and get lost, you can end up in the strangest spots. I have a huge attraction to places. Already when I look at a map, the names of mountains, villages, rivers, lakes or landscape formations excite me, as long as I don't know them and have never been there … I seem to have sharpened my sense of place for things that are out of place. Everybody turns right, because that's where it's interesting, I turn left where there is nothing! And sure enough, I soon stand in front of my sort of place. I don't know, it must be some sort of inbuilt radar that often directs me to places that are strangely quiet, or quietly strange.''
Wim Wenders is a multi-faceted artist: a painter, actor, writer and one of the most successful contemporary filmmakers. He first made his name as a leading director of the New German Cinema in the 1970s, and became a cult figure on the international film scene by the mid 1980s. It was in 1983, while scouting for locations for Paris, Texas (1984) that he began to use photography as an art medium in its own right. Places, strange and quiet comes to London from the São Paulo Museum of Art in Brazil.
A fully illustrated catalogue published by Hatje Cantz will accompany the exhibition. Wim Wenders will discuss the exhibition with Professor Yve Lomax (Goldsmiths University) at Haunch of Venison on Friday 15 April. Tickets are available through the Royal Academy's box office.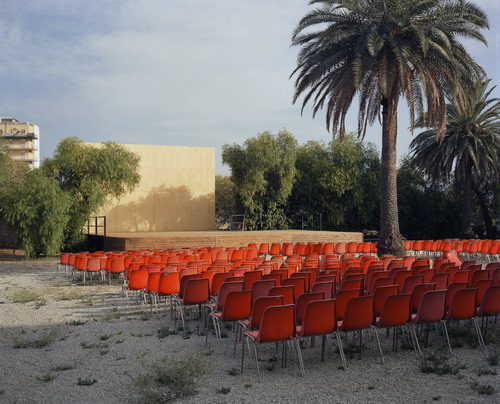 Image:Open Air Screen, Palermo
Pina, a 3D documentary by Wim Wenders on the late German choreographer Pina Bausch premiered at the Berlin film festival in February 2011. The film will be released nationwide by Artificial Eye in the UK on 22 April 2011.
Categories
Tags