Time for action! The third Kinetica Art Fair is on, and it' s crammed with hundreds of kinetic, cybernetic, electronic and light works. It' s good to start with a laugh and right by the entrance is a wall of 200 green EXIT signs. It' s by Celille Colle and Ralf Nuhn and called Exit-Wall. (Later, when I was actually exiting, it looked just as strong and contemporary).
Inside, the cavernous concrete bunker of the P3 venue awaits. It' s worth stopping a moment just to get the feel of the bazaar of stalls abuzz with light and motion below. Considering how the show links technology and art, it' s funny that you soon lose a good signal on your mobile there.
The first works that grab you are kinetic contraptions by Christiaan Zwanikken. Fallen Angel hangs from wires and jerks about as if demented, while Knuckleheads has two stork skulls that swing on
mechanical arms to head-butt each other. These are dark, gothic works, in contrast to Hyena by Marco Kruyt of Bayleybots, a big metal beast that has a four-hour battery life and can cover 2.8km- a sort
of souped-up Dr Who' s K-9. Unlike last year' s fair, there is a load of techno-animals on show.
As dark as Zwanikken' s and even stranger is Tim Lewis' s Flight, a flapping bird fused into an old light bulb. Lewis' machine art is diverse- his robot arm was writing on the wall, and he was showing two fascinating zootropes, spinning cylinders in which flashing light creates totally convincing tiny figures, walking in a circle or around a treadmill. The figures are actually still. ' It' s an illusion- it bugs me' he
told me. ' I wonder if it wouldn' t be easier to build a real one' .
Back to animal-related stuff. Totally charming was Shiro Oshibe by London-based Japanese Tomomi Sayeda- a white nest-like textile structure. Place eggs in it and they light up and make sounds like water
or birds. ' It' s inspired by Japanese animism' , she said. ' Everything has life' . A different sort of life is suggested by David Anghelledu' s delicate, almost abstract sculptures, like big models of diatoms
(a sort of photoplankton). He uses techniques involving computers, laser cutting and nylon powder to extract his sculptures ' like fossils from the sand' .
Tanya Vujinovic offers ' discrete events in noisy domains' and her Supermoto 2 is an installation of black dolls piled up like cushions, some writhing like babies, one with a teletubby-like belly screen.
Cuddly yet disturbing. There was a suggestion of robotics in the two kinetic montage heads of Tengiz Sepiashvili' s attractive 60s-looking Communication. He' s one of only two or three kinetic artists at
work in Georgia, I was told- gosh, there are others there?
Retro-tech is another theme running through the works, from David Cranmer' s orrery of chunky 80s calculators rather than planets, to the music-hall flavoured mechanical works of Cabaret Mechanical Theatre.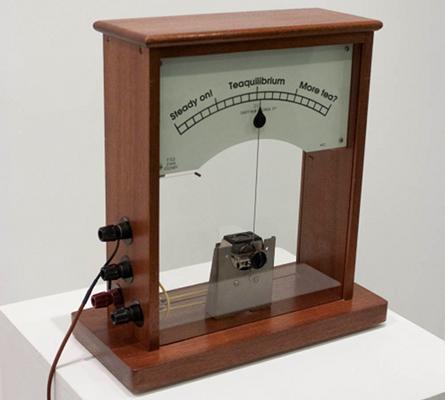 Images:Time for Tea Andrew Back

But most stylish were two artists on show at the ArtHertz stand. The traditional British response to anything happening is, of course, a cup of tea. Andrew Back, who was looking very Gilbert & George at the preview in a bespoke suit, was showing Time for Tea? It uses the same principles that power stations have to monitor surges and looks like it came straight out of a school science lab in the 50s or 60s. ' Steady on!' indicates when it measures a power supply deficit, while a surplus makes it point to ' More Tea?' Beside it, Sarah Angliss has made a handbag that opens and shuts in synch with your heartbeat. Ventricle is like a classic surrealist object from dream.
Large installations provided good spectacle. Alex Posada' s The Particle has rotating arcs of LEDs spun up to create spectacular layered spheres of light with a soundtrack of low ambient beats, while Korean Jun Ga Young' s Whistling Sea is a hypnotic, tranquil work in a long mirrored box – a grid of hanji paper pieces through which colours ripple. Another mirrored box was big enough to walk in.
In The Point of Perception, white light refracts through a grid in a pitch-black space. Artist Madi Boyd has worked with neuro-scientist and told me that she was ' creating an uncertain space' in which
people ' can' t see the limits' – and it was made before Miroslaw Balka' s black space installation at the Tate Modern a year ago.
Not everything was cyber-critters, retro-tech or light spectacles. Unusually, The Trope Troupe had a strong statement to make, about state-sponsored homophobia. Their airport departure board displays
sentences for homosexual liason instead of plane times – stoning in Riyadh, for example, or 2 years in Singapore (can that be right?).
And there is a program of live happenings- Stelarc, an artist who has an ear grafted onto his arm, will be performing with an animated prosthetic head, for example.
Kinetica Art Fair is unique in the London art calendar, and sometimes it can feel like a cross between a technology trade fair where the exhibitors are on acid and an updated and electrified eighteenth- century Wunderkammer. But is anything there time-proof? Will anything there be valued in fifty years time? (Will there be any electricity then anyway?) It' s impossible to say what works at Kinetica are mere toys or fads, or what truly represents our times, or even our takes on times past.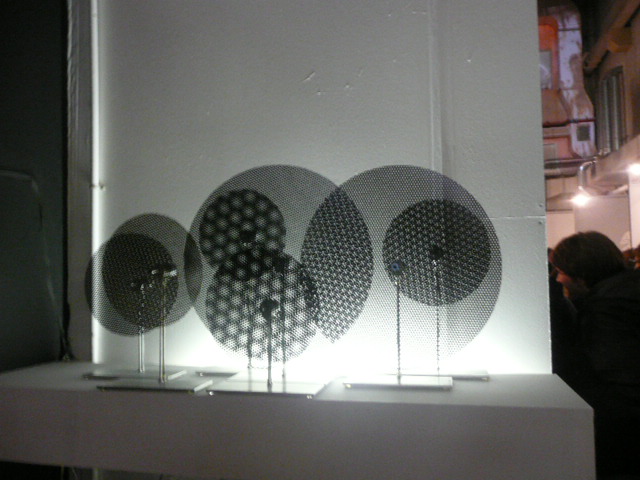 Image:Moucharabieh by Vincent Leroy
But my favourite work was definitely timeless. French veteran kinetic artist Vincent Leroy was displaying a Moucharabieh, seven parallel perforated aluminium discs that gently rotate, creating interference patterns. It is stunningly beautiful in its simplicity. It' s worth paying the electricity bills for, and making a cup of tea.
Fri 4 Feb. 10am – 8pm Sat 5 Feb. 10am – 8pm Sun 6 Feb. 11am – 6pm
Ambika P3, 35 Marylebone Rd (opposite Baker Street Tube), London, NW1 5LS.
FULL TICKET One day Art Fair entrance plus all events and performances £15 / £12 pounds concessions
ONE DAY Art Fair entrance only £12 / £10 pounds cons
More Info: www.kinetica-artfair.com
Categories
Tags