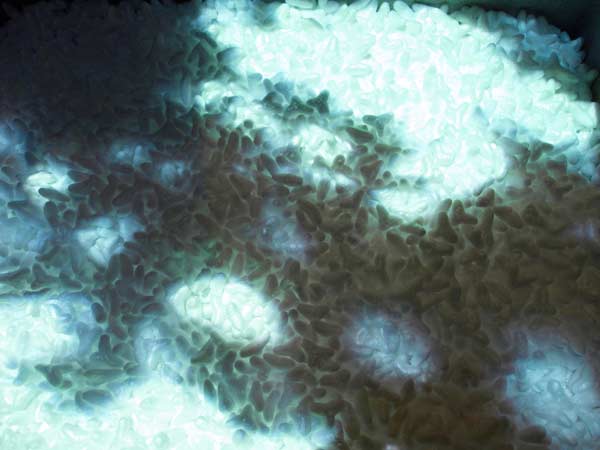 Image:Bibi Katholm "My Darkness is Soft" , Installation view / still, 4. min., black / white Super 8 + mix media, 2008
STEPHEN DUNNE,ANDREAS EMENIUS,BIBI KATHOLM,SHANE BRADFORD,IDA KVETNY,JACOB KIRKEGAARD,RALPH DOREY,IBEN TOFT NØRGÅRD,JOHN STRUTTON,PASCAL ROUSSON,WONDERLAND
Berlin * London * Copenhagen* Non-Stop!
'In Case We Don't Die' represents a joining of forces among 12 contemporary artists from Berlin, London and Copenhagen, all travelling down similar creative paths, investigating the power of ritual, spontaneous bewitchments, visions of the future, and a kind of "supernatural" presence that sometimes reveals itself during the creative process. The exhibition is an attempt to visualize the already existing, natural communities and connections as opposed to the "designed" communities currently found in contemporary art as well as society in general. The theoretical starting point for'In Case We Don't Die' is an investigation into the constant slippage, or cross-over, between various types of media, that is visible in the work of the artists included in the exhibition – transitions between film, performance, painting, installation, objects, music / language / rhythm, and drawing. One main theme has been the focus of all contributions to the exhibition: The creative process.
These days…
These days potential catastrophes are everywhere you look. The world is full of danger, threats, stress, overload and insecurity, and most of the time it feels very likely that we are all going to be dead soon, the only question is when, exactly? Assuming that we, against all odds, survive the terrifying pitfalls of the future that lies ahead, is creativity going to be the thing that saves us?
The exhibition is curated by Bibi Katholm in collaboration with Shane Bradford
Bibi Katholm is a Danish artist, currently based in Copenhagen. She has a postgraduate diploma in Fine Art from Central Saint Martins (2006), and a Master of Painting degree from Royal College of Art (2008), London. Bibi exhibits and curates shows internationally, and she has had two major solo shows in Copenhagen since her graduation from the RCA. Furthermore Bibi has a BA in comparative literature, and a cand. Mag. in Visual Culture from the University of Southern Denmark.
Shane Bradford is an English artist, currently based in London. Shane graduated from Chelsea College of Art and Design, 1992, and he is currently represented by V1 in Copenhagen, and has recently had a solo show at Vegas Gallery, London.
The exhibition arrives in London fresh on the heals of the 1st version which was on display in Berlin between 29th May and 12th June 2010. Following the exhibition in Vegas Gallery, London, the exhibition will travel to Copenhagen where Bibi Katholm is going to curate the 3rd and final version of "In Case We Don't Die".The event is scheduled to take place during the spring 2011.
There will be a live performance by Arthur Brick during the private View on Friday 23 July between 18:30 – 21:00
www.vegasgallery.co.uk
Categories
Tags