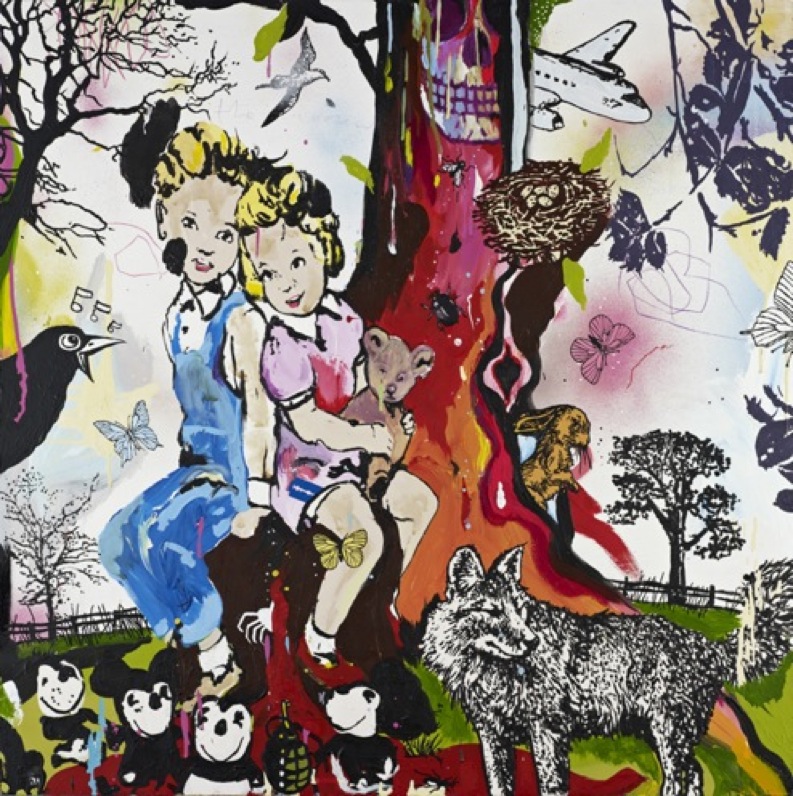 1 If you weren't an artist, what else would you be?
-carpenter-gardener-i dont know ! i was doing a plumbing apprentiship when i was 17 before art school..before that i was a skater for years, -built a halfpipe. . probably a skating carpenter. .
2 Name 3 of your least favourite artists.
-no sorry i dont thinkl thats appropriate. . there are many who i admire but not too many i dislike,we are all on our own journey and some still have a long way to go. .
3 Anytime, any place – which artist's body would you most like to inhabit? -hmm. . . not sure is id like to be in basquiats body, or warhols. . jeff koons when he made the made in heaven art would be interesting for obvious reasons. . .im quite happy in my own body thank you very much. .
5 What was the most intelligent thing that someone said or wrote about your work?
-in my published catalogue for the ead innocent exhibition, art writer ben cranfield wrote a very deep essay on my painting halloween, its amazing-
6 And the dumbest?
-many times im called a graffiti artist and that just isnt me at all ! i dont even like grafitti.
7 Which artists would you most like to rip off, sorry, I mean appropriate as a critique of originality and authorship?
– sorry, spent too many years trying to find something that is mine, that is clearly a dan baldwin, – but i have seen many artists adopt 'my' style over the years so its the other way round. . i admire a lot of artists but dont want to rip any one off. .
8 Do you care what your art costs? State your reasons!
-well its a vital part of the business side of things, but i try and have something for everyone, from a cushion to a print to a vase to a painting. . etc. .
9 What are the three big ideas that you would like your work to express?
-3 ideas ? beauty-innocence-life
10 Are you a political artist?
– no-but politics is part of life. .
11 How do you start the process of making work?
-colour, form, harmony, shape, layers,colour, dribbles,mark making, then begin the journey until the balance is right. .
12 What next?
-tokyo opening in gallery 360 on july 1- hong kong big store im dressing in october -fatherhood- denver, sydney,london, loads, paris- it is a busy next 18 months. . two charity events too. . fashion projects, man bag -all sorts of collaborations. .
13 If Moma and the Tate and the Pompidou wanted to acquire one of your works each, which would you want them to have?
-well, i hope i havent made my best work yet -im just beginning really after 20 years, so thats all to come i hope.
14 Complete the following sentence "Blessed art the artists, for they shall……"-become alcoholics. .
15 Complete the following sentence "Blessed are the curators, for they shall…"-not pay up on time if at all
16 Complete the following sentence "Blessed are the art critics, for they shall…."-usually make a mistake and get it wrong. .
17 What is your favourite cheese?=you really want to know ?
i quite like a good mature chedder if im brutally honest. .
18 What's next for you?
– so much as ive already said-in 12- excited about tokyo, hong kong,
sydney, denver, paris, london, and then a solo in tokyo next year and
paris- im also getting my head round fatherhood- quite an epic event..
See Dan Baldwin at The Signal gallery from Thursday July 1st More info: HERE
Categories
Tags