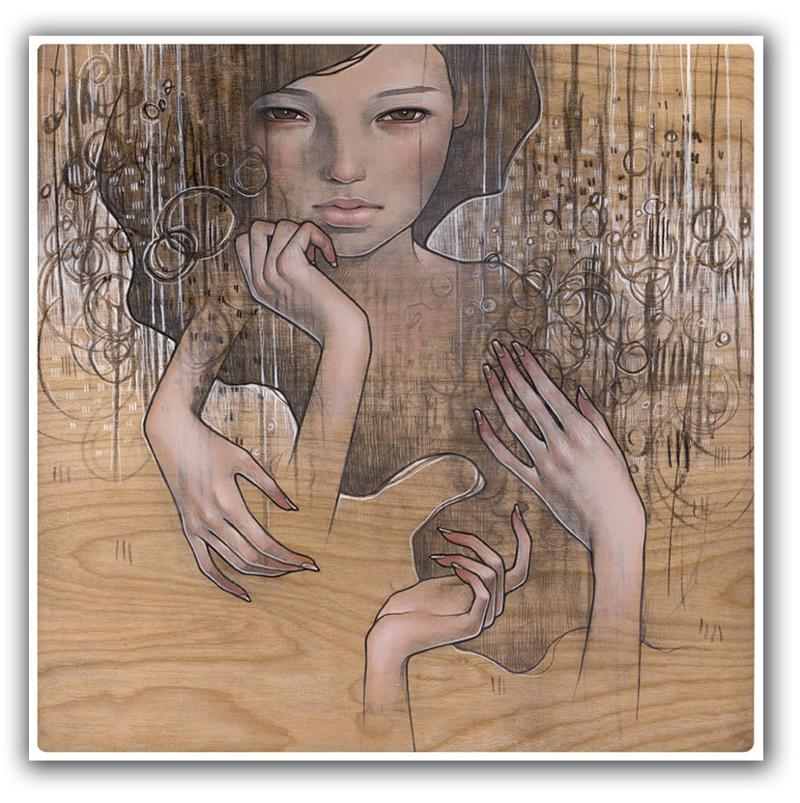 London Miles Gallery presents a group exhibition featuring a bold selection of international artists from the burgeoning New Contemporary Art movement. Produced in collaboration with Los Angeles Thinkspace Gallery, and showcasing a comprehensive selection of forty-five of the most exciting and talented individuals working within this movement, 'The Next Generation' brings new international talent to the doorstep of London's Contemporary art community.
Curated by Thinkspace Gallery Director Andrew Hosner, the exhibition features 12 x 12 inch works of art from a fastidiously handpicked selection of emerging and established artists. Shattering preconceptions and enlightening the British art sector as to the artistic and aesthetic integrity of the New Contemporary art movement. Never one to stand still, London Miles Gallery is already looking ahead in delivering the best new talent to UK shores as part of this cross waters collaboration.
Highlighting the diversity and depth of talent within this movement, the exhibition will feature a kaleidoscopic range of artistic styles from the likes of renowned figurative painter/illustrators Audrey Kawasaki, Amy Sol, and Stella Im Hultberg, distinguished surrealists Allison Sommers and Yosuke Ueno, emerging realists Linnea Strid and Pakayla Rae Biehn, and prolific street artist Gaia. For many of these artists this exhibition marks their first showing on UK soil, to date having cultivated avid followings across the globe.
Curator and Thinkspace Gallery Director Andrew Hosner says
"We are excited to be able to bring to London a survey of some of the most exciting artists from the new contemporary art movement. When we had the idea of doing this show, only one gallery came to mind, and that's London Miles. Their commitment to bringing more attention and acclaim to this movement in the UK is unparalleled and we are honored to be working with them on this groundbreaking exhibition. Look for an exciting program from London Miles in the year ahead featuring several of the artists that will be on view as part of The Next Generation this June."
Exhibition on show until July 4th, 2010
Also featuring ARTBOX
Featuring artists:
Aaron Nagel,Adam Caldwell,Allison Sommers,Amy Sol,Andy Kehoe, Anthony Clarkson,Anthony Pontius,Audrey Kawasaki,Brett Amory (diptych),Bumblebee,Caia Koopman,Cherri Wood,Chris Murray,Craig "Skibs" Barker ,Dabs Myla,Dan-ah Kim,David MacDowell,Derek Gores
Gaia,Jacub Gagnon,Jeff Ramirez,Jen Lobo,Jesse Hotchkiss,Joseph "2H" McSween,Josie Morway,Kelly Vivanco,Lesley Reppeteaux,Linnea Strid
Liz Brizzi,Mari Inukai,Mike Russek,Moki,Nathan DeYoung ,Nouar
Pakayla Rae Biehn,Paul Barnes,Peter Taylor,Rebecca Hahn,Sarah Joncas
Seth Armstrong,Stella Im Hultberg,Timothy Karpinski,TonyPhilippou,Tran Nguyen,Yosuke Ueno.

Categories
Tags