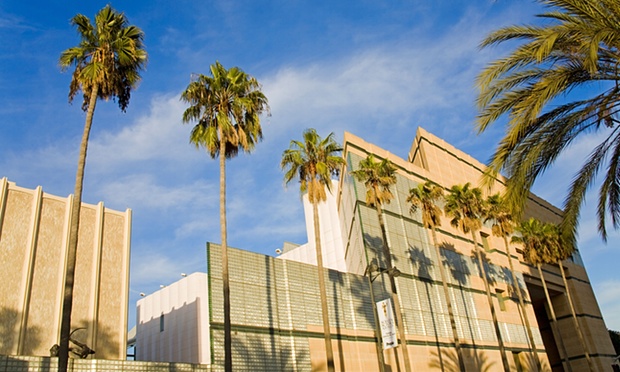 The Los Angeles County Museum of Art on Wilshire Boulevard is preparing an ambitious $600m makeover. Photograph: Alamy
---
This article titled "Tinseltown's comeback: Los Angeles' resurgence as America's cultural capital" was written by Rory Carroll in Los Angeles, for theguardian.com on Thursday 17th December 2015 12.00 UTC
Traffic in Los Angeles has long symbolised the apparent soullessness of a city of motorists snarled on highways, forever seeking exit ramps. But for three weeks last month some of that traffic morphed into something rather sublime: the world's first mobile opera.
Hopscotch, an experimental opera performed in cars, turned LA's streetscape into a stage for a modern retelling of the ancient legend of Orpheus and Eurydice.
The avant garde opera company Industry deployed 24 cars as well as a small army of composers, writers, singers, musicians, drivers and technicians to turn downtown and eastern LA into a storytelling fantasy realm. Critics raved.
"So much of creating art is about trying to correct our view of reality, explore what things would be impossible," the company's artistic director, Yuval Sharon, said.
He could have been speaking for LA. The city thrummed with art in 2015, a conjunction of personalities, exhibitions, openings and events which for many marked its resurgence as a cultural capital.
A spanking new $140m gallery, a revitalised "museum mile", old artists returning, young ones moving here for the first time, behemoths like Netflix expanding: it added up to a banner year for a metropolis long derided as a vapid Tinseltown.
"It's like a rope that keeps unfurling and it never ends," said Sasha Frere-Jones, a cultural critic and lifelong New Yorker who moved to LA in July. He was referring in particular to the city's proliferating number of bands, record stores and hangout spaces, big and small, like Melody Lounge, Lace and The Barn.
"I'd no idea the east side would be so rich and varied. Because it's so atomised you can run across anything, anywhere." If LA had an inferiority complex about its east coast rival, Frere-Jones had not noticed. "I don't encounter it. People here are pretty invested in the city."
For longtimers like the singer Alanis Morissette, who moved here from Canada 21 years ago, the boom feels like an intensifying trend rather than a new phenomenon. "It's really dense and rich. Every day there's something new happening. It's a pretty exciting city. There's a reason why I haven't left," she said.
The year's flagship event was September's inauguration of the Broad, a $140m museum of modern and contemporary art financed by the philanthropists Eli and Edye Broad.
Attractions include pieces by Robert Therrien, Damien Hirst, Cy Twombly, Cindy Sherman and Takashi Murakami as well as Yayoi Kusama's Infinity Mirrored Room, an experiential artwork which encloses people, one at a time, in a mirror-lined chamber with thousands of pulsating lights.
The Broad's honeycomb-like structure, known as "the veil", is on track to welcome more than 200,000 visitors by the end of 2015. Online advance reservations are booked into March. "The public reception has been overwhelming and has exceeded our expectations," Eli Broad said in a statement.
The 120,000-square-foot structure took its place alongside the Frank Gehry-designed Walt Disney concert hall on Grand Avenue, marking the boldest attempt in a decade to transform a notoriously desolate city centre into a lively arts hub.
Another landmark, the Los Angeles County Museum of Art (Lacma), is preparing for an ambitious $600m makeover featuring a 410,000-square-foot new building designed by the Swiss architect Peter Zumthor.
Rita Gonzalez, the museum's contemporary art curator, said the city's creative energy had been slowly building. "Los Angeles art museums, art schools, galleries and artist-run spaces have been important for a long time but it's really in the last 15 years that things have really taken off."
Gonzalez cited the upcoming Pacific Standard Time: LA/LA exhibition, which will bring dozens of museums, alternative spaces and other cultural spaces together to focus on Latin American and Latino art, as evidence of a strong collaborative spirit between curators.
The British artist David Hockney, whose depictions of swimming pools and naked young men helped define LA's image as a sun-kissed idyll in the 60s, has enjoyed a creative burst since returning to a home in the Hollywood Hills in 2013.
In July, at the age of 78, he held a solo exhibition of "photographic drawings" by the Venice boardwalk. "LA has always inspired me," he said. "The light here is marvellous – much better than England."
Younger artists are also flocking to LA, especially downtown, which now brims with lofts and converted industrial spaces.
"I see LA as this canvas for me to expand on things that I had already been working on in Phoenix," said Sean Deckert, 31, a photographer who uses architecture, sculpture and video in installations. He moved here in May. "There's a core group of people working super hard to make super cool things happen downtown. All the new galleries are here because they can get space and still be edgy and risky."
So many people packed a recent Mattea Perrotta exhibition at the Mama gallery it took Deckert 30 minutes to drive out. "That type of energy you can't find in a lot of places."
Pockets of downtown, once a ghost town after dusk, now teem with weekend revellers who queue to get into bars and clubs. Ride-sharing services like Uber and Lyft fuel the trend by removing the hassle of finding parking and the worry about drink driving.
Some party to excess. "I don't work Saturday nights any more," confided one Uber driver, who declined to be named. "The puking, you know?"
A graver concern is that gentrification will push out artists who colonise semi-deserted neighbourhoods, paving the way for posh apartments and stores which drive up rents. The average rent in downtown LA jumped 5.3% over the past year, to $2,158.
"Look up 'Arts District' on Google Maps and the first image you'll see is the rooftop pool at the El Molino lofts," noted an LA Times columnist. "Every week seems to bring a new restaurant or bar or a 'curated' boutique dispensing $1,000 watches and $40 totes."
Deckert lives near the jewellery district, about two miles from the arts district. "A total rip-off. It's already too expensive for people like me."
New York's arts scene bloomed in the 1970s partly because low rent enabled people to live on basically nothing, said Frere-Jones. LA has surged thanks to cheaper rents than today's New York but he noticed the number of abandoned buildings – "like space in a garden for things to grow" – appeared to be dwindling.
Money – lots of it – is driving a different type of boom seen in the expanding and under-construction headquarters of the likes of Netflix (Hollywood), YouTube (Playa Vista) and Hulu (Santa Monica).
Tinseltown itself is making a comeback. California's decision to grant more generous tax breaks for TV and film production has reversed years of "runaway production" to lower-tax rivals such as Georgia and New Mexico.
Los Angeles recorded 2,057 shooting days for scripted television shows over a recent three-month period, a 54% spike from the same period last year, according to Film LA Inc.
guardian.co.uk © Guardian News & Media Limited 2010
Published via the Guardian News Feed plugin for WordPress.
Categories
Tags