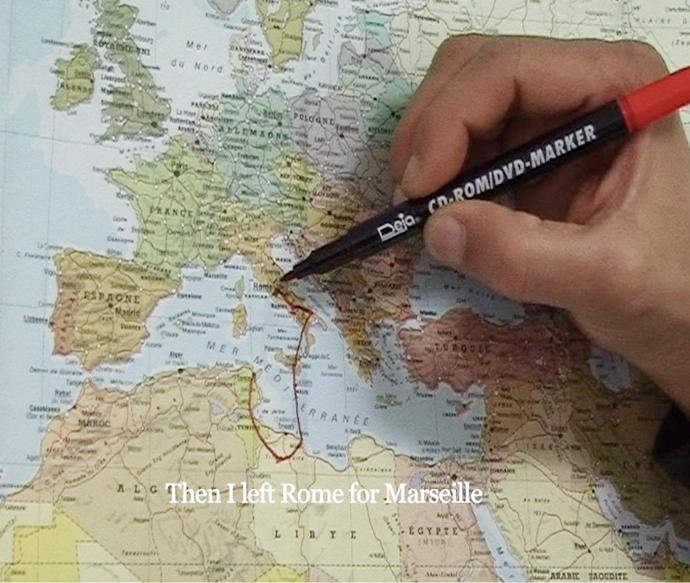 2 June – 24 July 2010 Iniva at Rivington Place
Iniva presents Whose Map is it? at Rivington Place, an exhibition in which nine contemporary artists from across the globe explore new approaches to mapping. Using film, installation, print and audio, the artists engage with social and political issues, and new technologies.
A Thames river map focusing on the North-South London divide, an interactive magnetic puzzle map of the Middle East, and an audio installation about the history of Rumba, are some of the ways artists have used maps and mapping techniques.
In Gayle Chong Kwan's Save the last dance for me, a large-scale map tracks the Rumba from Cuba to the international ballroom. Visitors are invited to follow dance instructions, experiencing how others have discovered another culture through dance. Oraib Toukan's interactive magnetic puzzle The New(er) Middle East plays on an infamous map detailing how 'a better Middle East would look', as suggested by an ex-US Army Lieutenant.
Artist Susan Stockwell's new site-specific commission, River of Blood, for the vast window of Rivington Place, is made up of an intricate network of red tributaries to form the iconic image of the Thames river map. Using vinyl cut-out local road maps she draws parallels between city roads and human arteries, investigating the North versus South London divide that the capital's citizens frequently highlight.
Other artists such as Bouchra Khalili, Emma Wolukau-Wanambwa and Alexandra Handal refer to migration, displacement and colonial imperialism. Esther Polak tracks dairy distributors in Nigeria: both a nomadic tribe and the modern day transporters. Milena Bonilla's dislocated series of poster maps present a new landscape view of the Americas including Mexico, Canada and Venezuela, and Otobong Nkanga's drawings reveal the ecological transformations of the oil rich Delta region in Nigeria.
Artists' projects include Dia Batal's Cart-og-ra-phy: the unfolding of mobile narratives in the Education Space. She gathers stories from local women and Shoreditch residents to highlight the act of crossing boundaries. Visitors are invited to join her on a tour and add to the Cart-og-ra-phy map. Damian and Delaine Le Bas' short film, The Strange World of Roderick Wood, maps the lives of a multi-generational family in a single household.
A full programme of talks, tours and screenings accompanies the exhibition, with the chance to map the local area through photography with Shoot Experience and win prizes. The Crossing Boundaries symposium takes place on 2 June, organised by Iniva in collaboration with the Royal Geographical Society (with IBG).
More www.iniva.org/
Whose Map is it? exhibiting artists' work and biographies:
Milena Bonilla shows Variations on a homogeneous landscape (2006), this series of 27 posters depicts a dislocated map of America, questioning scientific means of cartography and its relation to landscape and history. Milena Bonilla was born in 1975 in Bogotá, Colombia and lives and works in Amsterdam, Netherlands. She is currently artist in residence at Rijksakademie van beeldende kunsten in Amsterdam. In 2008 she held a solo-exhibition at Valenzuela Klenner Gallery in Bogotá. Recent group exhibitions include X Havana Biennial, Havana (2009), BB3 Bucharest Biennial at Simeza in Bucharest and Umea in Sweden (2008), and Once More With Feeling: A Season of Colombian Photography at the Photographers' Gallery, London (2008).
Gayle Chong Kwan presents a new commission Save the Last Dance for Me, the work consists of a large-scale map illustrating Labanotation techniques to record the movement and migration of Rumba, accompanied by a sound piece giving gallery visitors dance instructions. Gayle Chong Kwan was born in 1973 in Edinburgh, UK and lives and works in London, UK. Her recent solo-exhibitions include Terroir and the Pathetic Fallacy, ArtSway (2009); The Land of Peach Blossom, Graves Gallery, Sheffield (2008); Memoryscape Moravia (2009); Cockaigne and Journey to the Centre of the Earth, Platform for Art (2006-8). Group exhibitions include Pot Luck, Art Circuit (touring exhibition), New Art Gallery Walsall, UK (2008-9) and Tales of the New World, Havana Biennial (2009).
Alexandra Handal's Labyrinth of Remains and Migration (2000-01 & 2010) is a series of mental maps charting spaces of obliteration, dispossession, memory and destruction in Palestine.
Alexandra Handal was born in 1975 into a Palestinian family in Port-au-Prince, Haiti and spent her adolescence in the Dominican Republic and USA. She lives and works between London and Jerusalem. Her recent exhibitions include: New Contemporaries 2009, A Foundation, London and Cornerhouse, Manchester UK (2009); The Other Shadow of the City, Al-Hoash Gallery, Jerusalem (2009). Solo exhibitions include Alexandra Handal, Recent Work, International Center of Bethlehem, Al-Kahf Gallery, Bethlehem, Palestine (2004). She is currently completing a PhD in Fine Art (Practice & Theory) at Chelsea College of Art and Design, London, UK.
Bouchra Khalili shows the film series Mapping Journey #1, #2, #3 (2008/09) aiming to reveal the underground and hidden maps of displacement that migratory experience produces. Bouchra Khalili was born in 1975 in Casablanca, Morocco and lives and works in Paris, France. Her recent solo-exhibitions include Storytellers, galerieofmarseille, Marseille (2008); Focus on Bouchra Khalili, Museum of Modern Art, Salvador do Bahia, Brazil (2007); Méditerranée, Méditerranées, Caixa Forum of Art, Barcelona (2006). Group exhibitions include Tarjama/Translation., Queens Museum of Art, New York (2009); El Sur de Nuevo Reina Sofia National Museum, Madrid (2009), Middle East Channel: Résistance(s) I & II, and The Third Guangzhou Triennial, Guangzhou, China (2008). In 2010 Bouchra received the CulturesFrance Hors les Murs Award.
Otobong Nkanga includes Delta Stories (2005/06) which is a series of 18 drawings, narrating ecological, political and social transformation in the oil rich Delta region in Nigeria. Otobong Nkanga was born in 1974 in Kano, Nigeria and lives and works in Antwerp, Belgium and Paris, France. She has exhibited widely internationally. Recent shows include: Animism, Extra City Kunsthal and MuHKA Museum van Hedendaagse Kunst, Antwerp (2010); Flow, Studio Museum Harlem, New York (2008); Africa Remix (touring exhibition), Hayward Gallery, London (2005); Snap judgments: New Positions in African Contemporary Photography, touring exhibition New York (2006). In the last five years, she participated in the Sharjah, Taipei, Dakar, São Paulo and Havana Biennials.
Esther Polak's NomadicMILK (2009) follows dairy transporters and Fulani nomadic herdsmen in Nigeria, mapping both their routes with GPS to visualise the variety and economics of dairy transportation that take place throughout Nigeria. Esther Polak was born in 1962 in Amsterdam, Netherlands and lives and works there. She is a pioneer within the field of locative media art. Recent exhibitions of NomadicMILK include Bayero University, Kano, Nigeria (2009), Transmediale, Berlin (2009). Other exhibitions include Spiral Drawing Sunrise Medialab, Prado, Madrid (2008), Ars Electronica, Linz, Austria (2005), Making Things Public, ZKM Karlsruhe, Germany (2005) and AmsterdamREALTIME-diary in traces, Municipal Arvive, Amserdam (2002).
Susan Stockwell's work is concerned with issues of ecology, beauty, mapping, colonial histories, trade and global commerce. For Whose Map is it? Stockwell was commissioned to produce the site-specific window piece River of Blood (2010). Susan Stockwell was born in Manchester and lives and works in London, UK. She has exhibited at The National Museum of China, Beijing and The Katonah Museum of Art, USA. She will be part of the group shows Quilts 1700 -2010, Victoria and Albert Museum, London (2010), and The Creative Compass, the Royal Geographical Society Gallery, London (2010)
Oraib Toukan presents The New(er) Middle East (2007), an interactive puzzle in the shape of a territorial map of the Middle East, humorously playing on the so-called 'New Middle East Map' suggested by an ex-US Army Lieutenant. Oraib Toukan was born 1977 in Boston, USA and lives and works in Amman, Jordan and New York, USA. Her recent shows include Istanbul Biennial (2009), Talking Heads, IMOCA, Dublin (2010) and Counting Memories, Darat Al Funun Amman (2007). In 2009 she was international resident artist at Delfina Foundation, London and at Artist Alliance, New York.
Emma Wolukau–Wanambwa's new commission, A continuing survey of syntactic parsing, includes charts that juxtapose British narratives of exploration and conquest with touchstones, landmarks, peaks and triumphs of British bourgeois life. Emma Wolukau–Wanambwa was born 1976 in Glasgow, and lives and works in London, UK. Currently Emma is participating in the LUX Artists Associate Programme, London. Recent solo-shows include A Brush for Robben Island, Butcher's Projects at Rokeby Gallery, London, UK (2008). She participated in selected exhibitions and screenings including Complex Financial Instruments, S1 Artspace, Sheffield (2009); Wo ist Jetzt?/ Where is Now?, Würtembergischer Kunstverein, Stuttgart, Germany (2008); and Bang Hwang Ha Num Byul/ Wandering Star: British-Korean Landscape, Gana Art Gallery, Seoul, Korea (2008).
Categories
Tags