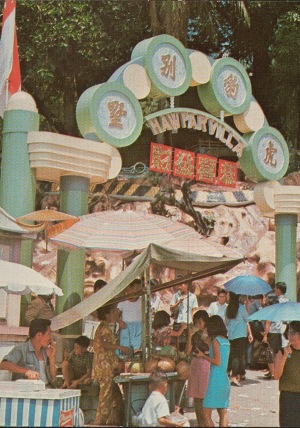 "Through hard work, faith and a little good fortune, may 1960 bring more happiness to more of us." – Singapore Prime Minister Lee Kuan Yew in his first New Year Day speech to the nation
Politics and the struggle for one's Independence have always been the defining corner-stone of the post-WW II chapter in the Singapore Story. Before tears were shed in that inevitable moment of anguish, hope and optimism were brimming in the air in 1960. That year, according to the new Prime Minister Lee Kuan Yew, would be a year of consolidation as opposed to the year before which was a year of decisive change. There was certainly much to consolidate and improve upon. Compared to today, the population in 1960 stood at a sizeable 1.6 million, the result of a high crude birth rate of 37.5 per 1,000 persons and supported by a per capita gross national income of only $1,330. Calls for a better and brighter future were projected onto the people by the new government and the print media trumpeted the ideas of independence through Merger with Mother Malaya.
Celebrating a year on after 50 years of self-government, Singapore 1960 will transform the gallery into a vibrant and colourful 'live' show set interjected with both noteworthy and quirky news articles throughout that year. By appropriating cultural spaces familiar to Singaporeans then such as the eclectic Haw Par Villa and the neon-lit 'Worlds' amusement parks, over 300 artefacts will be presented in the manner of art installations.
A 100-year old Strohmenger grand piano, sexy sarong kebayas, the Aw Boon Haw jade collection (well, part of it anyway), fully sequinned Chinese opera costumes, hundreds of popular vinyl records and publications, two pairs of sweat-stained boxing gloves and a kitschy diorama; these were some of the icons that dotted post-WWII Singapore's socio-cultural landscape. Come see how these icons reveal the emergence of a semblance of a Singapore society amid the political rumblings in the year 1960. Come watch the drama unfold.
Singapore -Wikipedia
National Museum of Singapore
Categories
Tags