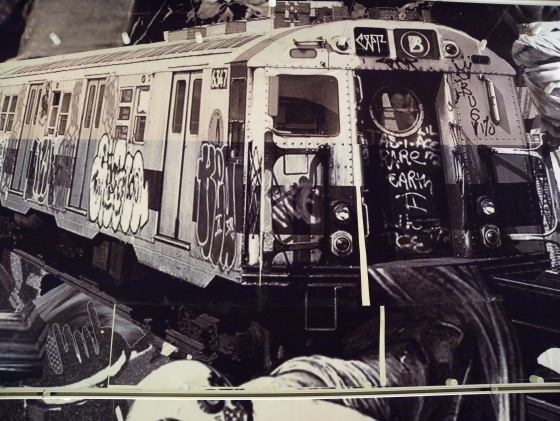 Detail from 'The All of Everything' – Mike Ballard 2009
The Arts Gallery on Bond Street will close in March 2010 and will be demolished to make way for Crossrail. The gallery, part of the University of the Arts London, has hosted shows by Peter Blake, Gavin Turk and Chris Olifili amongst others. For the final show, which will opens on 10 December, on the Gallery has invited Mike Ballard to create an installation ' The All of Everything' within the space.
Ballard will mix painting, collage and digital media to create an immersive environment that condenses many facets of art in his own unique way. 'The All of Everything' draws parallels between the hip-hop styles of graffiti writing and the elaborate excesses of Baroque aesthetics.
Accompanying the exhibition will be two videos created by Ballard that are to be integrated into the piece The work will consist of found footage mixed with some of Ballard's own footage, animating the eyes of Sun-Ra – a recurring character across the installation. The piece, like most pieces of graffiti, will be ephemeral and when the building is demolished, the work will disappear with it. The Arts gallery itself may disappear for good – with the forthcoming merger of all the Arts schools in London a new site for the gallery has yet to be found.
Ballard graduated from Central St Martins with an MA in fine art in 2007. Previously Ballard has exhibited at Maddox Arts and the Louise Blouin Institute, but this is the first show that he has attempted on this large a scale. Via:[Despoke]
Categories
Tags