Thomas van Linge Screen Grab Motorhead
SUGAR MOUNTAIN explores work by Mike Ballard, Thomas van Linge, Samuel Padfield, Anna Reading, Catriona Robertson and Christopher Stead in response to the transitory space that The Silver Building affords.
The title is a nod towards Silvertown's industrial past and changing community – that once revolved around the Tate & Lyle sugar factory – and how it endures today as a hinterland in a state of flux; that is perpetually unfolding. Each artist's work features elements of existing in a comparable state of movement – deconstruction for reconstruction – work that keeps on evolving and has no definite endpoint.
The work has echoes of processes, transformation of materials and of value – shifting boundaries in an attempt to make sense of what appears at first sight to be an inhuman environment.
Silvertown and The Silver Building, which as a result of planned obsolescence, will soon cease to exist in their current state and enter a new stage of alteration. In the context of the slow disappearance of the industrial activity in the area, productivity is replaced by the looming growth of empty luxury developments. Under the shadow of the tired-looking New Labour vanity project of the Millennium Dome, The Silver Building is a liminal space that retains energies and stories from each chapter of its development.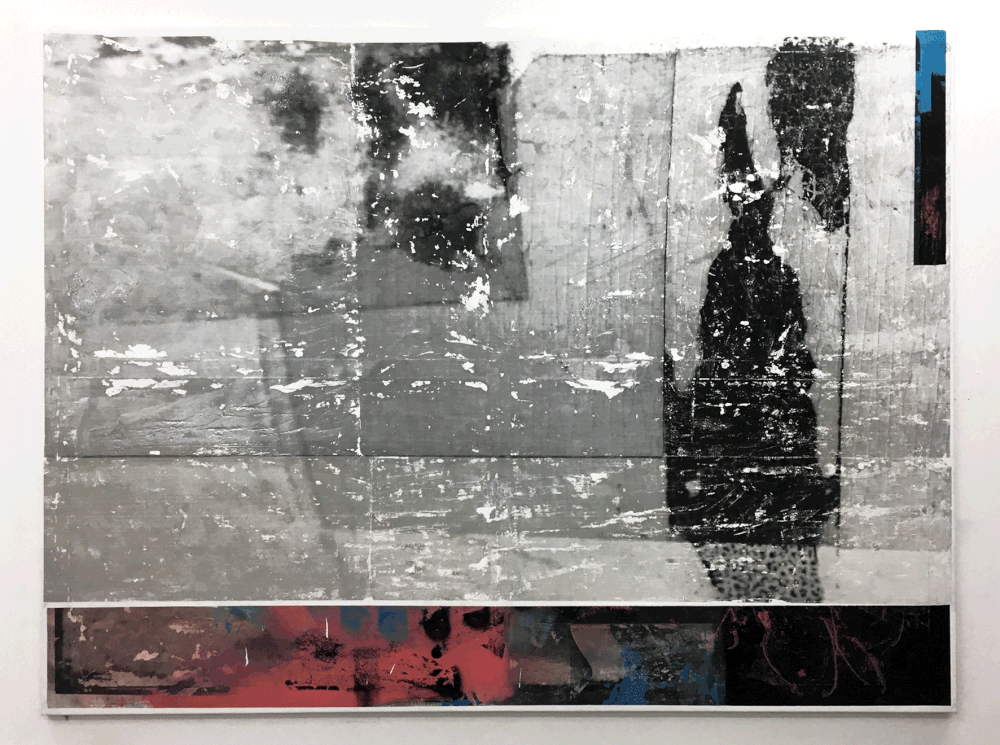 Mike Ballard
As an artist living in London, surrounded by the wave of gentrification flooding the city, Mike Ballard (b. 1972) is a spectator of the everyday urban environment in its constant fluctuation. Using the cityscape as his primary source for material, Ballard conveys the weight of visual noise displayed in the urban matter, immortalising the fabric of a city, giving new life to the often ignored.
Thomas van Linge (b. 1989) works within media ranging from sculpture to video, music and found objects. Van Linge draws his inspiration from a wide spectrum of cultural and subcultural phenomena such as the ethos and visual heritage of electronic music, pop aesthetics, industrial production, digital iconography, the effects of technology and commodification.
Samuel Padfield's (b. 1987) recent work is inspired by the artificial environments depicted in the marketing material and marketing suites produced for real estate developments. He creates work that oscillates between image and object, and is concerned with aspects of illusion, seduction and theatricality in these commercial environments. Through a range of digital and craft techniques, his recent work has taken the form of awkwardly distorted sculptural 'images' that refuse definition as either image or structure. The works explore how this artificial lifestyle aesthetic may become a source of aspiration, and what this means as a decontextualised set of values.
Anna Reading (b. 1987) creates work addressing the absurd relationship between the organic and the synthetic. She forms fragmented, often unsettling sculptural environments, combining highly tactile, disposable and commodity materials such as foam, card, gloss paint, peppercorns, shells and gravel. The works appear familiar and puzzling at once, existing between life form and architecture, ancient and futuristic and decay and regeneration. These paradoxes allow space to explore the illogical, the emotional and the sensory.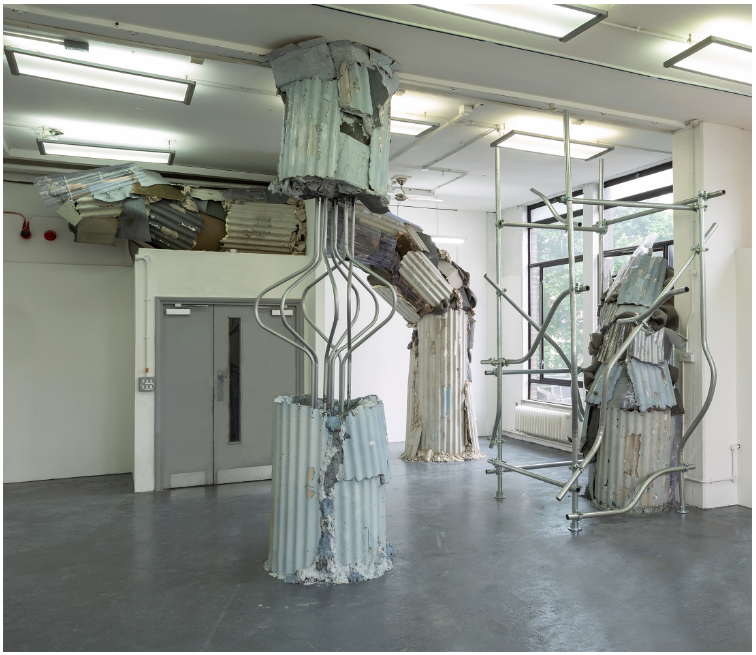 Catriona Robertson (b. 1987) explores architecture and the monumental, the ruins of buildings left behind and the fast-changing urban landscape. As an artist, she is conscious of the afterlife of a material itself at all stages of the process and life span of the sculpture. Using a combination of recycled materials she creates situations in which her sculptures are either suggestive of a form of destruction, or are gradually being destroyed in the process of making. Fragments of previous sculptures become the aggregate for the next, the structural integrity ruined before it is made.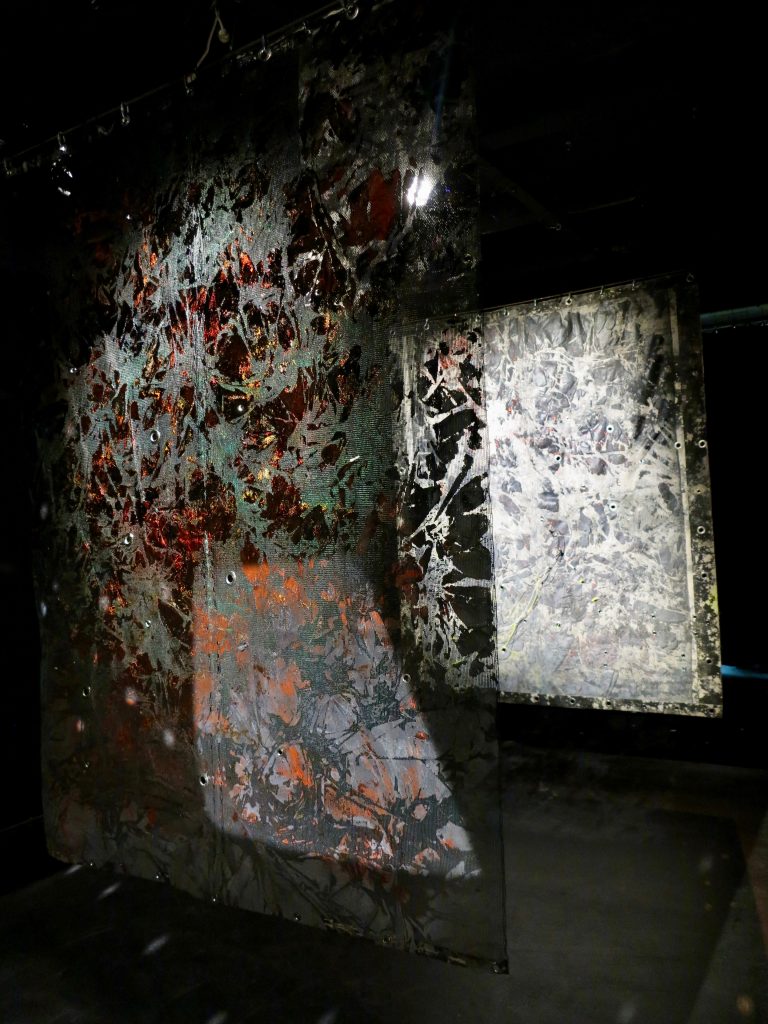 Christopher Stead
Tangled, torn, popped, squeezed and then hung in spaces of 'other', Christopher Stead's (b. 1974) work exists to evade the paradigms of commercial obedience, white cube boredom, and the polarities regimented by cultural hegemony. Informed by Thatcher's dystopian Britain and her Acid House love child, the work explores the dualities played out in post-industrial playgrounds. Places of abandon and neglect, transformed into heterotopias of deviation.
Exhibition curated by Eric Thorp and Nicholas Stavri.
SUGAR MOUNTAIN 21.09.19 – 06.10.19 Private view 20.09.19 6-11pm
Categories
Tags