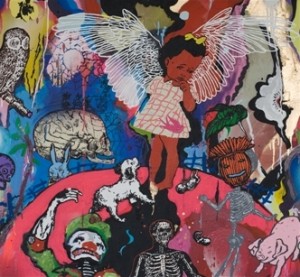 Exhibition Dates: September 10th – October 1st
Carmichael Gallery / 1257 N. La Brea Ave / West Hollywood CA 90038
In the front gallery Disillusion a solo exhibition of new work by Dan Baldwin.
Carmichael Gallery is pleased to announce an exhibition of new paintings and ceramics by English artist Dan Baldwin. This is Baldwin's debut US solo exhibition and his first with Carmichael Gallery.
Fifteen paintings, four ceramic vases and an exclusive, limited edition print compose Disillusion, Baldwin's most mature and provocative body of work to date. His portrayal of a fantastic cosmos in which pop cultural icons, myths and symbolic imagery collide presents a heightened yet informed criticism of contemporary life. Baldwin began this work immediately following Dead Innocent, his successful solo exhibition at Forster Gallery, London, in September, 2008. Whilst the artistic through-line is evident, it is equally apparent that Baldwin has grown and developed significantly over the past twelve months, both technically and emotionally. The impact of personal and global events has effected a distinct shift from last year's delicate, cheering palette and themes of love and beauty to reveal a different side to the artist – combining harsh fragmentation, coarse realism and devastated innocence, the new work is an intense fusion of visceral eye candy which shocks, entices and delights.
Baldwin bridges the gap between abstract and figurative painting to create a landscape that simultaneously reflects reality, the power of the imagination and the private, inner workings of his mind. His style has a unique aesthetic which is difficult to categorize. Working by instinct, it can change dramatically depending on the subject matter he is exploring and the emotions he is channeling. His candid expressivity, playful manipulation of iconography and vibrant application of color, mark making and mixed media reflect his continued interest since his days as an art student in the works of Pollock, Warhol, Basquiat, Rauschenberg, Twombly and Bacon.
The organic spontaneity of Baldwin's canvases is tempered by his careful composition of two and three dimensional elements. Twenty years of experience is evident in his masterful ability to shape, contain and simplify complexity. His integration of mixed media found objects (knives, crucifixes, bullets, bank notes and razor blades) over screen prints, acrylic and spray paint adds depth, clarity and balance. Despite the difference in medium, his creative process when working with ceramics is similar in its unabashed candor.
Amidst the edgy brushstrokes and sinister themes, symbolism proliferates in Baldwin's work. From children's storybook illustrations and images of war to skate graphics and Vanitas, each viewer develops a highly personal response to what they see. The relationship that has been observed between Baldwin and the still life painters of seventeenth century Holland stems from his use of such symbols of life, death and mortality as the flower, the skull, the bird and rotting fruit. Baldwin recontextualizes these symbols, however, making them relevant for modern audiences.
Baldwin's oeuvre daringly elucidates the horrors of politics, corruption, religion and war. A piece such as Halfway between the Gates of Hell and the Garden of Eden deepens these themes with Biblical references and rich layers of imagery. A dystopian exploration of vulgarity and violence, the artwork reveals how such forces work to destroy the little purity that exists in today's society. In the center of the canvas, a short-frocked girl, barefoot and angel-winged, stands at the edge of a precipice in survey of the torment, terror and chaos that lies below. Rooted to the spot, her shadow becomes a stream of blackened sludge that seeps into an abyss of lecherous creatures smeared with devilish grins. Her sole friend, a pet dog, barks petulantly in warning, unable to prevent the impending death of innocence and descent into doom. There is no return to the Eden from which they came; now obfuscated by a backdrop of cobwebs, cracked skulls and psychedelic streams of color, all that remains is a lone falling leaf and a rotting slice of apple.
Dan Baldwin was born in Manchester in 1972. He studied communication media at Eastbourne College of Art and Design and received his BA with honors in communication media and illustration from Kent Institute of Art and Design, Maidstone. He lived in Brighton for twelve years and currently resides in the West Sussex countryside.
Baldwin's superlative technique and conceptual brilliance position him at the forefront of the new Young British Artist movement. His work is internationally celebrated, championed and collected by an exclusive clientele. Baldwin has exhibited his paintings, prints and ceramics around the world. He has enjoyed a stream of critically lauded sell-out solo shows and presented his work in art fairs in Basel, Miami, London and New York. He was the critics' choice on the Saatchi Online Gallery and subsequently showed work at the Royal Academy Zoo Art Fair. Baldwin has become a solid fixture at auction houses in recent years. He set a record at Bonhams in February, 2008 when his piece Apocalypse Wow – The End of Everything sold for over £25,000. Select publications featuring Baldwin and his work include Vogue, ELLE, ELLE Decoration, I.D., Plaza, Flair, The New Order, Art of England, Men's Health, Aesthetica, Style, Dazed and Confused, Modern Painters and Living Etc.
FAD has chosen six great Andy Warhol books you should buy from Taschen and The Met.
Categories
Tags