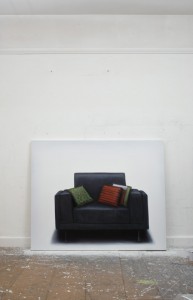 LISA MILROY: TAKING STOCK 9 September – 10 October 2009
Taking Stock, Lisa Milroy's first large scale installation piece, will transform the Alan Cristea Gallery into a room for reflection – part stage set, part attic full of memories, part intimate self-portrait from 9 September.
Milroy, invites you to study her memories, reflections and dreams through over 30 canvases, not fixed to the walls, but rather suspended from ropes hanging across the space, partly obscured by each other like garments hanging on clothes racks. The paintings, on show for the first time, are of clothes, shoes, mountains and lakes, of food and of clutter and fragments of dreams, all reflections on her own work and life.
Lisa Milroy's last exhibition at the Alan Cristea Gallery was in 2005, since when she has had solo exhibitions in Cologne, Zurich, Birmingham, Paris and Aspen, as well as taking part in group shows as far afield as Beijing and Tokyo.
A Royal Academician, Milroy was recently appointed Head of Graduate Painting at the Slade School of Fine Art, and takes up her post in September of this year.
Categories
Tags