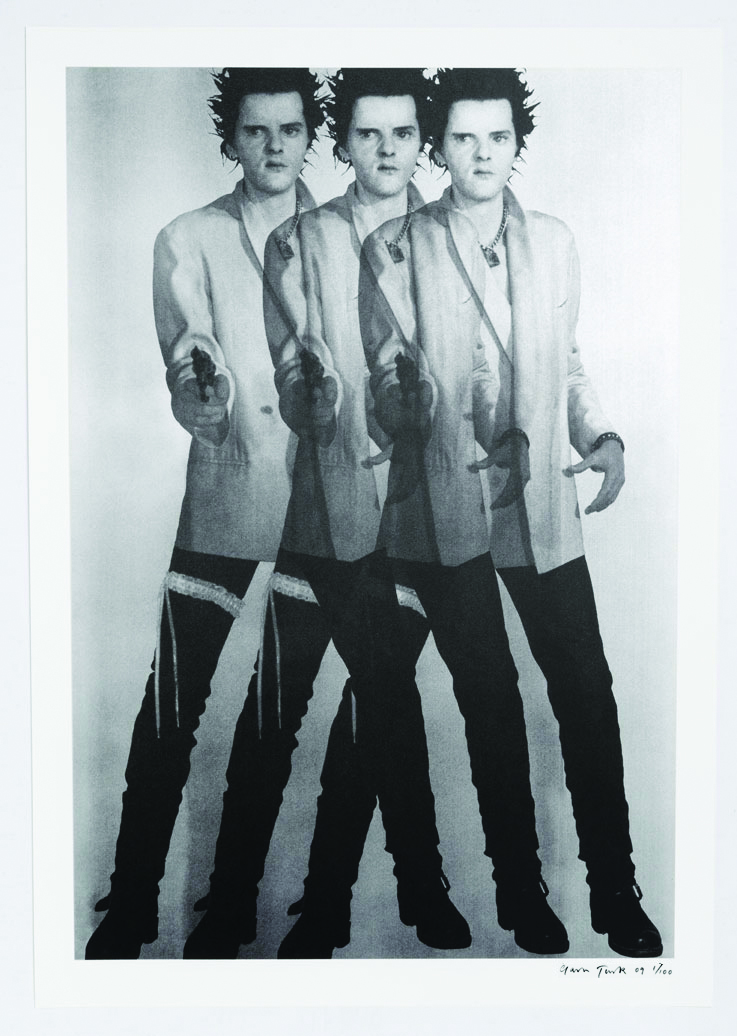 Triple Pop by Gavin Turk, 2009, Silkscreen on paper, 70 x 100 cm
Private view: Wednesday 4th November 6 – 9pm at John McAslan + Partners, 7-9 William Road, Euston, London, NW1 3ER
Exhibition: at John McAslan + Partners 5th – 17th November 10am – 6pm (Mon to Fri)
Exhibition continues: The Royal Institution of Great Britain, 21 Albemarle Street, Mayfair, London W1S 4BS / 19th November 9am – 9pm / 20th November 9am – 5pm
The exhibitions are free and open to the public.
Reception and auction: The Royal Institution of Great Britain / Friday 20th November / 6pm onwards
To attend the reception and subsequent auction register here: www.torturecare.org.uk/rsvp
SUMARRIA LUNN presents an exhibition and auction, in association with the Medical Foundation for the Care of Victims of Torture (MF), showcasing some of the most notable figures in the modern and contemporary art scene. The show and auction will have over 70 pieces of exceptional artwork, including works by Paula Rego, Sarah Lucas and Oliver Garby, Howard Hodgkin and Michael Craig-Martin. The auction will provide a fantastic opportunity to start or add to an existing art collection at affordable prices (£200 upwards) all the while supporting a very worthy cause. Following recent successes, Johan Andersson, Tim Phillips and Laura Oldfield Ford are some of the key fresh talent whose works will also be offered. Survivors of torture, a number of whom take part in the Open Art Studio project during the course of their rehabilitation and treatment, will be exhibiting alongside the other artists.
Does all art share a link with its creative sibling literature? An artwork cannot help but provide to some extent a record of the process of its creation, of the artist's state of mind, and of the wider context of his or her time. These elements are what we might associate with non fiction- factual accounts of process, contemporary culture and events. Conversely artistic intention is a subjective phenomenon, one that we can associate with fiction. The proportionate mixture of these kinds of narrative vary greatly from one artwork to the next, but what can be said with some assurance is that unlike literature these stories must be discovered and explored; they are not as immediately obvious and definite as in text. Whether incidental, intentional or both, it is the stories the artworks tell that unify them.
This exhibition and auction brings together a diverse collection of work from a wide range of artists. In curating this show we are proud to support such a worthy cause. The MF, a registered charity established in 1985, is dedicated to the treatment of torture survivors and organised violence. Sadly, torture is a reality in many countries around the world, and survivors will endure lasting effects for the rest of their lives. For those who have been subjected to all the brutality which that entails, fleeing into exile is often the only chance they have to save their lives. The MF is a UK charity that cares for these men, women and children and helps them rebuild their future, providing them with the specialist care they desperately need. The MF offers medical consultation, examination and forensic documentation of injuries, psychological treatment and support, and practical help. Central to the charity's vision are its efforts to educate the public and decision makers about torture and its consequences, while advocacy work strives to ensure that the UK honours its international obligations towards survivors of torture.
To view the work and to make an online bid please see: www.torturecare.org.uk/art.htm
All proceeds from auctioned artworks will go to the charity.
Categories
Tags