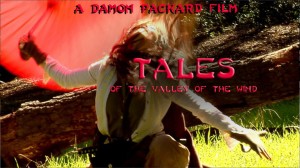 'It's taken 5-6 months just to do 6-7 days of shooting. And those were short 4 hour days, on a normal 12-14 hour schedule we've accomplished what would amount to TWO days of filming (on say a TV schedule) in 6 months! This is what it's like working with no money'
– Damon Packard
05.09.09 – 26.09.09 Union presents a London solo show from cult LA based-filmmaker Damon Packard, with the 'main feature' as the first screening of his new film Tales of the Valley of the Wind (2009). As with Packard's previous work this movie once again illustrates how the bigger the budget the less one's imagination is required.
Damon Packard has written, directed, produced and starred in a prolific body of work over the past two decades. Highly influenced by a 1970s b-movie aesthetic, his pessimistic critique of the lack of creativity within the contemporary Hollywood system is seen in all his films: from the attack on George Lucas in his 'Untitled Star Wars Mockumentary' to his playful representation of a young Spielberg in 'Reflections Of Evil'. His films simultaneously pay tribute to influential peers such as Lars Von Trier and Alexander Sukurov, while commenting on the absurdity of the industry.
The show will also include shorts Tales of the Valley of the Wind Trailer (4min, 2009), Maria & Butch trailer (2min, 2009), Misty Eyed Adventures trailer (2min 2009), Skatebang (6min 2007), SpaceDisco One (45min, 2007).
Born in 1967, Damon Packard lives and works in Los Angeles. Recent exhibitions and screenings include 'The Thinking', Sketch Gallery, London (2007); 'Best of 2005', Lincoln Film Center, New York (2005); Redcat Disney Auditorium, Los Angeles; CineSpace Hollywood, Fantasia Fest, 'Christian Jankowski, Damon Packard, Antoine Prum,' Art Sheffield 05: Spectator T, Site Gallery, Sheffield (2005); 'Biennale!' BizArt, Shanghai & Temporary Contemporary, London (2005); Filler Gallery, Northampton (2005) and 'Romantic Detachment', PS1, New York & Grizedale Arts, London (2004).
Categories
Tags