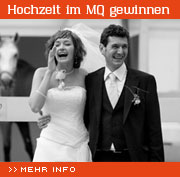 Greetings und guten tag mein dear Fad reader, it has been a little while since submitting my piece, as I have mostly been at the Academy in my native Austria. Where I am pleased to say that my students have been most diligent and receptive to my progressive teaching techniques. Although typically Horst Huasan has tried to hinder my 'Expose Yourself to art' campaign, citing that nudism and art have nothing in common, the little swine has even informed the rector – Dr. Schmidt-Wulffen of my plans for a FKK (Free Body Culture) group within the Academy. My Neu Nackt Group have already lodged a petition and all will be fully revealed.
As the powers that be debated my dossier on the many sensory benefits of group nude art viewing, I took some time off to make a cultural tour and I was not to be disappointed.
It has been awhile since I have had the pleasure of exploring the current contemporary art scene of my beloved hometown of Vienna and there is much excitement to be had. Indeed! I recall as a young history of art student sitting in Café Central thinking of all the great thinkers and artists that have enjoyed a delicious slice of Lizer Torte here. So, it makes sense for me to start my art adventure from here and after reading the fine Der Kurier I set off fully refreshed and alive with rich Viennese coffee.
The large numbers of commercial galleries can be found on both Schleifmühlgasse and Eschenbachgasse, which are located near to MuseumsQuartier – home the Kunsthalle and the Museum Moderner Kunst Stiftung Ludwig Wien as well as the Leopold Museum where one can find the world's largest collection of Egon Schiele. Finally we have Secession (a gallery set up by Gustave Klimt), the façade designed by Joseph Maria Olbrich, currently features a grand looking moustache applied by the artist Katrin Plavcak – now us Austrians are fiercely proud of our glorious moustaches. Let me tell you from experience a good moustache needs to be groomed in order to maintain shape and lustre. This moustache is a fine example of how upper lip facial hair can be transformed into an artwork in a most effective and pleasing way.
There are some very serious exhibitions currently on in Vienna, at the Esterhazy Park – one can find Laurence Weiner text installation, Work No.670 – Smashed to Pieces (In the Still of the Night) (1991). This is powerful piece, referring to Austria's difficulties in coming to terms with their collective dark wartime past. Wiener's work will be shown by Hubert Winter at Viennafair this month.
Meanwhile at the Museum of applied arts, or MAK, there is solo show for the British artist – Anish Kapoor. His 'Shooting into the Corner' piece is most amusing as it consists of an air cannon that shoots red wax 'shells' into a corner of a room. At the Kunsthalle we have a show entitled – 'The Porn Identity' – a poor pun in my humble view. The press information warns visitors that the exhibition is addressed to open-minded adults who want to explore the phenomenon of 'pornetration'. Well, I consider myself a broad minded, liberal individual who would be open to a bit of 'pornetration', but alas the exhibition fails to rise to the occasion. Ultimately it comes across a little more than a series of sleazy peepshow booths and without the inclusion DIY web based porn, the show just does not measure up to size.
Over at the Kunsthalle, in MUMOK, there is a much more impressive exhibition, a retrospective of the 90 year old Maria Lassnig, whose career had been getting a lot of international attention. Her most recent work is disturbing with overtones of menace. 'You or Me' (2005) shows unflattering nude portrait of the artist, pointing one gun to her head and another to the viewer. A most arresting image, I can tell you. In the basement there is a selection of her powerful film work.
Another Austrian artist, whose long career is only recently being noticed by the international art world is – Oswald Oberhuber, who is showing at Galerie Ernst Hilger. Oberhuber has been quiet an artistic force over the years, having curated over 150 exhibitions and has taught such international stars, such as West, Wurm and Brigitte Kowanz.
That evening I returned to the commercial galleries on Schleifmühlgasse and Eschenbachgasse, where there is a flurry of activity and openings. I see Adriana Czernin's decorative studies at Martin Janda and a solo show at Krobath by Dorit Margreiter, one of the artist's in the so-called porn show at the Kunsthalle. She is also featured in the Austrain Pavilion in Venice. Over at Christine König Galerie, Johanna Kandl has a show entitled, 'Missing Guardian' and reference to a failed commission for the editors of the Guardian newspaper, when the artist was in London for the Haywood Gallery's 'Painting of Modern Life'. The commission was rejected because Kandl featured the editors in suits grinning in front of ethnic food stalls. Kandl's work plays upon the gulf between Western consumerism and the realities of mundane life. Kandl is even a dab hand at self-mockery, with a painting containing the text 'Why am I such a conservative bad artist?' She is of course a rather good artist who questions society and the world we live in.
So, reluctantly I take me leave of my native town, not before taking a beer at the hot young arty hang out 'Futuregarden' run by the gallerist Amer Abbas. It seems that the old coffee houses have made way for these trendy bars and I very much enjoy the youthful debate and energy.
I have since returned to London for a few weeks of holiday and research. And I am most pleased to sitting in the café of one of my favourite galleries in London – The Camden Arts Centre. Their cappuccinos are excellent and I have just consumed a very tasty chorizo panini and now sorely tempted by their carrot and raison cake. I am not here merely to savour the delights of their café but to also take in their new exhibition by the Dutch artist – Michael Raedecker.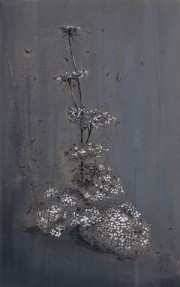 I have always enjoyed the quiet craft of Michael Raedecker's work as he uses a unique combination of thread and paint to create beautiful and atmospheric paintings. The source material comes from second hand books, magazines, old catalogues and the like which then derive from various genres including still lives, landscapes, interiors and flower paintings. They in turn have an ethereal quality, crafted together with different type of thread and wool. The muted tones, washed-out greys and blues coupled with delicate sewing indicate a sense of sadness, a hint of the decay to come. They are poetic, somewhat dark with titles that confuse or jar strangely with the subject they represent.
The next exhibition at the most pleasant Camden Arts Centre is Johanna Billing and Alexandre da Cunha, which opens to the public on the 10th July and runs until 13th September.
Your dear old Klaus will be attending the Basel Art Fair in Switzerland, which opens on the 10th June. I will be sure to bringing you all the gossip and inside information directly from the fair. Let me tell after all the excitement of Miami, I am much looking forward to the comparative understated nature of the original Basel fair. Here one can really appreciate the art on display especially at the Art Unlimited space. There are of course many satellites fairs, such as Liste, Pulse and Volta to take in and there is also the Kunsthalle in the evening for dealers and collectors to enjoy a few cocktails and hopefully celebrate an upturn in the market, for as you know these are difficult times. Tshussy.
Categories
Tags