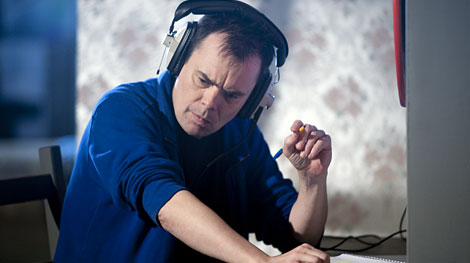 The Gallery at BFI Southbank, London, SE1 8 May – 11 July 2009
Admission free:www.bfi.org.uk Private view: Thursday 7 May, 6.30-9pm
On Thursday 7 May the Gallery at BFI Southbank goes 3D with the opening of a new video installation by British artists Iain Forsyth & Jane Pollard. Taking as its starting point 1922 3D film The Man from M.A.R.S., Radio Mania: An Abandoned Work is part film, part rehearsal, captured using contemporary 3D video and audio technologies. The artists have set about creating a contemporary adaptation of this silent film, transporting the viewer into the centre of a rehearsal capturing the actors, artists and musicians at work. Kevin Eldon (Big Train, Hot Fuzz) stars alongside Caroline Catz (Doc Martin), Terrence Hardiman (The Demon Headmaster) and the legendary Fenella Fielding (Carry On Screaming!). Soundtracked by a live band led by Nick Plytas, it also features a Martian dance by comedy actors Ben Crompton, Iain Lee and Ben Moor. Radio Mania: An Abandoned Work runs until 11 July.
The Man from M.A.R.S. was made in 1922 to demonstrate 'Teleview', a stereoscopic motion picture system created by Laurens Hammond who later went on to invent the Hammond Organ. The film played for 24 days in a New York cinema before closing, after which neither Teleview nor the 3D film was seen again. A 2D version is now looked after by the BFI National Archive. Forsyth and Pollard's project was filmed in a single take at Twickenham Film Studios, with a script by writer and novelist Kirk Lake.
Forsyth and Pollard's practice revels in the grey edges of science and the idea of haunted media. Here they stage an unmissable, entertaining and immersive installation summoning an atmosphere mixing the theatricality of the stage and the illusionism of cinema. The work occupies a state between extended reality and hallucination.
About Iain Forsyth and Jane Pollard
Forsyth and Pollard are well known for their re-enactments of cultural and art historical moments and have recently collaborated with both Nick Cave and Jason Pierce (Spiritualized) – and now… Martians. Iain Forsyth (b.1973) and Jane Pollard (b.1972) began working collaboratively when they met at Goldsmiths in the early nineties. Their work often cross-references art and music, and since 2007 they have been working on a series of film and music video projects with Nick Cave. They make work that is always challenging, accessible and popular. In 2006 they staged Silent Sound an experiment in subliminal messaging with Jason Pierce from Spiritualized. In 2003 they produced File under Sacred Music, their acclaimed video remake of the Cramps live at Napa State Mental Institute, and in 1998 A Rock 'N' Roll Suicide, their live re-enactment of David Bowie's farewell performance as Ziggy Stardust. They live and work in London, UK. More information can be found at www.iainandjane.com
Special event on 17 June with the artists and Nick Cave
During the show, BFI Southbank will premiere Do you love me like I love
you. Part 5: Tender Prey. This film is part of a series of 14 new short films by Iain Forsyth & Jane Pollard commissioned by Nick Cave & The Bad Seeds to accompany the 2009 re-issue of their influential catalogue. Expanding on the several projects the artists and the band have worked on together as well as Forsyth & Pollard's own acclaimed Precious Little series, each 40 minute film features a collage of the famous, infamous and unknown talking directly to camera about what the songs mean to them. The result is a subjective human portrait of the truly unique body of work, told through those who have lived and loved the music. Following the screening the artists and Nick Cave will take part in a Q&A with the audience: 6.20-8.30pm, NFT1.
A full programme of events to accompanies Radio Mania, including the artists in conversation with Elisabetta Fabrizi, Head of Exhibitions at BFI Southbank and a screening of Lindsay Anderson's influential 1973 classic O Lucky Man! Full details can be found online at www.bfi.org.uk/gallery
About BFI Southbank
BFI Southbank (located between the National Theatre and the Royal Festival Hall) has the only London art gallery specifically dedicated to commissioning and showcasing artists' films and videos and the moving image in its most contemporary forms. There's more to discover about film and television through the BFI. Our world-renowned archival collections, cinemas, films, publications and learning resources are there to inspire you.
Listing details:
BFI Southbank, Belvedere Road, London, SE1 8XT
Gallery admission free
Exhibition open Tuesday to Sundays (and Bank Holiday Mondays): 11am-8pm
Tel: DAILY INFO: 020 7633 0274 BOX OFFICE: 02…
Tube/BR: Waterloo www.bfi.org.uk/gallery
Categories
Tags