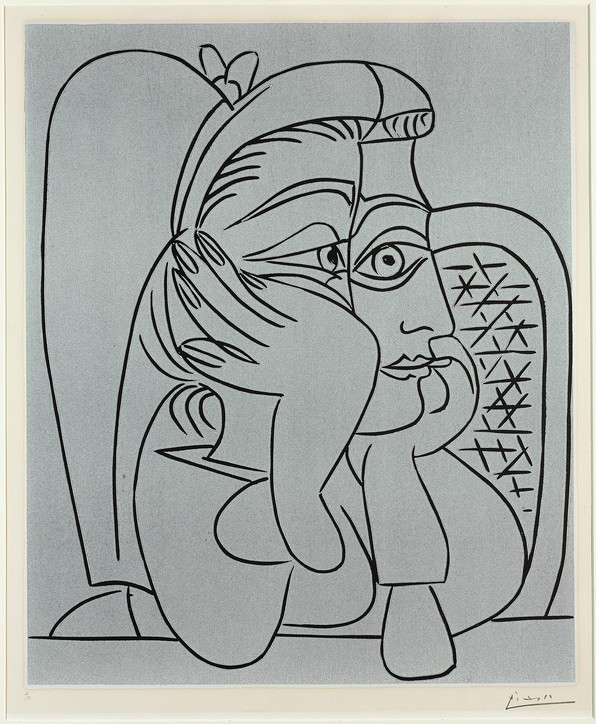 lot 72 PABLO PICASSO Portrait de Jacqueline Accoudée (B. 922; Ba. 1240) linocut in colors, 1959
Christie's Prints & Multiples sale on April 28 in New York will feature a wonderful selection of works from private collections, many of which will appear for the first time at auction.
Rich in quality, the sale presents collectors with opportunities to acquire historically important and rare works such as Wassily Kandinsky and Franz Marc's seminal 1912 Der Blaue Reiter almanac, in addition to prints by contemporary artists including Julie Mehretu and Dana Schutz.
A deluxe edition of Wassily Kandinsky and Franz Marc's seminal almanac produced in 1912, DerBlaue Reiter (Blue Rider almanac) is a rare appearance on the market (cover and details shown right, estimate: $40,000-70,000).
The celebrated almanac is comprised of one color woodcut by Kandinsky and one color woodcut by Marc, as well as musical scores by Schönberg, Berg, and Von Webern. Der Blaue Reiter- founded by Kandinsky and Franz Marc in 1911 – sought to express spiritual truths through Modern Art.
Published by Reinhard Piper, Almanach der Blaue Reiter is highly sought after by both print collectors and bibliophiles. Although it was intended as a yearly publication chronicling the development of Expressionist art forms, this was the only volume published.
A selection of important lithographs by Henri de Toulouse-Lautrec include several sought after works such as, Miss Loïe Fuller, May Milton, Jane Avril, and Reine de Joie. These masterworks depict Toulouse-Lautrec's quintessential subjects of famous singers and dancers from Paris's Montmartre district.
The principal highlight among this group is Lautrec's lithograph in colors with gold powder from 1893, entitled Miss Loïe Fuller (estimate:$80,000-120,000). In this iconic lithograph, the artist depicts songstress Miss Loïe Fuller onstage as she performs her famous "Serpentine Dance" in which sheemployed colored lights and billowing silk skirts to achieve an ethereal effect. The artist envisioned her dazzling performance from the audience's perspective, thereby heightening the sense of spectacle. Another top lot by Lautrec is Partie de Campagne, which depicts a couple in carriage drawn horse ride (estimate: $60,000-80,000).
A rare etching by Edward Hopper, House by a River, 1919,is offered for the first time at auction (estimate: $50,000-70,000). Of the 10 known impressions, several reside within institutions including the Philadelphia Museum of Art, the Whitney Museum of American Art, MoMA,Museum of Fine Arts, Boston, and Harvard's Fogg Art Museum. This striking image of a New England coast is a fine example of Hopper's ability to impart a powerful composition with an economy of means.
Pablo Picasso is well represented in the sale, from an early cubist drypoint, Nature Morte au Compotier,
1909 (estimate: $10,000-15,000), to an aquatint and engraving, Faune dévoilant une femme from La Suite Vollard, 1936 (estimate: $60,000-80,000).
Another key work is Picasso's Portrait de Jacqueline Accoudée from 1959 (estimate: $45,000-75,000). The linocut is an exquisite depiction of theartist's second wife, Jacqueline Roque, whom he frequently portrayed.
Jacqueline's striking image is composed of bold lines that marryclassical form with modern perspective,monstrating the artist's unique distinction as a modern master who revered the classical
tradition.
Works by Marc Chagall range from an example from one of his earliest series, a plate from Daphnis
and Chloé (estimate: $8,000-12,000), to a work from his later, larger lithograph series, entitled Dans le
Ciel de l'Opéra (estimate: $30,000-50,000). Among the 30 works in the sale by Joan Miró is the complete set of 3 books – Anti-platon, La Lumière de la lame, and Saccades – each containing etchingsand aquatints, with a luxurious presentation binding (estimate: $25,000-35,000). A large etching, aquatint and carborundum in colors, with powerful imagery, La Béluga, is another highlight by Miró
(estimate: $12,000-18,000).
Maurice Brazil Prendergast was one of the most prolific artists to create monotypes, and the sale
includes a rare example to come to auction, Circus Scene with Horse (estimate: $20,000-30,000). This
impression is the second pull and final pull from the plate, and the first impression is in the collection of the Terra Foundation of American Art. Other rare works in the sale include German Expressionist lithographs such as Egon Schiele's Secession 49, Ausstellung Plakat 1918 (estimate:$30,000-40,000), and Oskar Schlemmer's Konzentrische Gruppe (Figurenplan KI), 1922 (estimate: $4,000-6,000).
Among the roll call of artists included in the Post-War and Contemporary session of the sale is a
screenprint by Chuck Close, John, 1998 (estimate: $20,000-30,000), and several bright David Hockney
works including Lithograph of Water made of thick and thin lines and two light blue washes (estimate: $15,000-25,000).
A selection of works by Jasper Johns portrays themes he worked on in both print and paint mediums – and is
led by a large and complex screenprint, Usuyuki(estimate: $50,000-70,000).
The Contemporary section features two major up and coming female artists: Julie Mehretu and Dana Schutz. Mehretu's Rogue Ascension,2002 is created by printing in different intensities of black on semitransparent paper (estimate: $4,000-6,000). Schutz masterfully combines woodcut and lithography to achieve a compositional style reminiscent of German Expressionism. In One Eyed Girl, the artist
portrays a beautiful yet unsettling image of a young woman whosedisfigured face is a tapestry of colorful shards (estimate: $3,000-5,000).
Auction: Prints and Multiples April 28 Viewing: Christie's 20 Rockefeller Galleries April 24-27
Categories
Tags