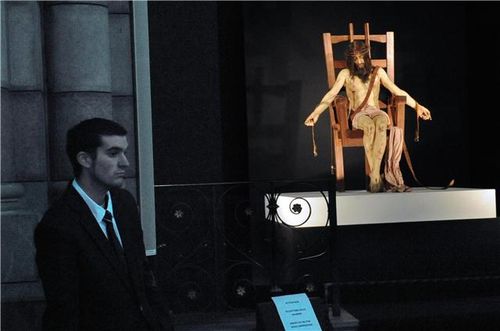 Photo: the sculpture "Pieta" by Paul Fryer recently on display at the Cathedrale de Gap in France. Credit: AFP / Jean-Pierre Clatot
This week, a cathedral in the French town of Gap displayed a sculpture that depicts Jesus Christ sitting in an electric chair.
The sculpture, by London artist Paul Fryer, is titled "Pieta,"
Made of wax, wood and human hair, the sculpture portrays Jesus in a quasi-crucifix pose except that instead of on the cross, he is slumped unconscious in a modern-day electric chair.
In an article in Le Monde, the Monsignor Jean-Michel di Falco explained that he wanted "to make us aware once more that someone being nailed to a cross is a scandal. Usually, we no longer feel any real emotions in the face of something truly scandalous, the crucifixion."
He added that he was overjoyed to see "a large number of people who normally don't step foot in a church line up at the cathedral."
Categories
Tags