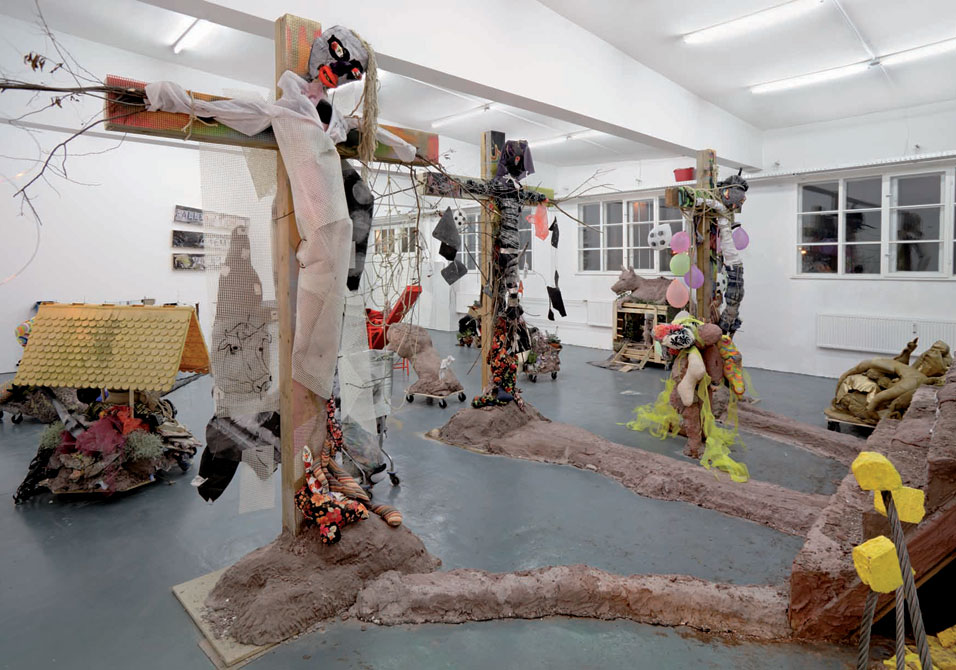 View of the exhibition "I Don't Know but I've Been Told, Eskimo Pussy is Mighty Cold". Peres Projects, Berlin, 29 septembre – 10 novembre 2007, Agathe Snow. Courtesy Peres Projects, Los Angeles et Berlin © Agathe Snow.
For the Jeu de Paume Satellite programme, Agathe Snow is presenting Vues d'en haut, vertiges et constellations (Views From Above. Vertigo and Constellations). This project is one in a series of meditations on Leonardo da Vinci being presented through the year in a variety of exhibition venues.
Agathe Snow was born in Corsica in 1976 and now lives in New York. Whether as video, performance or installation, her work combines an apocalyptic vision of a society in an advanced state of decadence with the suggestion of deliverance, celebration, survival and hope. She uses accumulations of found objects in order to invent a new form of narrative expressing her perception of the real and her attitude towards the world.
For the rooms at Jeu de Paume, the artist has created a set-up which links the Mezzanine and the Foyer, the idea being to put down the foundations of a new world in which it would be possible 'to dream of a more rational life – seen FROM ABOVE, from a broader perspective,' as she herself puts it.
At the centre of the installation is a monumental sculpture made of blue rubber handballs that are magnetized so that they adhere to metal forms. This mobile oscillating between solidity and chaos refers both to classicism and to a more contemporary aesthetic. It evokes the artist's young years in the streets and play areas of the Lower East Side and at the same time the molecular structure of DNA, just as it echoes Constellations, a set of 49 black-and-white photocopies of Christmas balls seen from every angle, brought together in the publication put out for this exhibition. Facing it is an improvised installation consisting of pieces of foam laid on the floor, an American flag and a video monitor replaying footage of man's first steps on the moon, as followed in 1969 by millions of TV viewers. Moving on from this event which marked the acme of the American Dream, Snow traces the spread of today's disenchantment.
Vues d'en haut, vertiges et constellations becomes a space dedicated to ideas and thought, directed towards the hope of developing a new universe where rebirth might be possible, 'a particular state of mind rid of all superfluous accessories, of boredom, of moralism and fatality; an as yet nameless concept to be thought of as an epoch that lies in the future.' This project refers in part to Leonardo da Vinci, to his impressive creative power which ranged over every field and made him a key figure in the society of his day as well as a limitless visionary: painter, sculptor, founder, engineer, architect, urbanist, physicist, biologist, philosopher, geometer, botanist, inventor of board games and kitchen instruments, cartographer, writer of treatises on optics, designer of gardens, decorator…
In response to the Renaissance spirit embodied by Da Vinci and the deterioration of contemporary society, Snow felt impelled to propose a new territory, a renaissance founded not on empirical rationalism and the desire for totalising knowledge but on an awareness of the limits of our knowledge and the recognition of those things that are beyond human understanding: myths, fables, and the supernatural. Snow thus proposes a new, restorative attitude that would make it possible to 'realize that little by little wonder is back in our lives.'
Categories
Tags