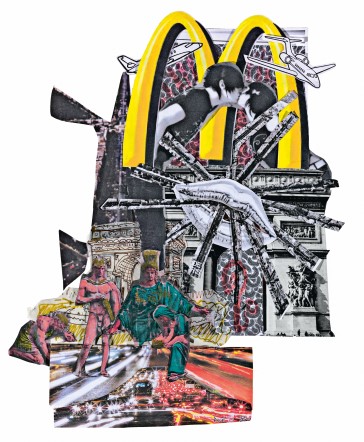 Image:Agathe Snow Arc de Triomphe, 2010 © Agathe Snow
Peres Projects is please to announce:Agathe Snow: All Access World
January 28 – March 30, 2011
All Access World, a new cycle of works by Agathe Snow, will be presented in an exhibition at the Deutsche Guggenheim, Berlin, from January 28 to March 30, 2011. It will form the sixteenth commission in an ambitious series launched in 1997 by Deutsche Bank and the Solomon R. Guggenheim Foundation to facilitate the creation of major new projects by contemporary artists.
The exhibition takes as its subject the world's monuments, landmarks, and historical sites, focusing on the ways they shape collective memory and serve as potent touchstones of national identity. Snow explores how monuments could jettison these didactic aspects in favor of a supple multiplicity that would increase their relevance to contemporary life and make them vessels of genuine cultural exchange. This utopian ambition is articulated through her establishment of All Access World, a fictional organization that subjects monuments to an irreverent process of appropriation and transformation, reimagining them as consumer products that can be customized to reflect individual tastes, interests, and experiences.

Image:Agathe Snow Walls, 2010 © Agathe Snow
Categories
Tags