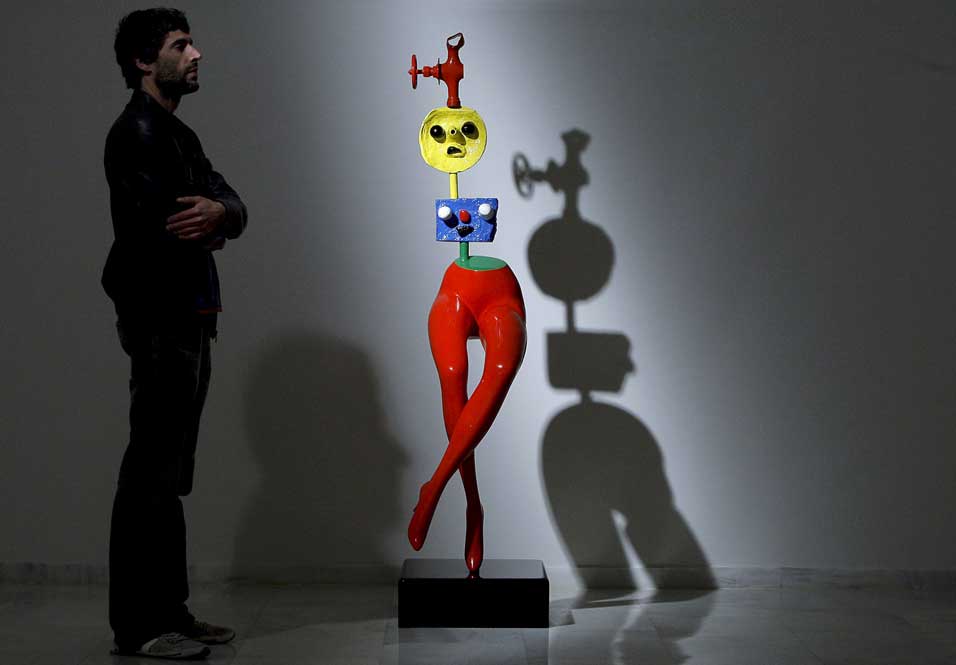 A man looks at Joan Miró's "Jeune fille s'evadant", 1967 at Bancaja Foundation. EFE/Manuel Bruque.
The Bancaja Cultural Center presents Joan Miró. Evoking the Female Image, on view through June 21, 2009. The exhibition was organized together with the Joan and Pilar Miro Foundation. Women as a theme run through all Miró's work. It was an early allure that began during his training as an artist. It was a constant obsession that persisted into his maturity. Miró equated the female figure with the universe. Nonetheless, his portrayals tend to avoid idealization or praise. Miró observed women and his multiple visions reveal rigour, humour, tenderness, eroticism, drama, poetry or everyday life. Miró's work features nudes, dancers, portraits, imaginary portraits, maternities, lovers, women bathed by water, the sun or the moon, women courted by birds or stars, and hybrid creatures that can be confused with men, stars, animals or plants. His fascination with the female image started out with descriptive figurative portrayals that later turned into ideograms, with elliptic poetical images evoking women through one of their identifying features, or into barely legible signs. Decade by decade, this exhibition traces his obsession from 1917 up to 1981, through paintings, drawings, sculptures, graphic work, photographs, and images and objects from his studios: the Sert Studio and Son Boter.
The exhibition begins with two female nudes (1917-1918), sketched using real-life models when he attended classes at the Sant Lluc Art Circle in Barcelona. When he came out of class, Miró used to draw dancers from the Paralelo district or other protagonists of the city's nightlife. Even during this period, his first female nudes shunned the prevailing academic style, and their bodies underwent a metamorphosis, transformed by the harsh colours of Fauve or the facets of Cubism. In parallel, the musicality of Delaunay's Orphism transformed the surrounding space of the woman with a fan portrayed on the poster designed for the Franco-Catalan magazine L'Instant (1919).
After his first trip to Paris in 1920, his detailed style of painting gradually became more diluted. Even his most realistic of female portraits started to acquire an unusual beauty. Miró's growing interest in poetry and contact with Dadaist and Surrealist artists and writers introduced him to new creative methods and more conceptual, metaphorical forms of representation. From 1924, the female figure became more stylized and schematic. Subtle and incorporeal, it could only be identified by her breasts, her sex or other characteristic features. She became a sign or an ideogram. A hint of the female figure's objectification can be observed: setsquares, inspired by Giorgio de Chirico's metaphysical painting, occupy the pubis. Additionally, under the influence of Duchamp's irony or the mechanistic aesthetics of Picabia, Miró's dancers were transformed into "toys" activated by clockwork or by a wheel mechanism, as in Danseuse (1924). This simplification and stripping back to basics led to his dream paintings (1925-1927) whose modulated, ethereal backgrounds also contain women, as in Peinture (1925). Later, his Imaginary Portraits of 1929 allowed him to freely interpret paintings by other artists from other periods, a field that Miró assiduously explored.
From 1927, his desire to "assassinate painting" and his questioning of conventional painting and technical virtuosity led him to create collages, painting-objects, poetic objects or other three-dimensional works in which women continued to play an important role. From 1931, he became reconciled once again with painting, creating a series of oils on Ingres paper, like Femme assise, where women are increasingly the protagonists. Contemporary or period women abound in the postcards and other images from popular culture stuck on his drawing-collage of the 1930s. This carefree, often idealized image of women contrasts with the disturbing women of his savage paintings (1934-1938), like Peinture (1935), and with the distorted bodies sketched at the Grande Chaumière in 1937, during his exile in Paris as a consequence of the Spanish Civil War.
Transformed now into a sign, the female image continued to feature in his 1940s work, beginning with the Constellations series. The meticulous delicate work of this series, still perceptible in Femmes, oiseau, étoiles (1944), coexisted or competed with a sketchy handling of paint from the middle of the decade, as is the case of Femme dans la nuit (1944). From this point onwards, women were portrayed in paintings in a decreasingly descriptive, more abstract way, although they still tended to be relatively figurative in his sculptures.
From the mid 1950s, his more or less elliptical portrayals of women gave way to imprecise, evanescent images, as in the drawing Trois femmes (1960) On occasions, Miró appropriated female images present in the work of other artists, as occurs with the tapestry La Partie de pêche des amoureux (1965). The female image finally ended up by taking on any form, as in the painting Femmes et oiseaux (1968), becoming hard to decipher. Sometimes the title is the only clue in helping to identify the female theme, as is the case of Femme espagnole and Femme, oiseau, both produced in 1972.
Women are omnipresent in his sculptures from the 1960s and 70s, and also in his assemblage sculptures, constructed with diverse objects. These widely assorted bits and pieces of reality (pumpkins, tins, spoons, balls) were subjected to a process of anthropomorphization which metamorphosed them into women, maternities, hybrid beings or young girls dreaming of escape. Women also occupied a privileged place in projects for monumental sculptures and public art. The magic appeal of the female figure persisted during the final stage of Miró's work. His sketchbooks or graphic work from the 1980s explore recurrent female themes and motifs, like Jeune-fille or Danseuse espagnole, or extend the repertoire by adding new images, like those of the Gens de la Mer or the Marchande de Couleurs.
Categories
Tags