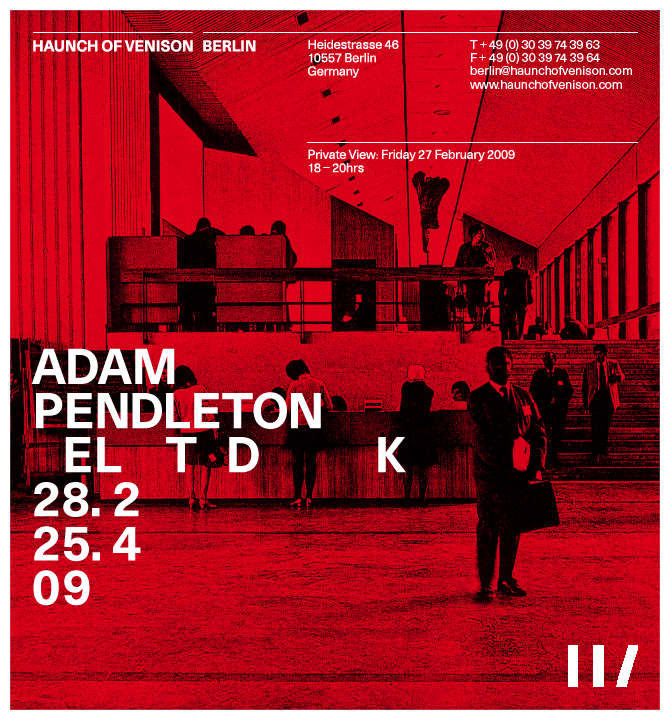 28 February – 25 April 2009 Private View 27 February, 6-8pm
The exhibition will include two new series of wall based work, 'System of Display' and the 'Black Dada' paintings, as well as an installation of a quasi-minimalist sculpture composed of black cubes.
Pendleton is known for his paintings, installations, and performances that unite seeming incongruities in a formal embrace. Within his repertoire are allusions ranging from 1960's conceptual art to the black arts movement, from experimental poetry to punk rock, from gospel to gay liberation. A thread throughout the artist's practice is an interest in language and its unique capacity as an open structure to both shape existing realities and inaugurate new ones.
Installed in the main gallery, 'System of Display' presents 46 silkscreened mirror works, each with a glass facade printed with type. In this body of work, Pendleton pulled images from disparate histories including a photograph of a Nigerian burial mask, documentation of Trisha Brown dance performances, the paintings of a forgotten minimalist, and installation shots from the first Documenta. Mining a text by Andreas Spiegl on the work of Cerith Wyn Evans, Pendleton chose individual words that felt specific to that artist's discourse, creating a 'tone poem' that amounts to a Wyn Evans' 'gestalt'. Pendleton further atomized each word using a systematic process of omission and printed the remnants individually on the glass panes.
The installation, 'Rendered in Black', consists of ceramic black cubes arranged in the mezzanine gallery in a permutation executed by Pendleton. Based on a prototype that was shaped by the artist into the current form, the cubes were used as seating for a performance titled 'The Revival', a celebrated Performa 07 commission in which the artist fused the format of a gospel revival with experimental writing practices. Both a 'retroactive' work of black minimalism, (one that is purposefully 'offmessage'), and a materialization of an abstract alphabet, the installation functions as a phenomenological meaning-making device.
Finally, hung in the back gallery and in the main gallery opposite 'System of Display', the exhibition features two black-on-black silkscreen diptychs and a grid of eight silver-on-black silkscreen paintings from Pendleton's 'Black Dada' series. The two primary forms in these works are cropped images of Sol LeWitt's 1970's Variations of 'Incomplete Open Cubes' – a series of sculptures LeWitt issued with 122 permutations on a single form – and letters from the words 'Black Dada' adapted from Amiri Baraka's (formerly LeRoi Jones) 1964 poem 'Black Dada Nihilisimus'. Pendleton seeks to animate two contradictory states: a literal presentness embodied in the work's abstract performativity; and a discursive play of representational systems that extends into the social fabric.
Categories
Tags