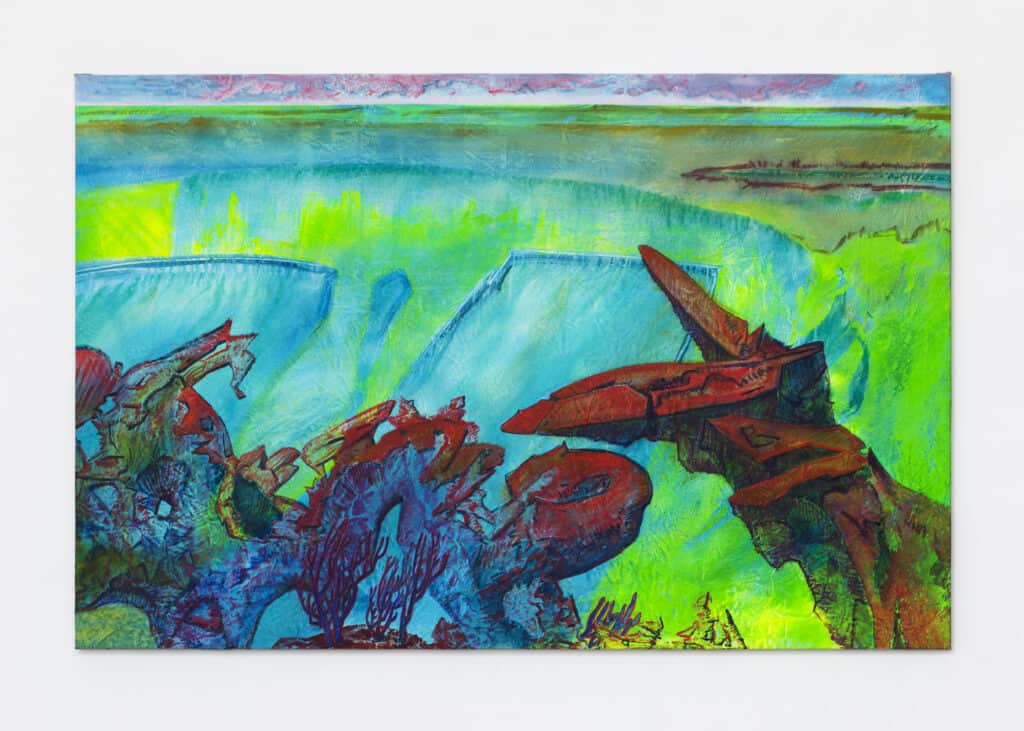 Lehigh University Art Galleries (LUAG) will present Young, Gifted and Black: The Lumpkin Boccuzzi Family Collection of Contemporary Art this February. This exhibition of works by artists of African descent is drawn exclusively from the highly regarded private collection of Bernard I. Lumpkin and Carmine D. Boccuzzi. 
Although many works in the Lumpkin-Boccuzzi Family Collection have been lent to museums over the years, Young, Gifted and Black is the first stand-alone public exhibition curated from this exceptional collection showcasing works in a variety of media, by emerging artists, alongside works by established artists who have paved the way for the younger generation. The exhibition is co-curated by writer and critic Antwaun Sargent, an authority on Black art and visual culture, and artist Matt Wycoff, who has worked closely with Mr. Lumpkin on the collection for many years. The curatorial selections are grouped into roughly four categories: Black, Color, Materiality, and Portraiture. These groupings are suggestive of the breadth and depth of the Lumpkin-Boccuzzi Family collection and attempt to represent the wide range of concerns Black artists are pursuing today.
"I'm thrilled that the "Young, Gifted and Black" nationwide tour continues at Lehigh University Art Galleries at Lehigh University, opening on February 1st, the first day of Black History Month.* Lehigh has organized an incredible lineup of talks, panels, workshops, and other events for the campus community and the general public. The mission of this exhibition has always been to educate people from all walks of life about the important work being made by Black artists today."

– Bernard Lumpkin 
The exhibition is accompanied by Young, Gifted and Black: A New Generation of Artists, edited by writer Antwaun Sargent (The New Black Vanguard: Photography Between Art and Fashion), currently in its third printing and published by DAP. The book features over 100 artworks from the Lumpkin-Boccuzzi Family Collection in all media that explore representation, race and the history of art. It gathers a field of dynamic voices, including Lumpkin; Sargent; Thelma Golden, director and chief curator of The Studio Museum in Harlem; and Jessica Bell Brown, Associate Curator of Contemporary Art at The Baltimore Museum of Art, among many others.
A landmark exhibition and publication, Young, Gifted and Black captures what it means—in the words of Nina Simone and Lorraine Hansberry —to be young, gifted and Black in contemporary art. At a moment when America is wrestling anew with race and racism, and debates about equality and inclusion in the art world have taken on greater urgency, Young, Gifted and Black assesses how these artists are shaping the way we think about identity, art and art history.

EXHIBITION ARTISTS: Derrick Adams, Tunji Adeniyi-Jones, Sadie Barnette, Kevin Beasley, Nayland Blake, Jordan Casteel, Jonathan Lyndon Chase, Caitlin Cherry, Bethany Collins, Cy Gavin, Alteronce Gumby, Chase Hall, Allison Janae Hamilton, David Hammons, Kenyatta A. C. Hinkle, Lonnie Holley, Tomashi Jackson, Rashid Johnson, Samuel Levi Jones, Jarrett Key, Deana Lawson, Glenn Ligon, Eric N. Mack, Kerry James Marshall, Troy Michie, Wardell Milan, Narcissister, Arcmanoro Niles, Clifford Owens, Jennifer Packer, Adam Pendleton, Christina Quarles, Andy Robert, Latoya Ruby-Frazier, Jacolby Satterwhite, Paul Mpagi Sepuya, Gerald Sheffield, Lorna Simpson, Sable Elyse Smith, Vaughn Spann, Henry Taylor, Chiffon Thomas, Mickalene Thomas, William Villalongo, Kara Walker, Nari Ward, D'Angelo Lovell Williams, Wilmer Wilson IV and Lynette Yiadom-Boakye
Young, Gifted and Black: The Lumpkin-Boccuzzi Family Collection of Contemporary Art February 1st -May 27th, 2022 at Lehigh University Art Galleries.
A free, public opening reception will occur on Tuesday, February 22nd, 6:00-8:00 p.m. in the Main Gallery of LUAG. For a wide range of free public programs and educational events visit luag.lehigh.edu/events.
EXHIBITION TOUR: Lehigh University, Bethlehem, PA – February – May 2022 Manetti Shrem Museum, University of California, Davis – June – December 2022 Subsequent venues to be announced shortly. MORE: @younggiftedblackart


Categories
Tags