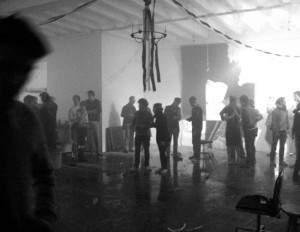 "It was amazing. There was puke on the stairs."Anonymous
If any gallery dominated the artist-run space scene in the area near the canal, next to that big green book depository, in Hackney Wick, in East London, between the dates of March 2007 – August 2008 (inclusive), it was The Wallis Gallery.
Run from an enourmous warehouse that tripled up as a primary (though un-registered) residence for a fluid number of young artists, writers, musicians and advertising executives and an illegal party venue, The Wallis Gallery drew together extraordinary talents from literally all across East London to stage a series of legendary exhibitions, performance events, happenings and parties. A fresh, new crowd with something to say. Some said it in fibreglass, some said it with paint, some said without obeying the laws of grammar, some said it with a pseudo-Neo-Modernist aesthetic, some said it in the dark. Others, like experimental punk band Horse Vomit, said it with multiple rolls of gaffer tape wrapped round their faces. But however they said it, they said it.
In September 2008, The Wallis Gallery finally closed its doors and shut a chapter in history after the warehouse's tenants stopped paying rent.
Paradise Row humbly presents Wallis Dies and Goes to Paradise, a heartfelt tribute to The Wallis Gallery which will surely take its place in history alongside City Racing, Racing Green and Soylent Green as one of the most significant artist-run spaces of recent times.
This exhibition brings together highlights from The Wallis Gallery's program and showcases the work of seventeen young, London-based artists that ranges freely across painting, sculpture, video, installation and performance.
In a device of fiendish subtlety Wallis Dies and Goes to Paradise will itself host a show-within-a-show within the gallery-within-the-gallery. …And the Dark Show Returns as a Ghost is a series of performances and interventions that will augment/disrupt the curated display of physical works over the course of the whole exhibition.
Making Mistakes was the name of the well-frequented and chaotic performance evenings at The Wallis Gallery and it will be represented by a selection of its greatest performers doing their thing at the Private View.
Wallis Dies and Goes to Paradise
Curated by Vanessa Carlos and Ross McNicol featuring:
Alex Brenchley , Alex Groves, Amelia Whitelaw, David Birkin, Edward Fornieles, Harry Meadows, Lucy Homer , Lucy May , Marianne Spurr, Mary Cork ,Monica Ursina Jäger ,Nicholas Hatfull , Pablo Smidt , Paul Haworth, Peter Joslyn ,Robert Rivers ,Ross McNicol

Making Mistakes
Performances are organised by Edward Fornieles and features:
Edward Fornieles , Eloise Fornieles, Ian Giles , Ben Hunt
…And the Dark Show Returns as a Ghost
Curated by Katie Guggenheim and features:
Aki Nagasaka , Alexandros Hassenpflug ,Casper Perrin Yoakum , Debo Eilers and Nic Xedro, Ed Atkins, Julie d Maude Belgrand , Kate Cooper , Kazimierz Jankowski , Louise Weiss , Mark Barker , Mathew Hale , Oscar Carlson ,Patrick Shier , Rachel Pimm
Categories
Tags