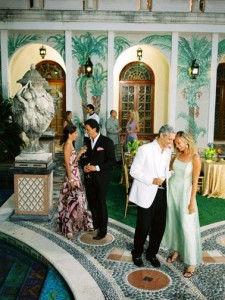 Greetings und guten tag mein dear Fad reader, it is with much pleasure that I offer you my next and final instalment from Art Basel Miami .
I believe that I left you last as I was about to embark on my Saturday night excursion. I was on this occasion joined by young Karol and her cousin Alphonse. They had an invitation to a catwalk show at the Versace mansion Casa Casuarina on Ocean Drive, I was intrigued to see the inside of this ornate house, so I went along.
When we arrived, outside there was a throng of rich trashy types. Bentleys appeared with darkened windows as tackily dressed fashionistas emerged, middle-aged women whose faces were pulled and stretched beyond human recognition, their breasts sculptured and rigid. I imagined a group of cosmetic surgeons unable to make it to the bank due to fits of hysterical laughter.
Once eventually inside, we went down to the courtyard where there was a make shift catwalk (more like a long carpet) lined with white chairs, where Euro-trash elite waited patiently for the show. The air was thick with 'anticipation', the latest must-have fragrance. A long hour passed and amazingly nothing happened, perhaps this was it? Was it actually a perverse art installation? Maybe a mischievous Maurizio Cattelan piece, entitled, 'fake fashion show for fake people'. We decided that this must be only logical explanation for this ridiculous display of so-called style over substance and thus took our leave.
My companions were hungry so we went to the 24-hour Deli on Collins, and had underwhelming burger and fries. After that, it was time to make our way over to Karu and Y , the new super club over by the Design District. I had been invited to attend by a very decent Englishman, Elliot Stares, who does the PR for major events here. He had told me in advance that Paris and Nicky Hilton would be coming to the club that evening. This was indeed public knowledge as I saw earlier in the day, a banner advertisement announcing this exciting fact streaming from behind a light aircraft along the beachfront.
We met up with Elliot on the red carpet that was lined with hordes of cameramen and paparazzi. He ushered us in. The sheer scale of the place was daunting. We made our way through one cavernous room. The crowd was mixed with black guys posing and party girls gyrating to the latest R&B track.

Through to the next room and then the next with it's distinctly Latino flavour, onwards, pushing forward through the mass of teaming bodies to the outside, which like everywhere, was pulsating with loud repetitive beats. This was almost too much for your own Klaus, but I recalled the discotheques of my youth in Berlin and once having partaken of an alcoholic beverage (at $13 not including tip, meant that my imbibing would be kept at a minimum) I felt more relaxed and allowed the sound to enter through my body and I began to move and sway to the music.
Karol is for some reason a big fan of this American heiress, Paris Hilton and so we moved on, back inside through a corridor to a restaurant, how anyone could eat in this cacophony is quite beyond me. We pressed on, eventually coming out where we came in by the red carpet, our timing was perfect for within a few minutes, there was a hubbub and a multitude of simultaneous camera flashes, which heralded the arrival of the infamous blonde socialite. Karol rushed forward and was swallowed up by the whole chaotic melee of photographers, cameramen, security guys and policemen. Nicky Hilton's handbag was snatched (no doubt now a prized war trophy for some lowlife photographer) and she stood their screaming like the spoilt brat she is, 'My bag, someone has stolen my bag, I want it back, I want it back, I'm not going anywhere'. This misdemeanour had no or little bearing on proceedings as the IT girls were herded forward by their security, who were also pushing back the braying pack of pursuing media. Once inside the club, the Hilton girls and entourage were swiftly dispatched to the VIP section in the main room. Alphonse and I managed to find Karol who was thrilled and flustered. 'Look', showing us the pictures on her phone, 'I was right next to her, they (her security) must have thought I was her new best friend or something'. We were both very impressed with these blurry close up images of the heiress.
Karol was clearly not satisfied, she wanted more. So off we went fighting our way through the throng until we reached the roped off VIP section, guarded by a burley security guy with a FBI earpiece. As we stood there wondering what to do next, a bold photographer a few metres down was trying to hop over the rope and this distracted the bouncer. Karol spotted the opportunity and darted in. Alphonse and I knew we had no choice but to follow.
Now that we were safely inside the inner sanctum, Karol was free to pursue Paris at her leisure. So we left her to it. There was still mass of admirers, hangers on and of course security guys surrounding the Hilton girls. I looked back at the rest of the club and suddenly felt very superior, all those eager faces trying to catch a glimpse of their beloved idol and here was your own Klaus in the enviable VIP area.
Suddenly there was a fracas, a photographer who I can only assume had got in like us, had got too close to the fire. A member of Paris' entourage, a small yet aggressive man was pushing this unfortunately photographer back with such force that he fell over a table scattering the glasses and bottles. His expensive camera dropped and appeared to break as hit the floor. He retreated looking like a wounded animal as the self styled Paris protector yelled abuse at him, whilst shouting the miscreant's crime into the sympathetic ear of a security guy.
I decided that it was best to find some space as far away from the furnace as possible. I moved to the back of the area on a slightly raised platform next the pounding speaker and began to dance in my own distinctive manner. I began to lose myself in the hip-hop beat, when I felt this large presence nudging me. I look around and there were three massive security guys next to me and amongst them was the blonde and on close inspection beautiful Paris Hilton, dancing provocatively to a rap song that had something to do with 'swagger', whatever that is.
I couldn't quite believe it. Your own Klaus dancing with Paris Hilton! Just wait until Horst in Vienna hears about this. He would be lucky to have a dance with Elsa from the Conservation and Restoration department. So, I must admit, I was entranced by this angelic apparition, prior to this evening I knew very little about this society girl, I recall some sort of sex scandal on the internet some years ago but that is about it. She is, I now gather a kind of American royalty, so from now on I shall refer to her as my Princess Paris. The rap song ended and she was whisked away by her security, leaving me beaming in her after-glow.
Karol came over to me and could scarcely conceal her jealousy, 'So, I assume you are ready to leave now?' She said tartly, I merely grinned and nodded. Outside the club, we hailed a cab, one of those large luxury American jeeps and as we rode back to South Beach, the three of us felt like real VIPs, which of course we were, even if it was just for one night.

The next day, still somewhat elated from my close encounter with Princess Paris, I returned to the Convention Centre for the final day of the fair. It was quite crowded and I sensed that there had been some action, red dots had appeared and one high-end gallery had taken the unprecedented step of putting up labels with prices. So it was peculiar seeing a Rothko , just casually hanging up by the side of a booth with a figure of $3,250,000 attached. Galleries it would seem were displaying what I would call 'show off' pieces, so there was a striking Tracey Emin neon piece now glowing proudly on the outside of White Cube 's booth. I wandered outside and went to see the Cartier Dome, designed by David Lynch . Inside, the super rich marvelled at the glittering jewellery and I overhead an American lady of a certain age declare that a piece priced at $300,000 was 'not bad at all'. I returned to the main fair where I bumped into Anthony Haden-Guest , he was taken by some abstract artwork at Team Gallery and nearby was the uncompromising work of Dash Snow at Peres Projec t.
I took my lunch in the UBS section of the Collectors Lounge and took one final tour of the fair, before heading out, stopping off on the way to have a very pleasant cigar courtesy of Davidoff. As I smoked, I reflected on my week here. It has been quite an adventure for your own humble Klaus, I can tell you. The mesmerising amount of artwork to take in, the social whirl of parties in and around the plush hotels on Collins Avenue means that Art Basel Miami is one firm fixture in the art world calendar. I was heartened to hear that the organisers have signed a contract with the Convention Centre for another three years and that there are plans to open a new super contemporary museum here too. So, in spite of a global economic downturn, the contemporary art market will weather the storm and sail strongly into the future with a fresh wind of new emerging talent.
You can be sure that I will be back here next year, along with the many dealers, collectors and curators for whom Art Basel Miami is the Monaco grand prix of the art fair circuit. For me in the meantime, it is back to London, then onto Vienna for a quiet family Christmas. I must admit that I am quite looking forward to seeing Horst's face when I inform him about my trip.
Fear not mein dear Fad reader, I will be back with you next year, bringing you all the latest news and gossip from the art world. There is of course much to look forward to, including the Armory fair in New York, Basel, Switzerland and Frieze in London. Tschussy.



Categories
Tags