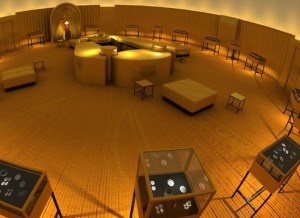 Cartier hired David Lynch, the director of offbeat films such as "Eraserhead" and "Blue Velvet," to design a space and installation for Art Basel Miami Beach next month.
The project, dubbed "Diamonds, Gold and Dreams," takes place within the 4,000-square-foot, Jean Nouvel-designed Cartier Dome. Inside will be a seven-minute "floating diamond" projection that will be accompanied by a musical score. It will be projected hourly. Lynch, who was lent gold and diamond jewelry as inspiration, had the dome outfitted with walls covered in gold fabric, gold-printed carpeting and gold-trimmed display cases.
The display cases will hold several important, one-of-a-kind pieces of jewelry created specifically for the fair, including the gemstone-studded Patiala necklace.
"Who better than David Lynch to create the stage for Cartier objects?" said Frédéric de Narp, president and chief executive officer of Cartier North America. "His universe contains secrets, mysteries, extravagance…and this is what Cartier is about."
Art aficionados often have a penchant for jewelry. Such is the reason that several marquee jewelers such as Cartier and Graff flock to South Florida each December to make their presence known at the contemporary arts fair that draws VIPs and celebrities.
"It's a big thing," de Narp said of the event set for Dec. 4 to 7.
The Compagnie Financière Richemont-owned French jewelry and watch firm will launch two collections at the fair, including the colorful, tasseled Torsade collection. Cartier Tradition pieces will also be on hand.
Last year, Cartier became an associate sponsor of Art Basel.
Categories
Tags